If you're applying to a senior school that uses the ISEB Common Pre-Test, you may be wondering exactly what this will involve for your child. Our team of education experts have put together this guide to help you and your family know what to expect at every stage, and how to prepare for success.
What is the ISEB Common Pre-Test?
The ISEB (Independent Schools Examination Board) Common Pre-Test is an online exam that students take to gain entry into independent senior schools. It can be sat once per academic year, with most students sitting the exam in the autumn term of Year 6.
Commissioned through GL Assessments, the ISEB is the only one of the 'big three' entrance exams that is adaptive. This means that the questions become more difficult depending on how your child is performing. Used by many of the UK's top independent schools, the ISEB is different to any other style of entrance exam, so there are unique strategies for succeeding at it.
Watch our video for a quick introduction to the ISEB: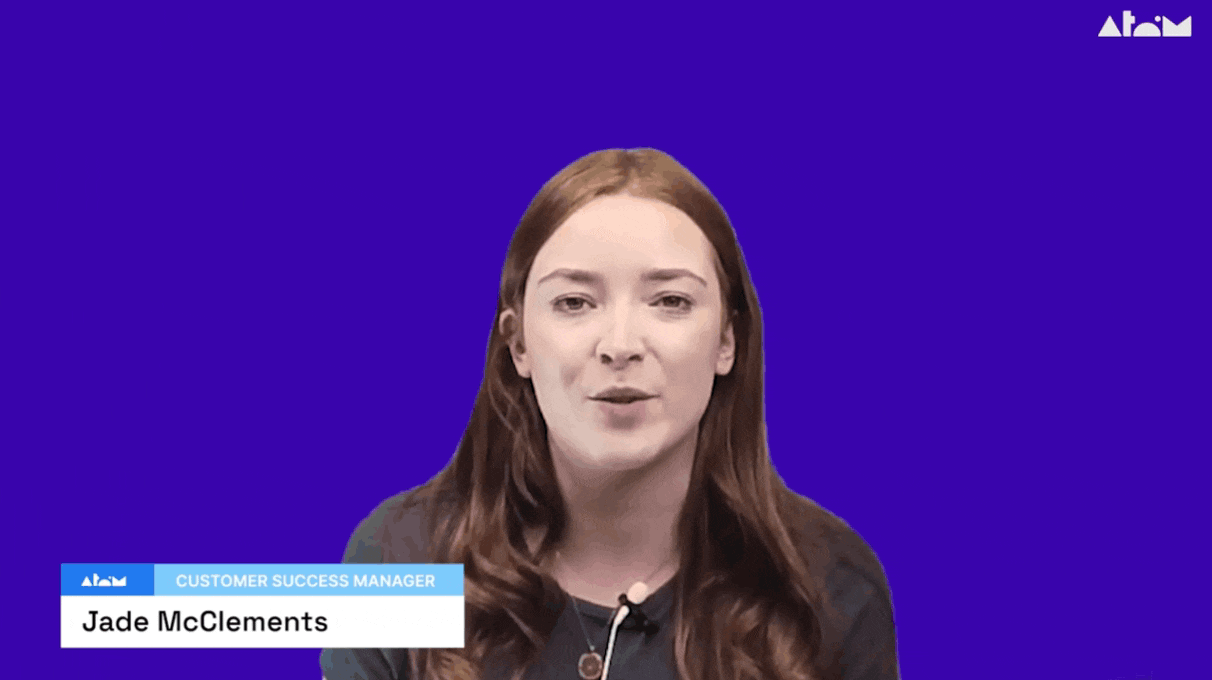 ISEB exam dates
Children sit the ISEB either in early November or mid January of the school year before they start senior school. Children can only take the test once per academic year.
Which schools use the ISEB?
Here is the full list of schools that use the ISEB Common Pre-Test for entry.
What is on the ISEB?
The ISEB Common Pre-Test covers four subjects:
English

Maths

Verbal reasoning

Non-verbal reasoning
The English and maths sections are based on the Key Stage 2 national curriculum taught up to the end of Year 5.
Verbal reasoning and non-verbal reasoning are designed to test your child's logical thinking and problem solving. These topics are given only limited curriculum time at school, so it's important to practise at home.
What format is the ISEB Common Pre-Test?
The ISEB is a multiple choice test, sat entirely online. Its format has some unique features: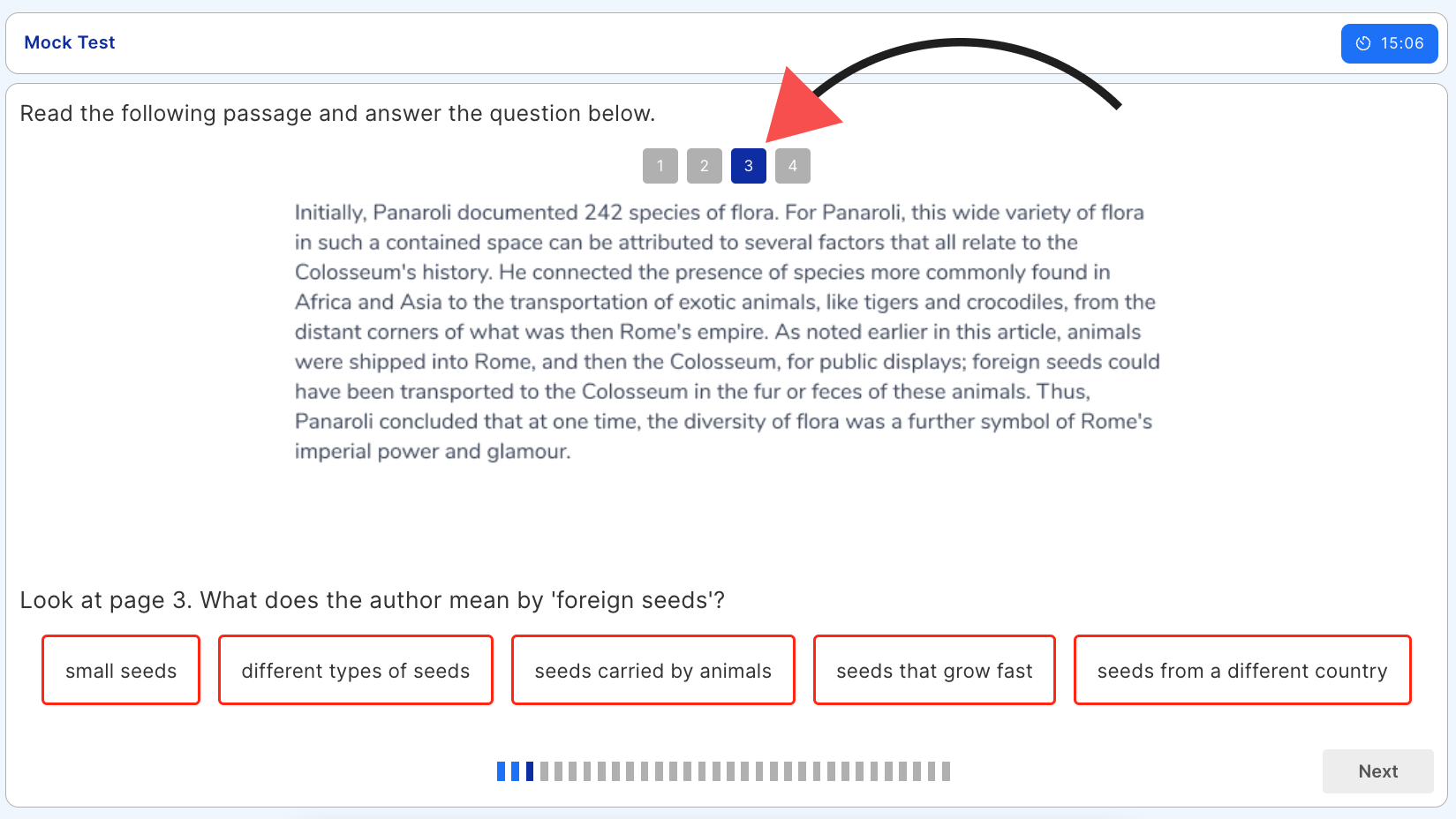 No back button: because the test is adaptive, students can't go back to review or change their answers. They must be absolutely sure of their answer (as much as they can be) before moving on to the next question. They will not be able to proofread their answers at the end like they're often urged to do at school.

No next button until answer selected: This can throw students initially, but it is a good thing! It will ensure your child doesn't move on from a question without selecting an answer.

Progress bar: This is useful for your child to be aware of so they can see how much of the test they have completed so far and how much is left.

Clock: There will usually be a clock on the top right-hand corner of the test. We recommend giving your child a watch just in case, but note that they won't be allowed to use a smartwatch in an exam setting, analogue only!
Because of the unique features of the format, it's a good idea for your child to practice Mock Tests in the exact format and style of the ISEB. You can find unlimited ISEB Mock Tests on Atom Nucleus.
ISEB timings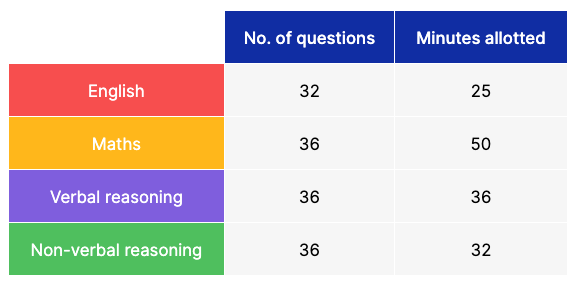 It takes about two and a half hours to sit the ISEB. The timings of the sections are:
English: 32 questions in 25 minutes

Maths: 36 questions in 50 minutes

Verbal reasoning: 36 questions in 36 minutes

Non-verbal reasoning: 36 questions in 32 minutes
Your child can sit these four tests all together or at separate times, at their current school or at the senior school they are applying to. If taking them all on the same day, they are allowed a short break between each section.
Sample ISEB Common Pre-Test questions
Take a look at these sample questions from the ISEB Common Pre-Test to help you and your child get familiar with the question content and format.
ISEB English questions
The English section of the ISEB is based on the Key Stage 2 national curriculum taught up to the end of Year 5. The questions are designed to test:
Comprehension (16 questions)

Spelling, punctuation and grammar (16 questions)
Comprehension
Your child will be given a passage of text and asked to answer questions about it. The text can be fiction, non-fiction, or poetry from a range of time periods. The comprehension section assesses your child's ability to analyse and interpret text.
Questions are all multiple choice and test the following skills:
Literal (retrieval)

Deduction

Inference

Vocabulary

Summary

Literary devices
These examples from Atom Nucleus ISEB English Mock Tests shows how the comprehension questions are structured. Your child will need to click through all the numbered buttons to read the whole text. They will then need to select the current multiple choice answer from the options shown.
Inference: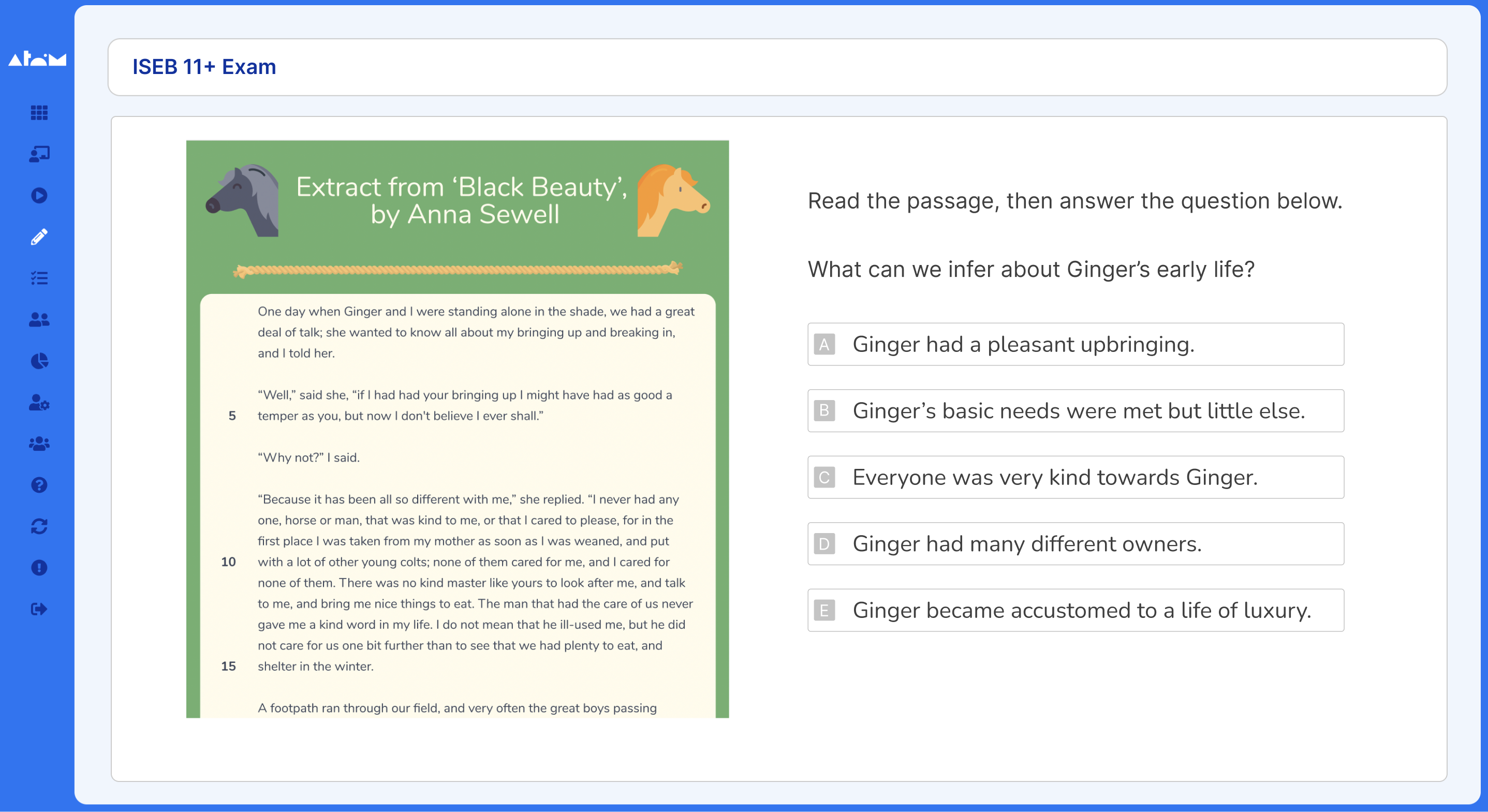 Literary devices:
Spelling, punctuation and grammar
In this section, there are eight 'spot the mistake' questions. Your child will be shown a sentence and asked to click on the part that contains a mistake. Some sentences will contain no errors – in these cases your child should click on 'No mistake'.
For the spelling and punctuation questions on the ISEB, your child will need an understanding of:
The grammar questions comprise 8 'choose the word' questions, which test your child's grammatical knowledge. The format consists of a sentence with a word missing. Your child will need to choose the missing word from a multiple choice selection.
To confidently complete this section, your child will benefit from practice with:
Adjectives and adverbs

Conjunctions

Determiners

Modal verbs

Nouns

Prepositions

Pronouns

Verbs

Phrases

Sentences and main clauses

Subordinate clauses

Active and passive voice

Person: subject/verb agreement

Subjects and objects

Subjunctive verb forms

Tenses: progressive and perfect

Tenses: simple past, present and future
ISEB maths questions
The maths section of the ISEB is based on the Key Stage 2 national curriculum taught up to the end of Year 5 – although students in Years 6 and 7 often find this section challenging. The questions range from simple ordering tasks to more applied, multi-step word problems.
The topics tested on the maths section of the ISEB are:
Number

Measurement

Data

Algebra

Geometry
The number questions come up most commonly – there are typically five number questions for every one question on measurement, data, algebra and geometry.
These images from Atom Nucleus ISEB Maths Mock Tests give examples of how the maths questions are set out:
Factors: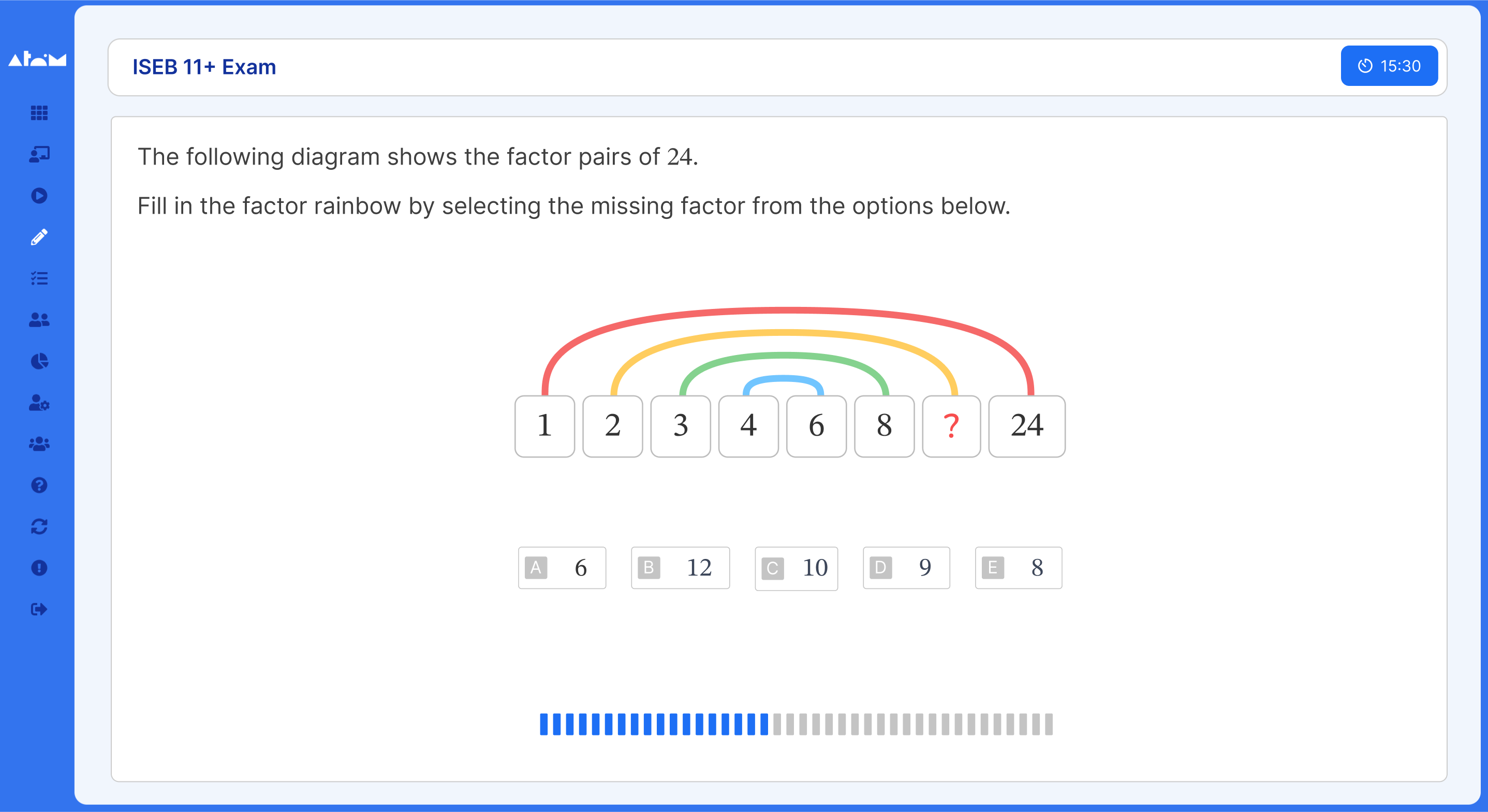 Order of operations: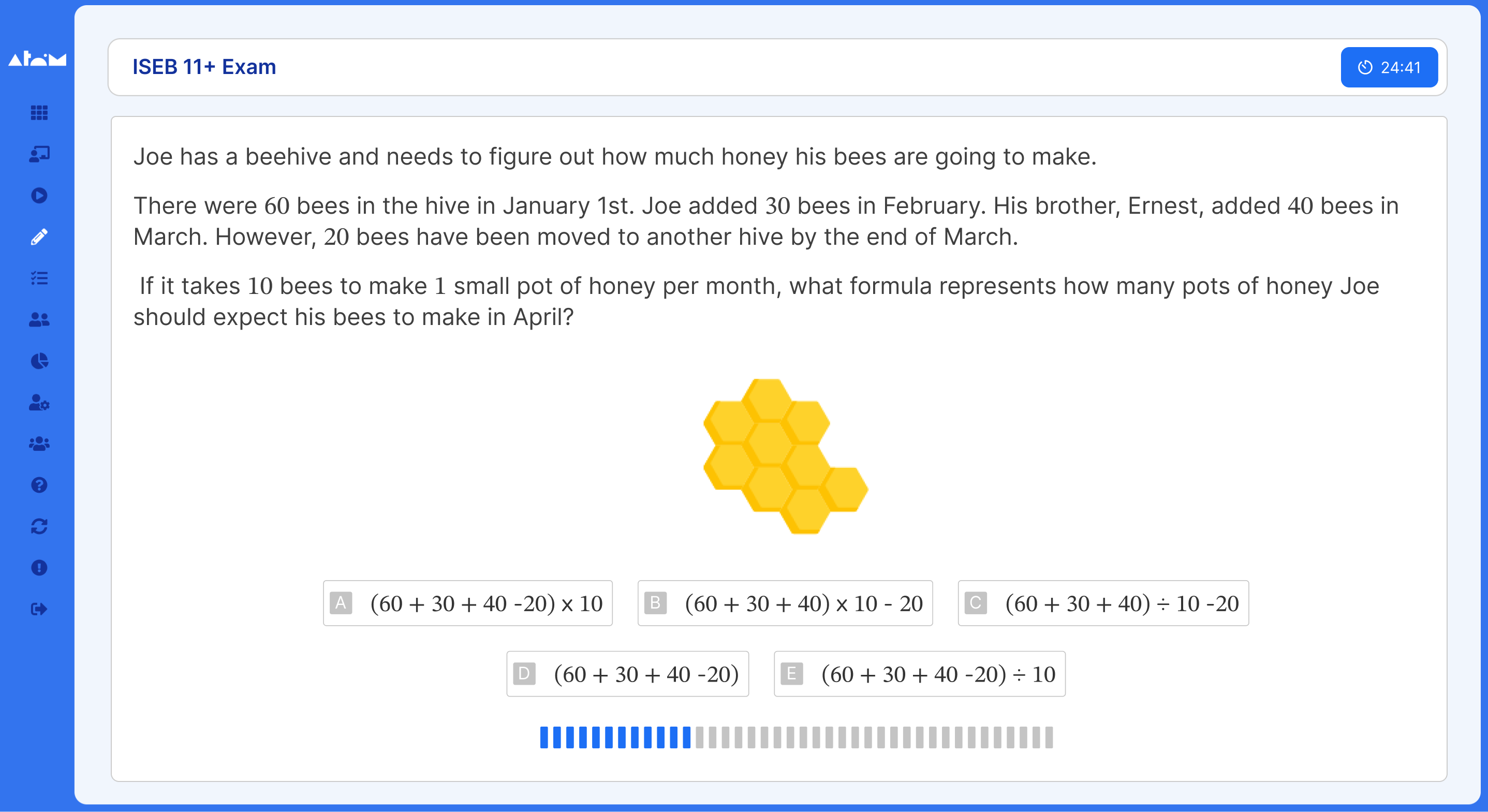 ISEB verbal reasoning questions
Verbal reasoning tests your child's logic and problem solving skills. The verbal reasoning paper is made up of 36 questions, split evenly between six different topics in order. After six questions on one topic, students move onto six questions on the next one, and so on.
The topics that appeared in the 2021 ISEB verbal reasoning paper were:
Letter codes

Homographs

Antonyms

Join the words

Transfer a letter

Number codes
However, there's no guarantee that the same topics will reappear in future tests.
The images below from Atom Nucleus ISEB Verbal Reasoning Mock Tests give examples of how the verbal reasoning questions are laid out on the ISEB.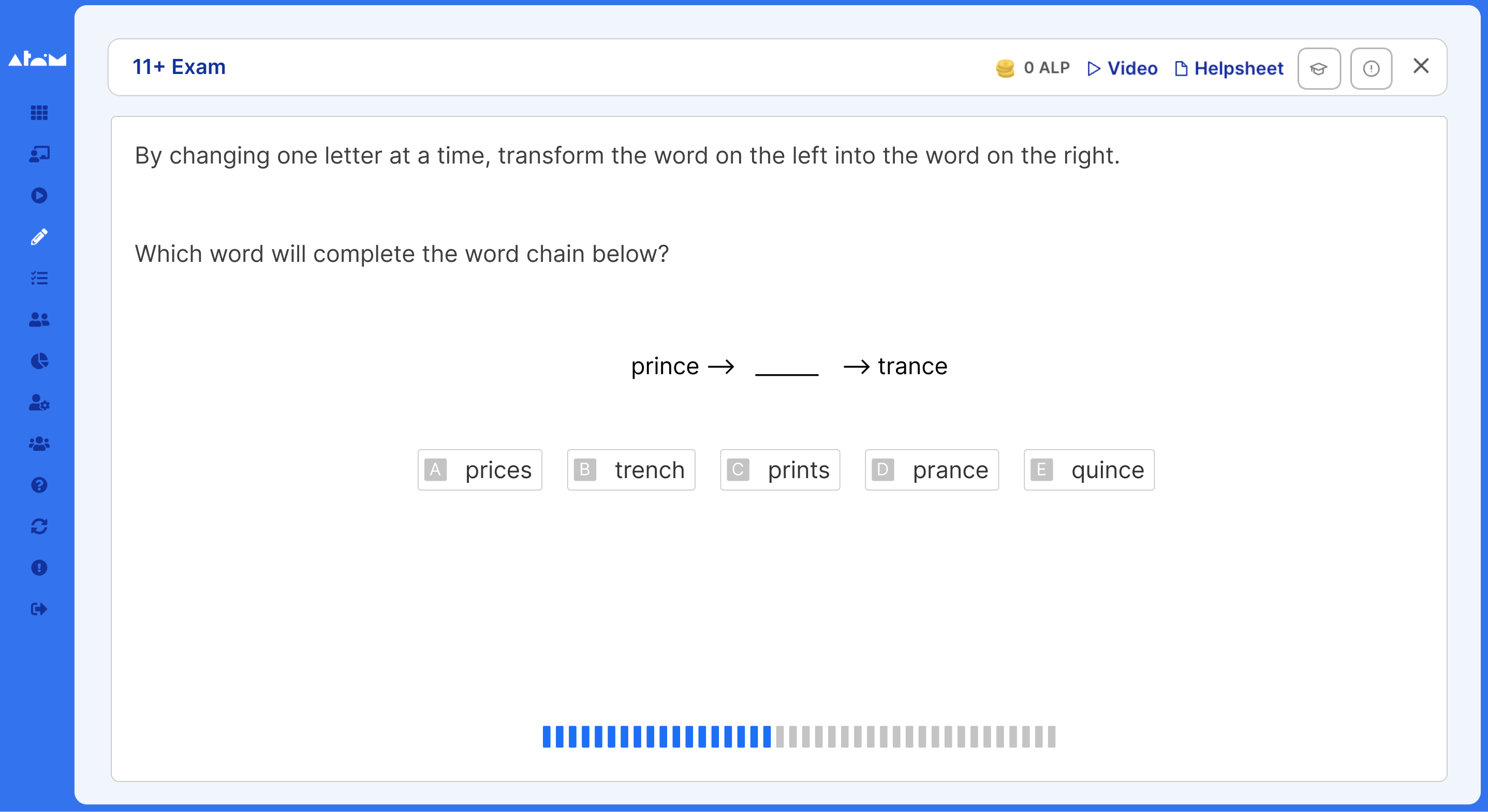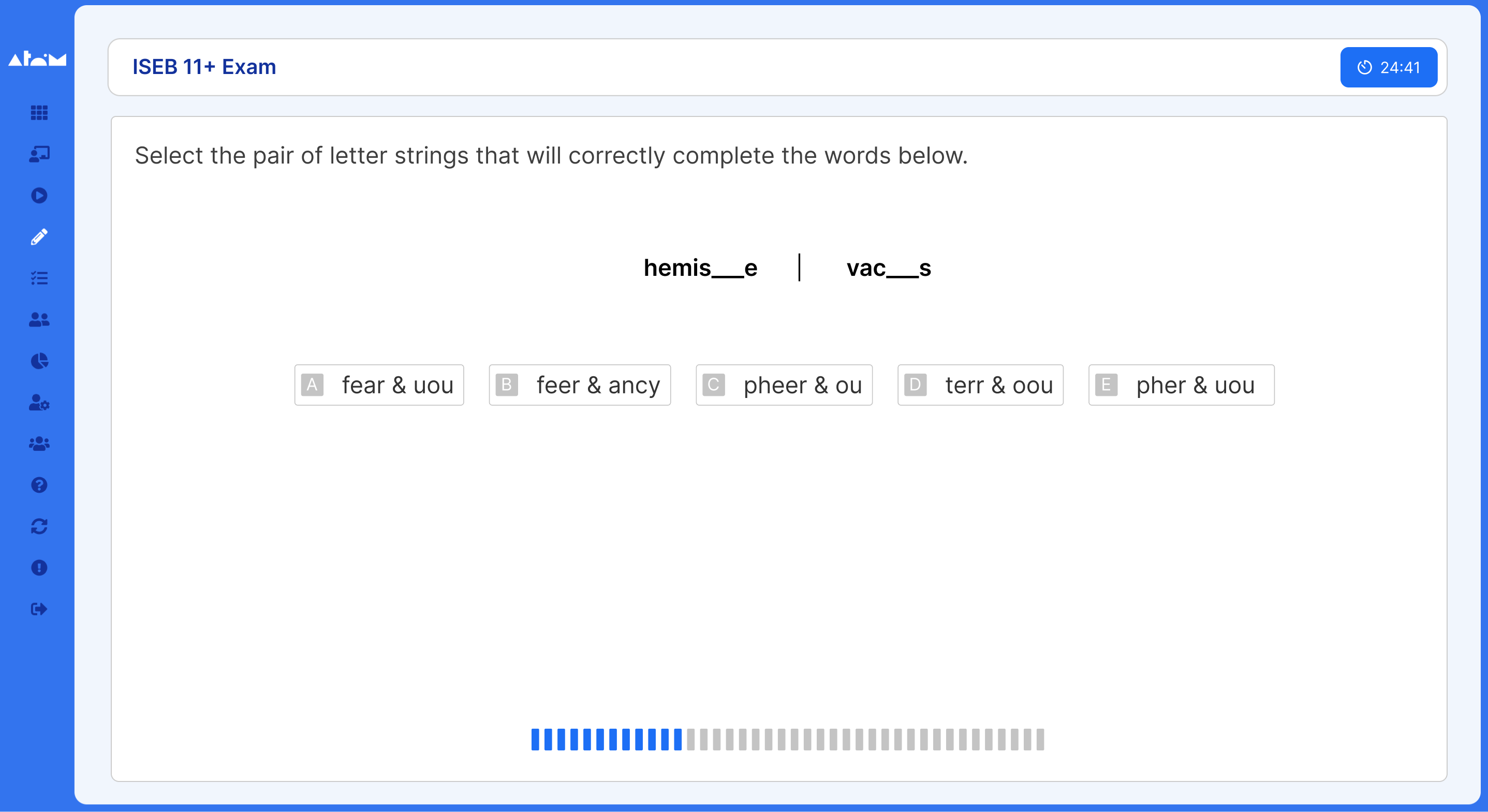 Learn more about verbal reasoning and preparing for these questions here.
ISEB non-verbal reasoning questions
The non-verbal reasoning paper contains 36 questions, split over three topics with 12 consecutive questions each. This section of the exam is designed to assess your child's ability to understand and analyse visual information. Questions will require your child to interpret and manipulate shapes.
The topics that appeared in the 2021 ISEB non-verbal reasoning paper were:
Pairing shapes

Match to a pair

Find a code
Again, there's no guarantee that these same topics will reappear in future tests. You can learn more about preparing for non-verbal reasoning questions here.
Below, we've shared images from Atom Nucleus ISEB Mock Tests to give you examples of how the questions are formatted.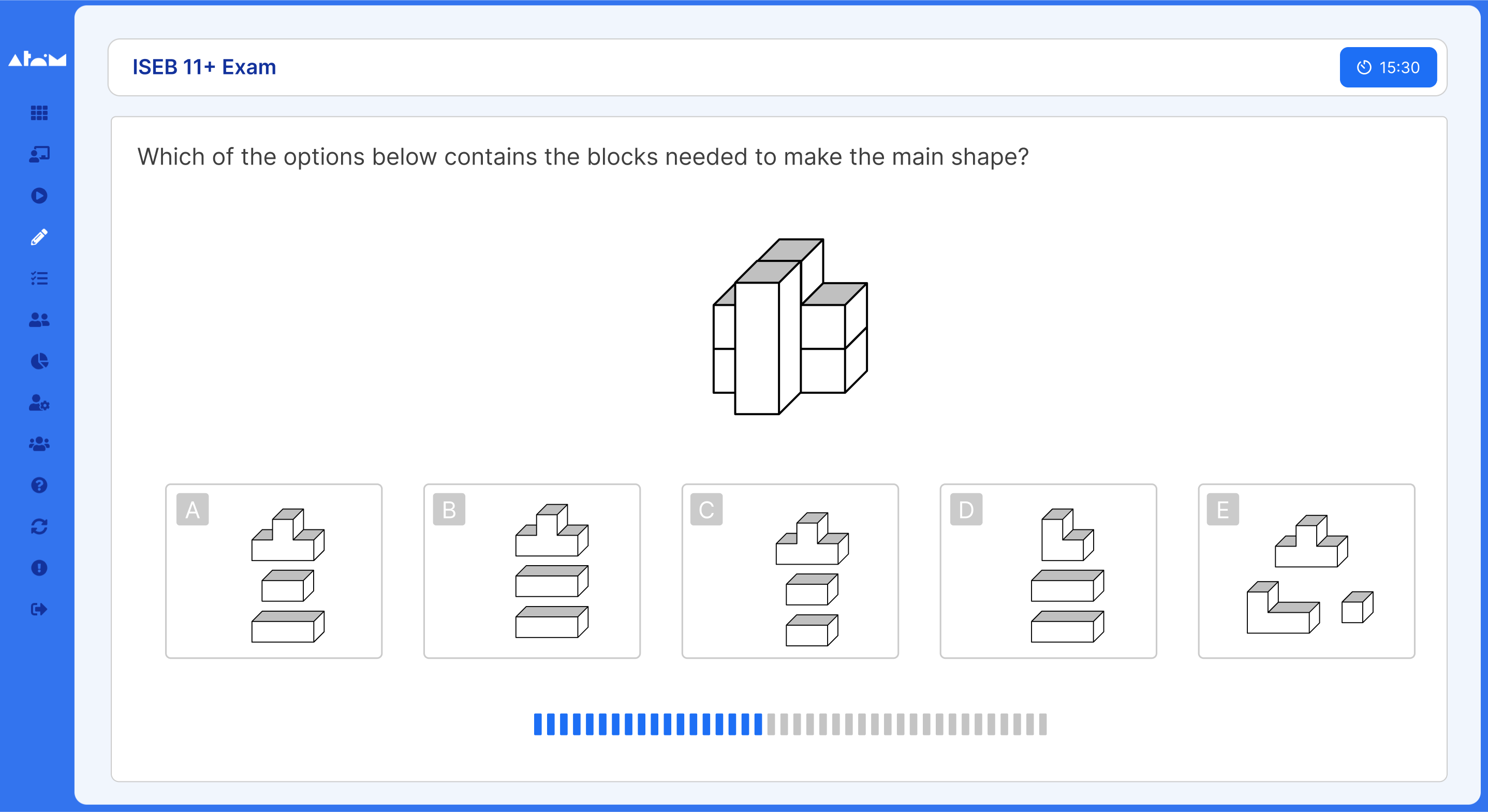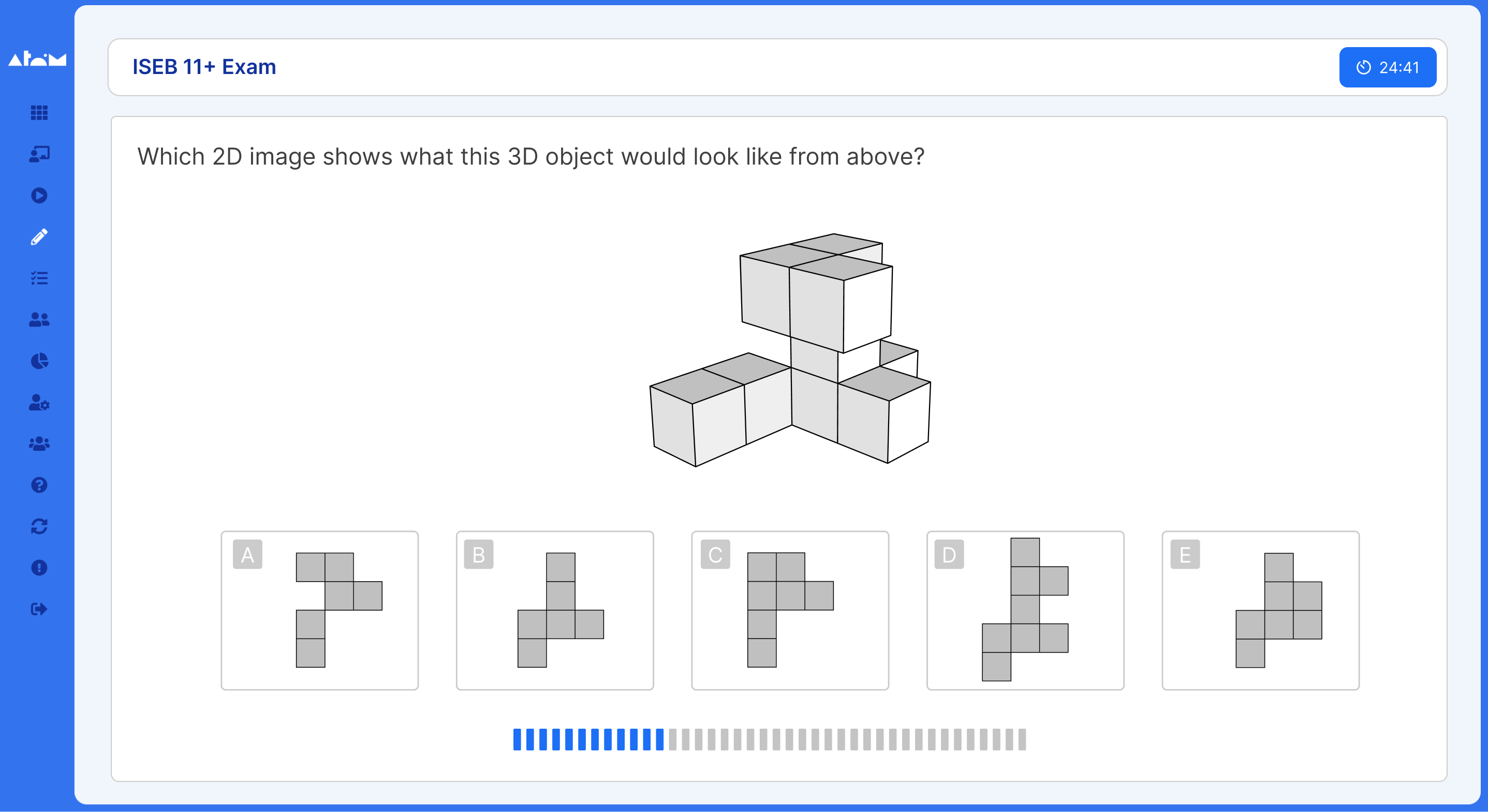 What's the pass mark for the ISEB?
The ISEB Pre-Test has no set pass mark because every school has different requirements. Your child will be given a Standardised Age Score (SAS), calculated based on:
Correct and incorrect answers

The level of difficulty of each question they answered

Their date of birth (this stops the younger children in the school year from having a disadvantage)
You won't see your child's ISEB results, as they are sent directly to the school.
Wondering what is a good ISEB Pre-Test score to aim for? As a general guide, 100 is an average score, 142 at the top end, and under 85 is considered low. For the most competitive schools, a good score to aim for is 120+.
How can I support my child to sit the ISEB?
The ISEB is designed to give an indication of your child's academic performance to identify whether they're a good fit for a school. It will usually be followed by a second round of exams specific to your target school, an interview, and a reference from your child's current school. Here are some things to consider:
Does your child regularly attain 'exceeding expectations' on their school reports?

Are your child's test results above average in English and maths?

Consider the amount of tutoring your child will need to pass the exam. If they'll need a large amount of support, will they be able to keep up with the academic demands of the target school?

Talk to your child's teacher. How do they think your child is likely to perform on the ISEB? They will have a clear idea of your child's areas of strength and challenge.

Use an adaptive learning platform like Nucleus to get data-driven insights into your child's academic performance, and see exactly where to focus next to excel on the ISEB.
My child has SEND, is the test appropriate for us?
Yes, the ISEB Common Pre-Tests can be accessed by pupils with a range of needs. You should inform your chosen senior school if your child has any special educational needs or disabilities. You'll be asked to provide a report from a professional on this subject.
Generally, they will make reasonable adjustments for your child. They may consider whether all aspects of the test are suitable, or increase the time allowed for each section. The Independent Schools Exam Board can also enlarge text for visually impaired students.
Are the pre-tests accessible for EAL candidates?
Yes, the tests are accessible for EAL candidates and as above you should always inform the senior school if this is the case. If your child speaks English as an additional language, you may be able to request adjustments such as extra time or a bilingual dictionary.
How to apply for the ISEB
The senior school(s) you are applying to will register your child for the ISEB. They will contact you to share all the logistical information and check where you want your child to take the test. Most students will take the test at their current school, or at the senior school they are applying to, but they can also take it at an independent test centre.
At this stage, your senior school may also send you resources to help familiarise your child with what to expect on the test.
ISEB registration dates
As a parent, you simply need to apply to your senior school(s) of choice, and the school will register your child for the ISEB. Check with your target schools for information on their individual admissions processes and closing dates.
The school will register for your child to sit the ISEB in either early November or mid January. The closing dates for schools to register candidates are 1st October (for the autumn exam) and 1st December (for the spring exam).
The ISEB can only be taken once within a year – any additional tests will not be valid and the first result will stand.
How to prepare for the ISEB
We recommend taking a balanced approach to your child's ISEB exam preparation. You should dedicate plenty of time to building your child's knowledge and confidence in the curriculum before starting exam-specific prep.
Because verbal and non-verbal reasoning are given limited curriculum time at school, preparing at home is key. Introduce your child to verbal and non-verbal reasoning questions early to help them focus on answering accurately and avoid panic or confusion over the style of questions.
For advice on how to familiarise your child with verbal and non-verbal reasoning, watch our specialist webinar, Supporting your child's reasoning skills.
ISEB preparation lessons with Atom
Atom's Live Lessons are a fun and interactive way to get your child engaged with ISEB Pre-Test preparation. Learn more and register your child below: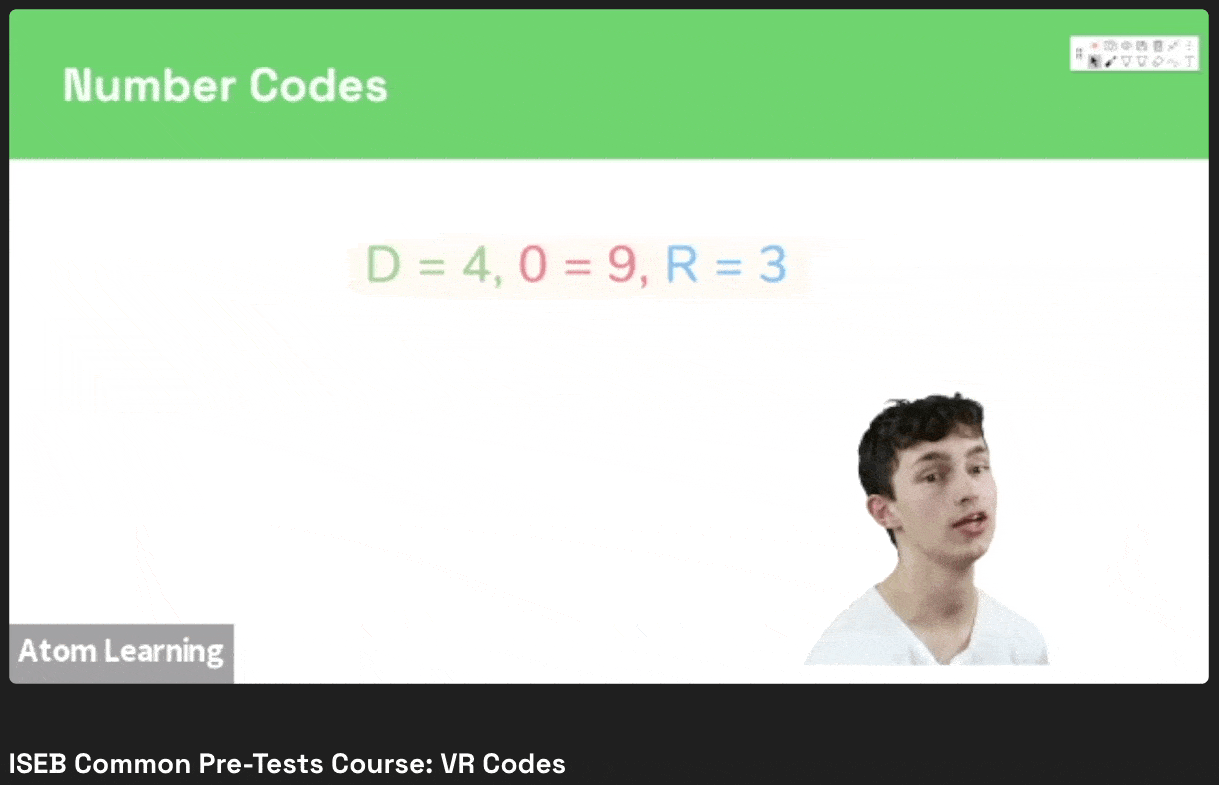 ISEB Mock Tests
Then, begin to introduce mock tests to familiarise your child with the exam technique specific to the ISEB. This is an opportunity to practice answering accurately, getting comfortable with no back button, pacing themselves, and taking their time on each question.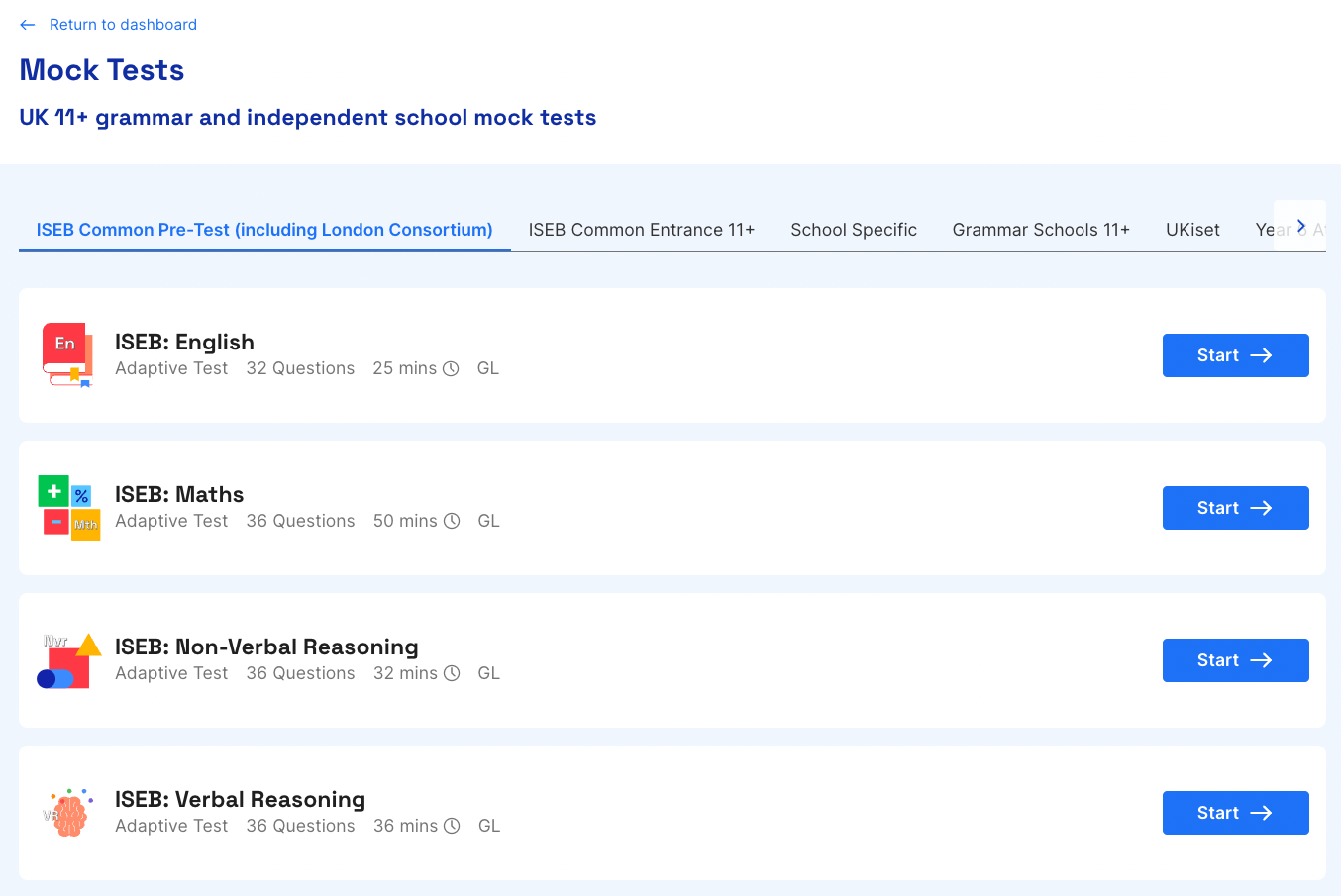 Accurate ISEB practice papers like this are a great way for your child to know exactly what to expect on exam day.
When to start preparing
We always recommend starting exam preparation as early as possible to minimise the pressure on your child and allow them time to fully embed their understanding of the exam topics. An ideal time to start preparation is the summer term of Year 4.
Best exam techniques for the ISEB
Because of the unique nature of the ISEB Common Pre-Test, there are specific strategies and techniques for success. Our ISEB assessment specialists have shared their insider knowledge here, as well as tips to share with your child to help them ace the test with confidence:
---
ISEB FAQs: your questions answered
We asked our parent community what they needed to know to prepare for the ISEB. We've shared our answers to our most frequently asked questions below:
Should maths be our main focus when preparing? The maths test has more questions than any of the others.
No one subject is more important than another in the ISEB! The score is adjusted to take into account the number of questions and time allocated to each subject. This allows equal weight to be given to each subject despite the different exam conditions.
Will my child be allowed a pencil and paper to do working out/make notes?
Students are not allowed to use a pencil and paper in the non-verbal reasoning or English tests. They are allowed, and encouraged, to use pencil and paper for their rough work during the verbal reasoning and maths tests.
Will my child be penalised for not completing all the questions?
Yes, but the penalty is very small. Because the ISEB is adaptive, more focus is placed on the level of difficulty that a student reaches than on completing all of the questions.
For example, a student who answered 32/36 questions who worked accurately so that the test kept adapting up would likely get a higher SAS than a student who answered all 36 questions but made mistakes early on so the level of difficulty wasn't as high.
If there's not much time left, should my child skip the questions they find difficult and attempt as many questions as possible?
There is no option to skip a question on the ISEB exam - no 'next' button will appear until your child selects an answer. If they're running out of time they shouldn't rush, as accuracy is much more important than speed on the ISEB.
If your child is unsure of an answer, they should slow down and do their best to get the answer correct. If they really aren't sure, they can use the process of elimination to narrow down the multiple choice options and make an educated guess.
Should my child try to work as quickly as possible to answer the most questions?
No. Students should take their time, work carefully throughout the test, and always double check before moving onto the next question. The ISEB has a fixed number of questions – once your child has answered all the questions, the test will end, even if there is time left. And because the test is adaptive there is no back button to review earlier answers.
Why did my child get a higher score in the mock test where they answered more questions wrong?
As ISEB tests are adaptive, the questions become more challenging towards the end, and are worth more marks the harder they get. Your child's score depends on the difficulty of the questions they answered correctly and incorrectly, not the number of questions they answered correctly.
What happens after the test?
Your child's Standardised Age Score will be shared with all senior schools they have applied to. The schools do not generally share these with parents, but will use them to decide whether to move your child forward in the admissions process.
Many schools will then ask students to attend an interview for the second round of the admissions process, or sit another school-specific exam. To prepare for these scenarios, or to find out what this may entail for your school, we'd recommend seeking advice from organisations with strong links with schools, such as here at Atom. You can talk to an Education Expert on our LiveChat for more information.
Register your child for an interview preparation course here. Running in November and December, this will give your child everything they need to know to ace their senior school interview, including how to craft compelling answers and be prepared for tricky questions.
---
We're here to help
For more guidance and expert advice, watch our specialist webinar on preparing for the ISEB Common Pre-Test:
Our Education Experts are on hand to answer any questions you may have about the ISEB Common Pre-Test or about your target schools. You can book a call with us here:
Atom Nucleus for ISEB preparation
Atom Nucleus is designed to support your child to master each of the ISEB exam topics. Our adaptive algorithm will tailor the optimal learning pathway for your child – so they're always challenged, but not to the point of becoming demotivated.
With Atom Learning's Exam Preparation Plus subscription, you'll also have access to unlimited mock tests that mirror the content, scoring and design of the real ISEB exams.
Discover best-in-class, teacher-produced content, and unlimited exam practice for the ISEB Common Pre-Test, to empower your child to perform their best on exam day. Start your free trial today to learn more about how Atom can empower your child to perform their best on exam day.
Testimonials