For many children – even the most outgoing and organised – the jump from Year 6 to Year 7 can feel overwhelming.
Secondary schools are much larger environments than primary and prep schools. While the average primary school has a headcount of 278, many secondary schools have a pupil population of over 1,000 (based on the latest state school statistics from gov.uk).
The increased volume of new faces (and going from being one of the oldest in school to the youngest) can be intimidating for children, not to mention getting to grips with a lot of 'firsts' such as understanding a lesson timetable, using a homework planner and remembering to take specific textbooks to classes.
However, the transition from Year 6 to Year 7 is a rite of passage and can be an exciting opportunity to make new resolutions and get cracking with some new skills. With only a few months of Year 6 remaining, we've outlined our top tips for you and your child to get ahead and start preparing for Year 7.
1. Encourage your child to be responsible for their school items
Throughout the rest of the year, give your child increasing responsibility for their school belongings. Get them to pack their own PE kit, have them take responsibility for remembering to take the right homework into school on the correct day, and have them put their own washing (including school uniform) away. You may wish to work with your child on creating a checklist so that each evening before going to bed they can work methodically through what they need to pack for the next day. Ultimately, school mornings should become a lot easier for both of you!
2. Support your child to develop the confidence to speak to unfamiliar faces
Secondary school presents the challenge of building completely new relationships with peers and teachers alike. This is a challenge for a lot of people, let alone an 11-year-old.
Encourage your child to get comfortable with talking to unfamiliar faces regularly. This can be paying for purchases and talking to a cashier in a shop, saying 'good evening' and 'thank you' to their swimming teacher/rugby coach or even initiating a conversation with someone outside of their close network. Having the ability to speak to new people can be a huge springboard in easing the hardest part of the transition and will give your child the confidence to ask their new teachers for help.

Watch our free specialist webinar for advice on how to use the summer term to prepare for Year 7.
3. Create a study timetable with your child
Lesson timetables, assembly timetables, homework timetables, revision timetables – they're all about to become a big feature of your child's secondary education.
Help your child get to grips with understanding timetables in their home life first (family weekly planners visible for all to see, such as on the kitchen fridge or by the front door, are a great start) before moving on to create a personalised study timetable. Spend some time together working out how to set priorities, when to block out study-free time and set realistic expectations for how long should be spent on daily homework (your child's secondary school should be able to provide this information).
4. Help your child recognise their strengths and areas for development
Now is a great time to work with your child on recognising their academic strengths and areas for development, allowing plenty of time to work on the subjects and topics they find more challenging. When you receive your child's Year 6 report, read through it together and allow equal time to praise the positive feedback and discuss the constructive. Ask your child to highlight where they think they can improve, and what they might need to do to address any weaker spots before Year 7 begins.
5. Explore new connections together
Help your child feel connected to their new school by exploring any resources available, such as watching pre-recorded open day videos and attending all available induction sessions. Many new parents set up group forums (such as through WhatsApp) for their children's form groups, which is a great way for both you and your child to meet other families (and arrange car shares!). If your child will be taking public transport to get to their new school, travel the route together a few times to help them boost their confidence, understand what connections to take and how much time they'll need to get to school on time.
Download your Year 6 summer study guide here!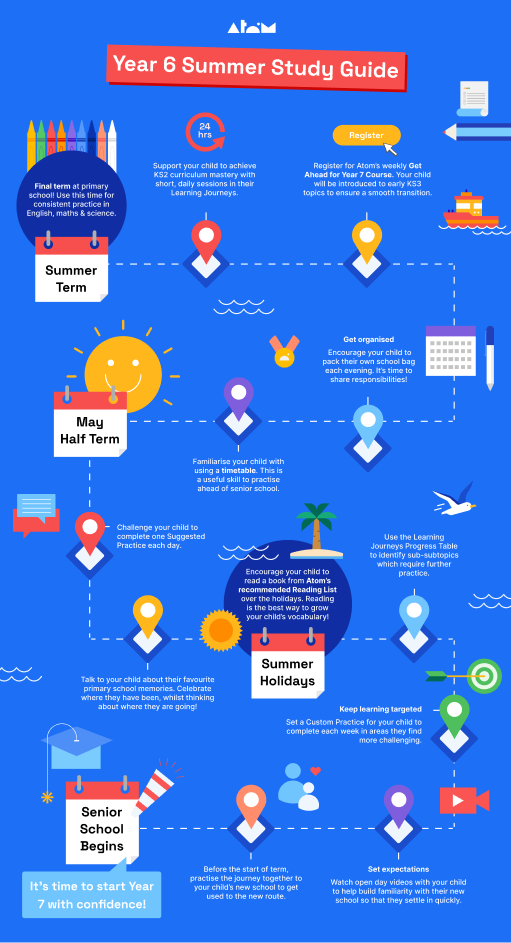 Download: 10 quick tips for supporting your child with senior school transition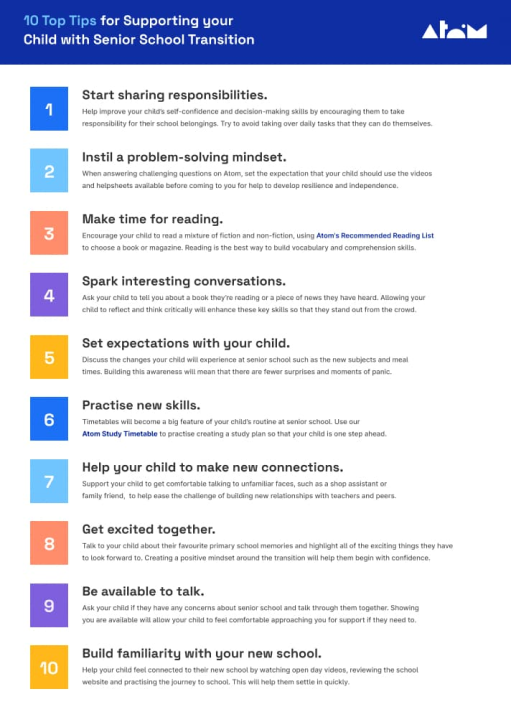 ---
Find out how to build the top academic skills your child will need for Year 7 here. You'll also learn fun ways to keep your child engaged with their education over the holidays and prevent the infamous 'summer slide'!
Year 7 transition WhatsApp group
Would you like further guidance on secondary school admissions and transitions? Join the WhatsApp group for parents where Atom's Education Experts are on hand to provide support and answer any questions you may have about this important time.