Searching for current information about the Manchester grammar schools (Trafford Consortium) 11 plus for 2023 entry? We've collated all the information you will need about the testing process, schools involved and most importantly, how to best prepare your child for the exam.
The Trafford Grammar Schools 11 plus test: at a glance
Registration opens: 9th May 2022

Registration closes: 24th June 2022

Exam date: 19th September 2022

Exam board type: CEM

Results: mid-October 2022

National school offer day: 1st March 2023 (or next working day)

Admissions information: Apply via Trafford Grammar Schools CEM Consortium

Appeals: heard by an independent appeal panel
Which grammar schools in Manchester use the 11 plus test?
There are two grammar schools in Manchester that use other tests:
What is the Trafford Grammar Schools 11 plus test?
The 11 plus test, taken in the final year of primary school (Year 6), is an exam designed to evaluate your child's potential to excel in a grammar school environment. The test assesses several areas, some underpinned by national curriculum teaching, others requiring problem-solving skills relating to subjects which your child won't have encountered at school.
There are 7 grammar schools in Manchester's Trafford area – five of which combine their testing procedures by making up the Trafford Grammar School CEM Consortium (TGSCC). This means that your child only has to take one test to apply to multiple schools in the area.
You can register for your child to sit the test from 9th of May 2022 until the deadline of 24th June 2022.

What is covered in the Trafford 11 plus test?
The test consists of two papers, taking 50-60 minutes per paper. It contains a mixture of questions assessing verbal reasoning, non-verbal reasoning, and numerical reasoning skills.
These questions are mainly answered in multiple choice format, with some maths questions requiring a specific digit answer. There is no written task element.
Mock Tests on Atom will prepare your child for exactly what is included on the Trafford 11 plus:
Maths
Maths makes up the first half of paper 1, with 24 questions in approximately 20 minutes. It is based on the national curriculum content for Key Stage 2 – but this includes Year 6 concepts your child will not yet have covered in the classroom, so home practice is key. Your child's speed of recall of numerical facts will be tested. The questions cover topics including:
Number and place value

Addition and subtraction

Multiplication and division

Fractions including decimals and percentages

Ratio and proportion

Algebra

Measurement including area and perimeter

Geometry
Non-verbal reasoning
Non-verbal reasoning makes up the second half of paper 1, assessing your child's problem solving and spatial awareness. It covers 21 questions in approximately 9 minutes. Your child is given a set of graphic puzzles and sequences and they must highlight areas of mistake as well as complete the patterns.
These question styles are not taught at school, so home preparation is essential to help your child know what to expect. To learn more about how to master these questions, see our video on non-verbal reasoning.
Reading comprehension
Paper 2 begins with reading comprehension, with 20 questions covered in 15 minutes. Your child will be given an extract of text, followed by questions designed to test their inference and deduction skills. The questions are multiple choice but some questions may require more than one answer to be selected. A broad vocabulary and practice reading widely is helpful for this section.
Verbal reasoning
Verbal reasoning completes paper 2, with 25 questions in 6 minutes. Confidence with constructing words and identifying sequence errors are helpful to excel on this section. As verbal reasoning is not taught at school, it's helpful to familiarise your child with verbal reasoning question styles well in advance of the exam. You can find more advice on how to prepare for verbal reasoning questions here.
Atom has Mock Tests that mirror the style and format of the Trafford Grammar Schools 11 plus – so your child will know exactly what to expect on exam day.
What is the pass mark for the Trafford Grammar Schools 11 plus test?
The qualifying mark for schools in the Trafford Consortium has historically been 334. Some schools' admissions criteria allow automatic allocation for the top 20 scoring pupils. These scores are standardised, to even out any age disadvantage for children born later in the year.
Gaining a score of 334 does not automatically qualify your child to be selected for their school of choice. It is advisable to familiarise yourself with the admission policies for your target school, looking at their oversubscription criterion and their catchment area.
How competitive is the Trafford Grammar Schools 11 plus test?
There is significant competition in Manchester to attend one of the seven grammar schools in the area. For example, 2,454 children sat the 11 plus in 2020 for entry into Sale Grammar School, with 954 pupils achieving the qualifying score, although there are only 180 Year 7 places available at the school.
When should I begin preparing my child for the Trafford Grammar Schools 11 plus?
To give your child enough time to securely master all the content needed for the 11 plus, a good time to begin preparing is summer term of Year 4 or autumn term of Year 5. This will allow your child to securely master the national curriculum objectives covered in the test, and become confident with the testing process and styles of questions.
The Trafford 11 plus is designed to be academically challenging for children who are working above age-related expectations. To reach this performance level, it can be helpful to start earlier and build their understanding of the core curriculum, before progressing onto exam preparation.
How can I help my child prepare for the Trafford 11 plus?
No surprises: make sure your child is familiar with all styles of questions they will experience in the test. This reduces the potential for panic on the day and will give them confidence to answer the questions to the best of their ability. Access to unlimited practice materials and mock tests that mirror the format and style of the Trafford 11 plus will ensure your child is fully prepared.
Cover all the content: the 11 plus test assesses a large breadth and depth of learning objectives. When preparing it can be easy to fall into the trap of focusing on the content your child prefers. Atom tailors your child's personalised learning journey, creating their bespoke programme to cover all elements of the Trafford 11 plus in a fun and engaging way.
Engage with their progress: setting regular goals and celebrating achievements will help your child progress efficiently. Atom offers data-driven insights into your child's progress towards mastering the Trafford 11 plus content, making it easy to see where they need to focus next.
Overall progress and targets achieved: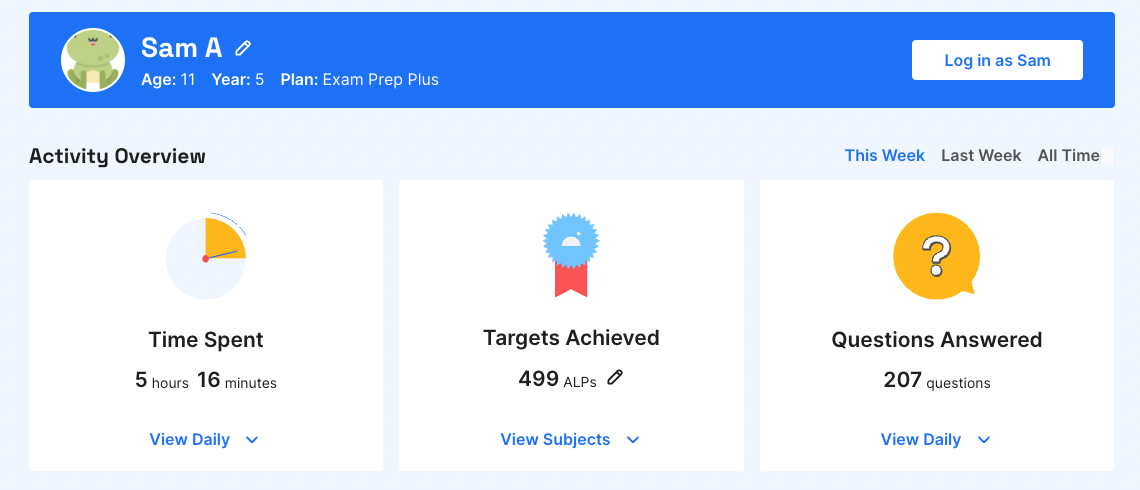 A detailed breakdown of progress by subtopic, compared to the average student in their year: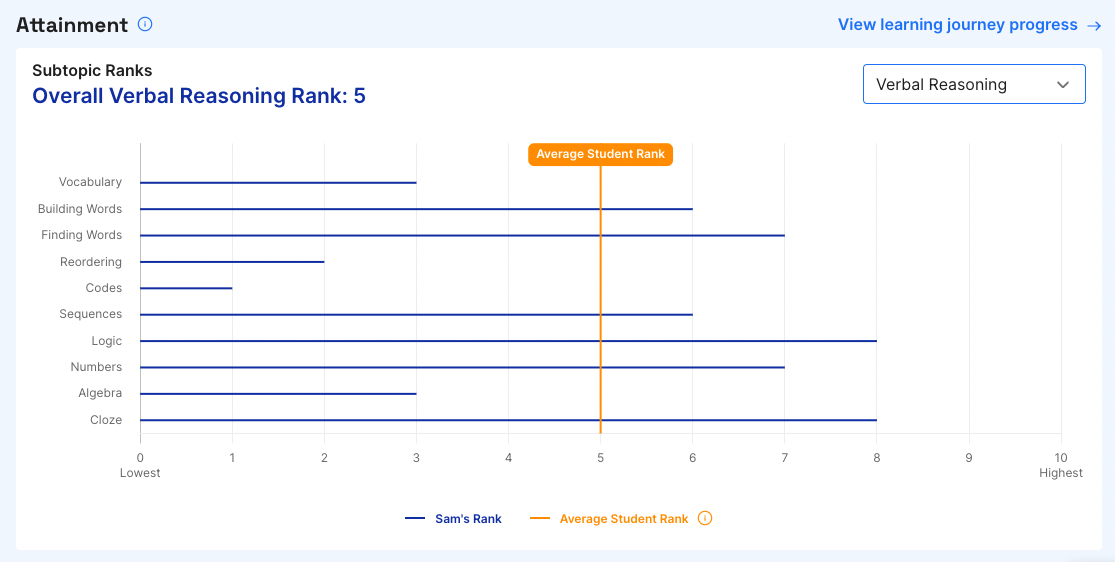 Your child's personalised learning journey progress: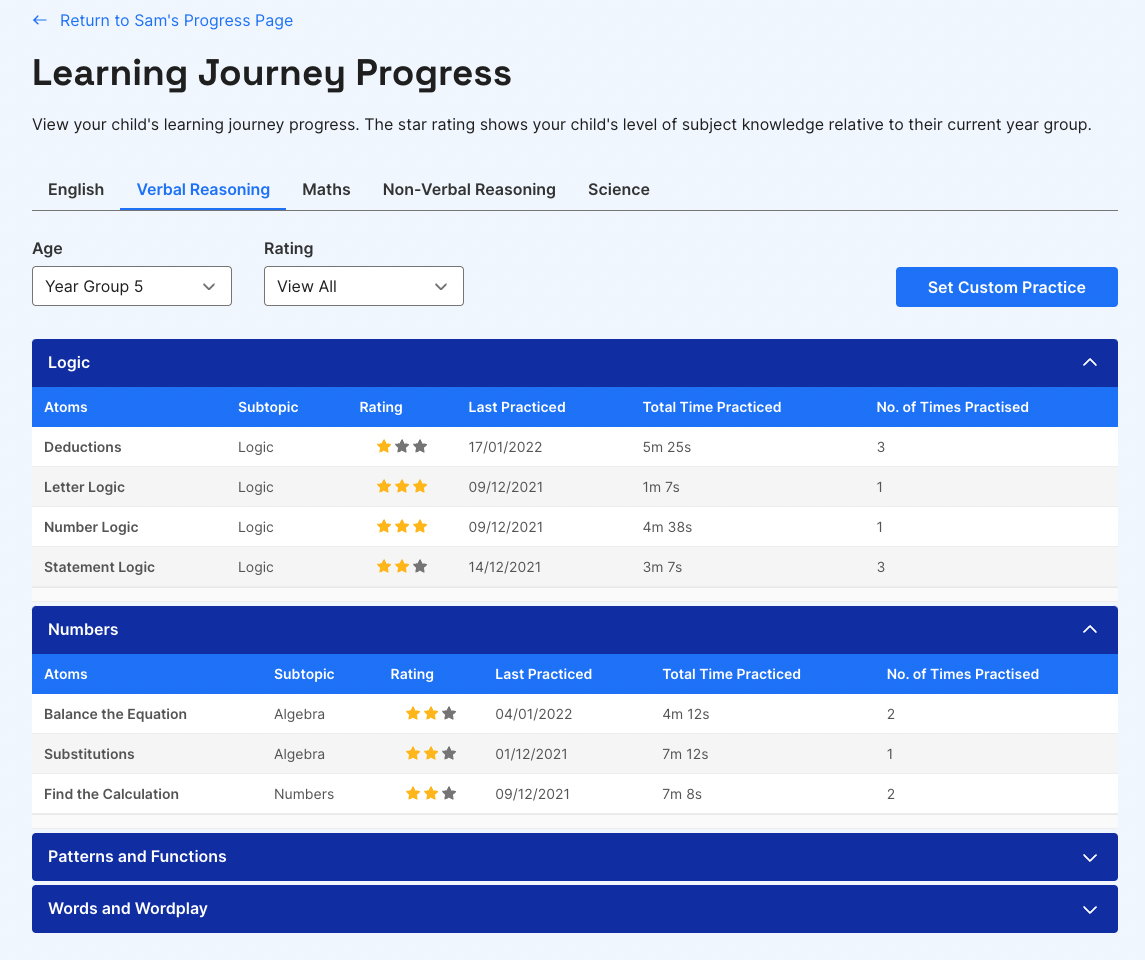 Set Custom Practices to target your child's most challenging subtopics, with functions to personalise timings and question types:
Start your free 5-day trial today to learn more about how Atom can empower your child to sit the 11 plus with confidence.
---
We know how crucial this time is, so our team is on hand to support you and your family every step of the way. You can book a call with one of our Education Experts to ask any questions you may have about grammar schools in Manchester or the Trafford 11 plus:
Join our free specialist Grammar School Preparation webinars, and learn how to structure the next few months to maximise your child's progress: