Looking for clarity on the 2022 Kent Test and admissions process?
In this blog, you will find:
An accurate, up-to-date breakdown of the Kent Test 11 plus content for 2022.

Frequently asked questions, answered.

Expert guidance on how best to prepare
The 2022 Kent Test at a glance
Registration opens: June 2022

Registration closes: July 2022 (Midnight deadline)

Exam date: 8th September 2022 (for children in Kent primary schools) and 10th September 2022 (other children outside of Kent)

Out-of-borough exam date: 10th September 2022

Exam board type: GL Assessment

Results: 18th October 2022

National school offer day: 1st March (or next working day)

Admissions information: Kent County Council

Appeals: Kent Appeals
Which Kent Grammar schools use the 11 plus for admission?
What is it?
The Kent Test is the 11 plus exam for entry to grammar school in the county of Kent. The exam board is GL, one of the biggest providers of 11 plus exams in the country. The tests are in two question booklets. The first covers English and maths, the second tests verbal and non-verbal reasoning and spatial skills. Students choose their answers on a separate answer sheet, which is then marked by a computer.
How to apply
Applications open in the June of the year before you wish to start school, so if you want your child to start in September 2023, you would register in June 2022. You can name up to four secondary school preferences on your application form. Find out more about key dates and application information.

What does the test cover?
The first test will be an English and maths paper that lasts one hour. The second is a reasoning paper that also lasts one hour and contains both verbal reasoning and non-verbal reasoning questions.
Each section of the test gives a five-minute practice exercise, giving an example of how to answer the questions, followed by the 25-minute test.
All the content for both the English and maths questions are based around the English curriculum for Key Stage 1 and 2, up to the end of Year 5, so your child should have been taught everything in the English and maths exams by their junior school.
English: The English section will involve a comprehension exercise to assess your child's reading and understanding of an extract. There will also be some questions designed to test literacy skills like grammar, punctuation and vocabulary. Question types vary but may include: choosing the best words to complete a sentence; finding synonyms or antonyms; spotting mistakes in sentences.
Maths: The maths test contains a series of multiple-choice questions covering a variety of topics taught in most schools up to the start of Year 6. It is important that your child knows their times tables and has a working knowledge of all four functions (+ - ÷ ×), fractions, decimals, percentage, ratio, area, perimeter, measurements and is familiar with mathematical word problems.
Reasoning: This test is designed to assess how well students can decipher rules and relationships between words, numbers, shapes and space. The whole test takes around one hour, but it is divided into smaller timed sections. The key to success in the reasoning paper is paying attention to every detail, no matter how small and thinking logically about patterns and predictions.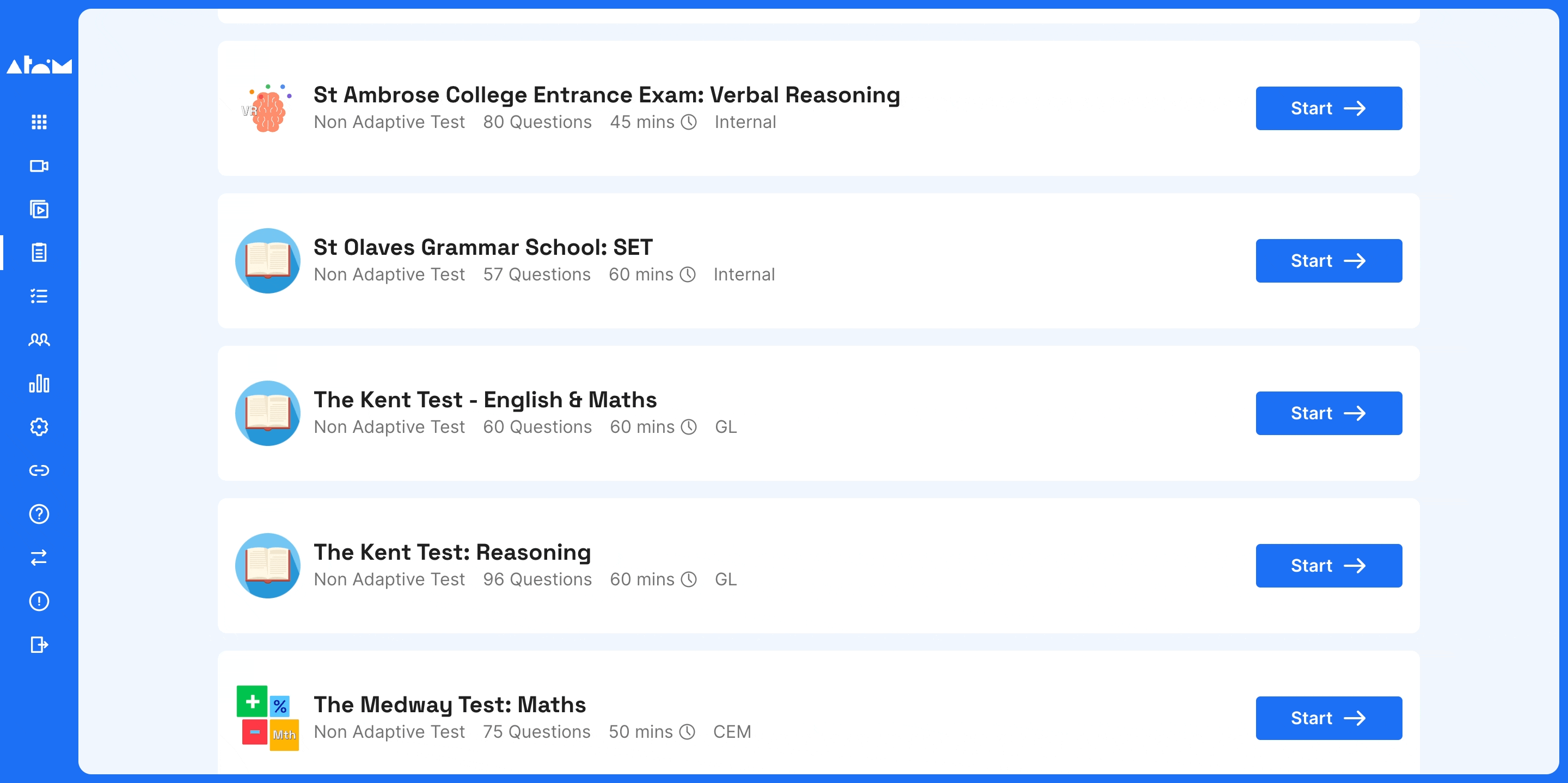 Atom has unlimited Mock Tests in the exact style of the Kent Test for English, maths, and reasoning.
Creative writing: There will also be a creative writing exercise. This isn't formally marked and doesn't form part of the total scores, but it may be used by a local headteacher panel in borderline cases or in an appeal. 40 minutes will be allowed for the writing task, including 10-minutes planning time.
There is a useful familiarisation booklet on the Kent council website, which gives examples of the types of questions in each exam. It also shows what the answer sheet looks like.
What is the pass mark?
If you registered online, your child's result will be emailed to you in the third week of October. If you did not register online, it will be sent by first class post. Your child's primary school will also be notified of the result on this day, so you can check with them if you do not receive the letter.
Your child will get three standardised scores: one for English, one for maths and one for reasoning, as well as a total score. Grammar schools are looking for a total score of 332 or more, with no individual score lower than 109. The highest possible total score is 423.
We can help
We have unlimited Kent Test mock exams on Atom, and practice questions and learning resources that cover the entire curriculum. Atom's Mock Tests mirror the style of the Kent Test, so your child will know exactly what to expect on exam day.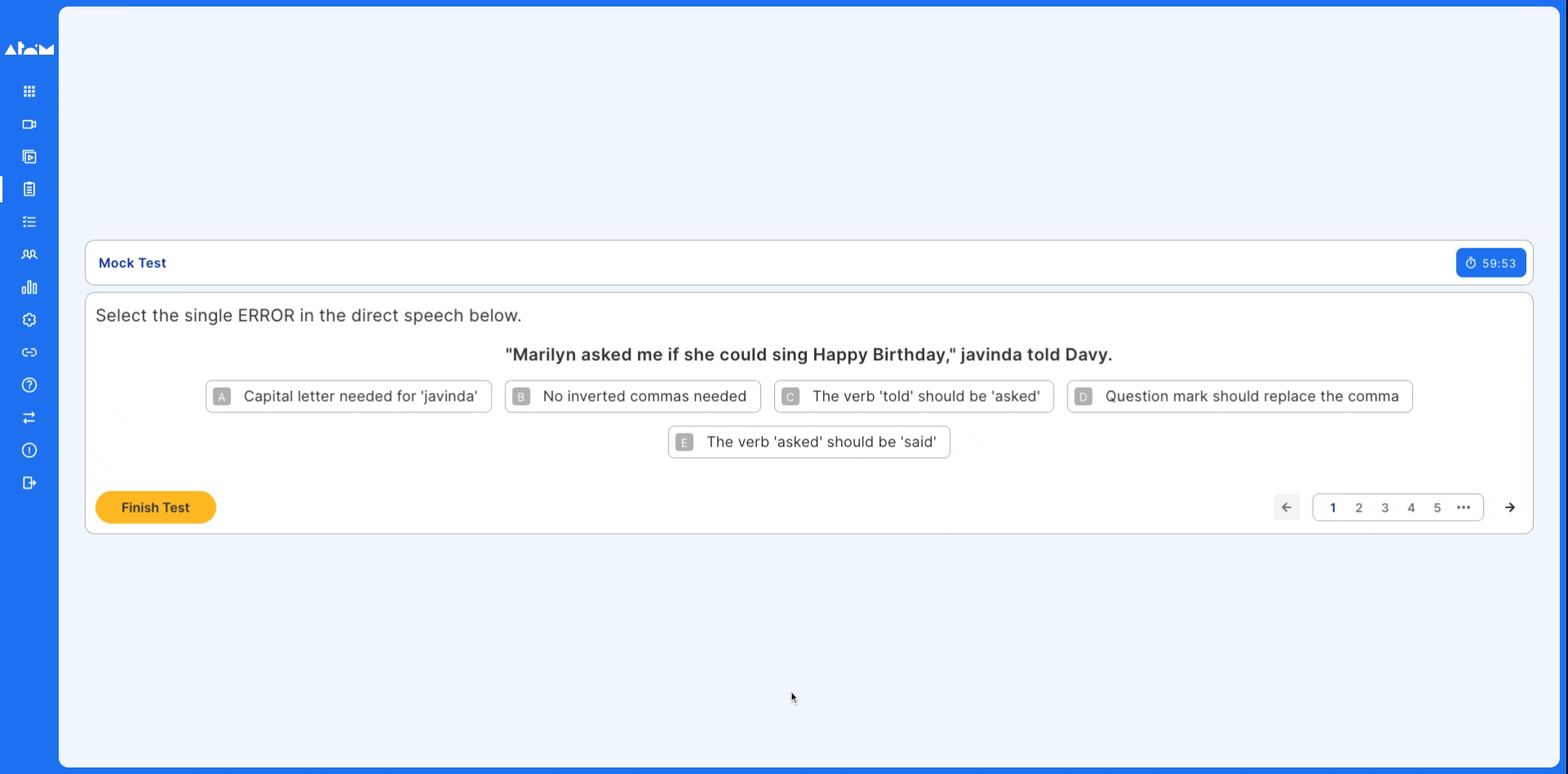 Atom's Parent Portal gives you data-driven insights into your child's areas of strength and development so you can prepare in the most efficient way, target their areas of challenge, and celebrate achievements together.
Overall progress and targets achieved: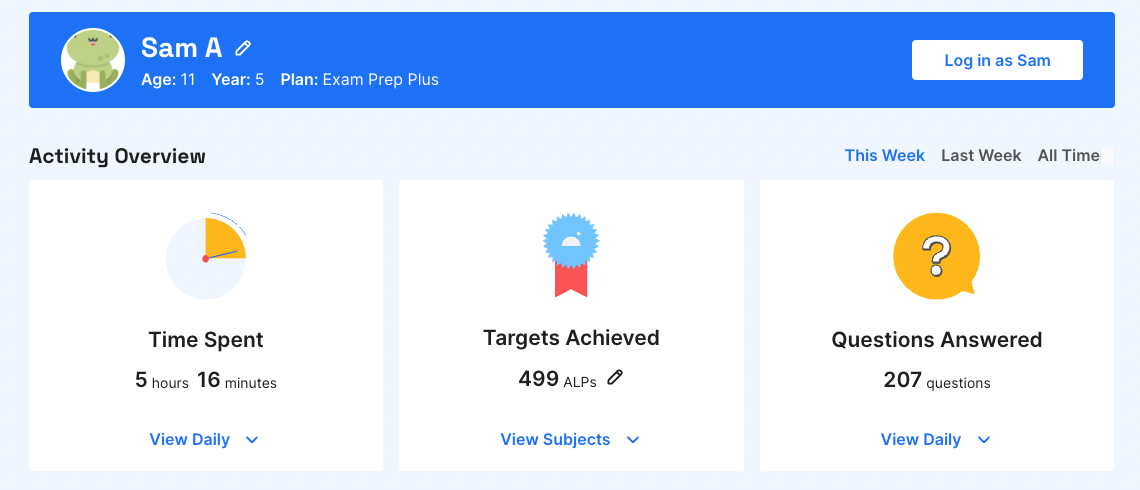 A detailed breakdown of progress by subtopic, compared to the average student in their year: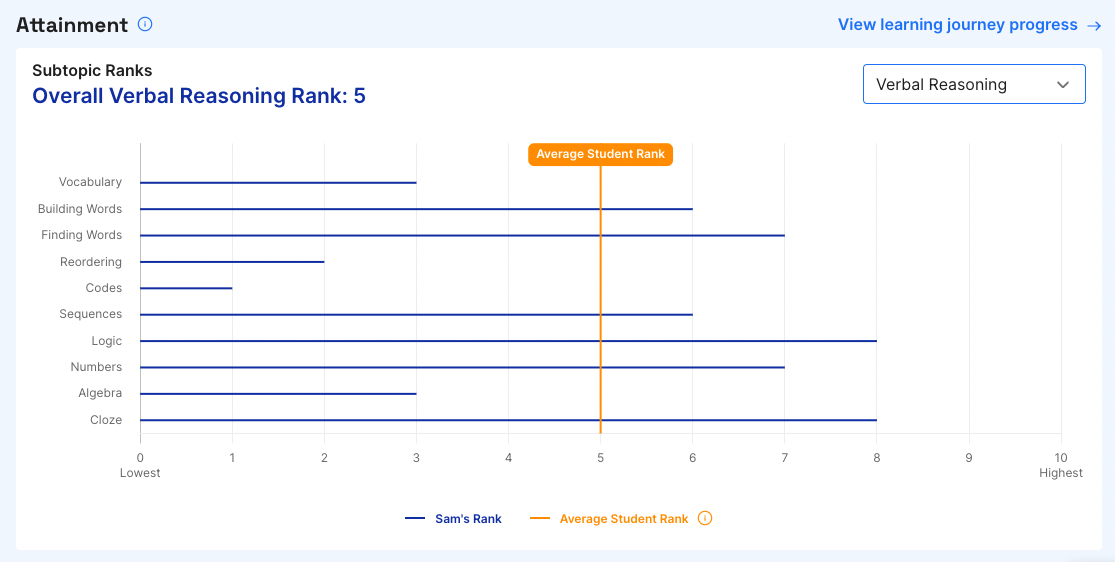 Your child's personalised learning journey progress: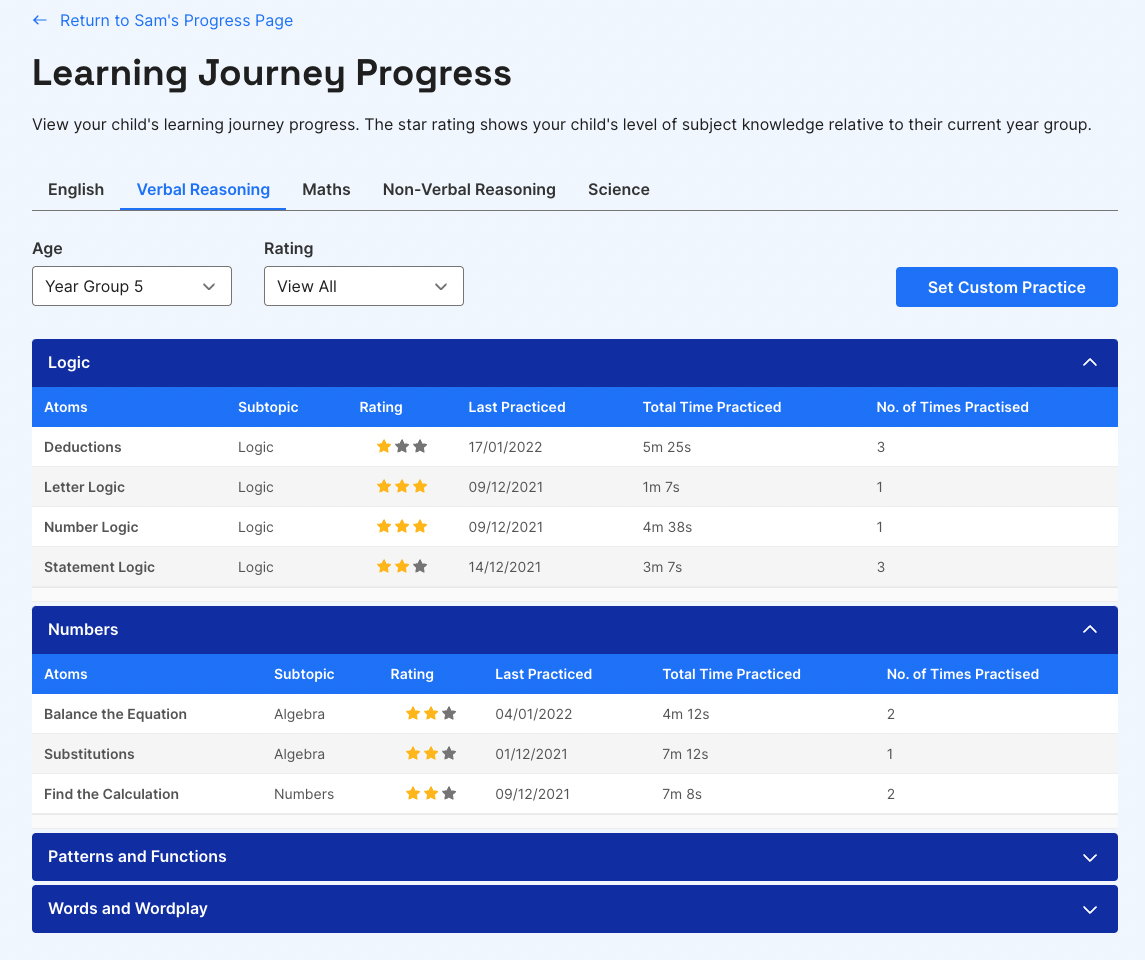 Set Custom Practices to target your child's most challenging subtopics, with functions to personalise timings and question types:
Try Atom for free today to learn more about how adaptive learning can empower your child to ace the Kent Test.
---
We know how crucial this time is, so our team is on hand to support you and your family every step of the way. Contact our Education Experts to ask any questions you may have about the Kent Test 11 plus or your target schools:
Join our free specialist Grammar School Preparation webinars, and learn how to structure the next few months to maximise your child's progress: