St Margaret's School Hampstead is a small independent day school for girls aged 4 to 16 in Hampstead, North West London. Founded in 1884, it is the school's aim that happiness is key, and every girl should leave St Margaret's as confident without being arrogant. Respect for others is key to the school's mission and each girl's education is seen as a partnership between the pupil, her parents and her teachers.
The school places a strong emphasis on having the very best teachers with an extremely low staff turnover and a low pupil to teacher ratio (7:1). There is a lateral grouping system throughout the school, with pupils placed into 12 small families called 'trees'. This is a student-led initiative that has been set up to help girls mix across age ranges and interact naturally, as they would in a family setting. There are plenty of co-curricular activities to choose from, including philosophy, cookery, street dance, chess and many traditional and non-traditional music groups.
The school is only moderately selective but the girls' exam results are competitive nonetheless. Over the past five years, 62% of pupils' GCSE results were A* or A. After leaving the school at 16, St Margaret's pupils attend a variety of high-performing sixth forms across London, including UCS, Highgate School, Channing School, City of London School for Girls and South Hampstead High School.
Key information for St Margaret's School Hampstead
Principal: Mark Webster

Address: St Margaret's School Hampstead, 18 Kidderpore Gardens, Hampstead, London NW3 7SR

London Borough: Camden

Admissions contact: Ms Elarte – [email protected], 020 7435 2439

Age range and gender: 4–16, girls only

Number of pupils: 167

Number of places in Year 7: 5 (external applicants join the girls moving up from the junior school)

Ratio of applicants to places: Undisclosed

Open day date: Thursday 22nd September and Thursday 6th October 2022. Register for a place online

Overview of selection procedure: London 11+ Consortium test, reference and interview

Registration opens: Currently open – apply online

Registration closes: Friday 11th November 2022

Assessment date: Friday 2nd December 2022
St Margaret's School Hampstead fees and financial assistance
From September 2022, the termly school fees for Years 7 to 11 will be £5,845. Additional charges apply for school lunches, books, outings, external examination fees (i.e. GCSEs) and some extra-curricular lessons and activities.
St Margaret's School Hampstead has a bursary programme where the school can pay up to 100% of a girl's fees. The amount of bursary assistance varies according to the financial situation of the candidate's parent/s. You can apply online for a bursary at St Margaret's School Hampstead.
Scholarships are not available at St Margaret's School.
St Margaret's School Hampstead term dates
The term dates at St Margaret's School Hampstead for 2022–23 are:
Autumn term: 7th September – 9th December 2022

Half term: 24th – 28th October 2022

Spring term: 4th January – 29th March 2023

Half term: 13th – 17th February 2023

Summer term: 19th April – 7th July 2023

Half term: 29th May – 2nd June 2023
Admissions process for Year 7 entry to St Margaret's School Hampstead
There are four steps to apply for 11 plus entry to St Margaret's School: a registration form, a reference, the entry assessment and an interview.
Registration form and fee
If you would like to register your daughter for 11 plus entry to St Margaret's School in 2023, you will need to complete the online registration form and pay the registration fee of £100. You will also need to email a photograph of your daughter, a copy of her birth certificate or the information page of her passport, and a copy of her most recent school report.
Reference
St Margaret's School will get in touch with your daughter's current school to ask for a reference on her social and academic performance.
St Margaret's School Hampstead 11 plus exam
St Margaret's School Hampstead is one of a number of schools in the London 11+ Consortium, which aims to provide an application process which is fair, clear, robust and accessible to children from all schools and backgrounds.
Girls applying to St Margaret's School Hampstead will take the exam on one of three dates – Friday 2nd December, Tuesday 6th December or Thursday 8th December 2022. While this can be taken at the candidate's current school, girls who have chosen to take this at St Margaret's School will sit the test on Friday 2nd December.
Interview
Girls who have a good reference from their current school and who perform well in the London 11+ Consortium test will be shortlisted for interview at St Margaret's School, with interviews taking place in January 2023. Details about the interview are not publicised; however, the following criteria is normally applied when deciding which girls to offer places to:
Academic performance at assessment and prior academic performance (school report/reference)

Pupil's attitude to learning

Pupil's character

Parent's expressed commitment to St Margaret's School aims and ethos
St Margaret's School entrance exam format
St Margaret's School is part of the London 11+ Consortium, a group of London senior schools. Your child only has to take the entrance assessment once to apply to multiple schools in the Consortium.
For Year 7 entry in September 2023 onwards, the London 11+ Consortium is updating the format and content of their entrance assessment. The new process aims to go beyond testing cognitive ability alone and seeks to discover a child's potential in creative and critical thinking, analysis, synthesis and problem-solving.
Timings
The new assessment is 100 minutes long (1 hour 40 minutes) with a 30-minute break in the middle.
During the assessment, your child will see a clock on the screen that will count down in minutes showing her how long she has left for each section. It will be visible but not so large as to be distracting.
What is assessed?
The St Margaret's School assessment has six sections, all taken on a computer, in the following order:
Maths – 20 minutes

Non-verbal reasoning – 10 minutes

English comprehension and SPaG (spelling, punctuation and grammar) – 20 minutes

Verbal reasoning – 10 minutes

(Break – 30 minutes)

Problem solving – 15 minutes

Analysis – 25 minutes
The first four parts of the assessment are adaptive, which means the questions are tailored to your child's performance. This method of assessment gives reliable results in assessing cognitive reasoning ability. The final two sections (problem-solving and analysis) will be nonadaptive, meaning all candidates will see exactly the same questions.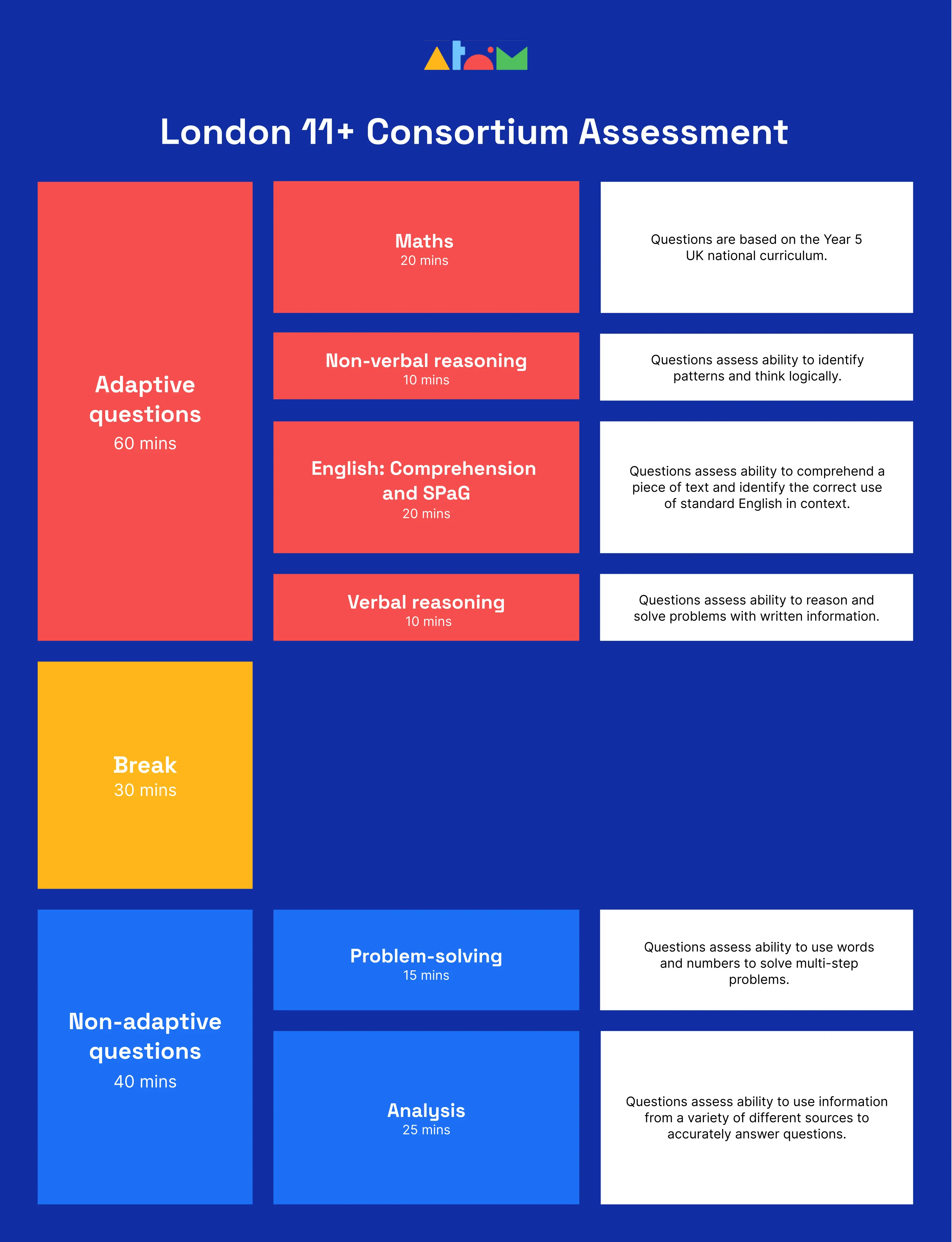 For more information on what to expect from the St Margaret's School entrance assessment process, visit our complete guide to the London 11+ Consortium.
---
It's our mission to help your child have a positive experience with the St Margaret's School admissions process. Our Education Experts are on hand to support you. You can speak with us using the LiveChat icon on the bottom right of your screen, or by calling 020 3973 9226.
If you're looking to help your child master key subjects and build academic confidence, start your free 5-day free trial of Atom Nucleus today!
Looking for tips and resources to help your child master key subjects, excel in exams and build academic confidence? Join Atom Learning's email list: