In Hertfordshire there are no fully selective grammar schools: instead, there are several partially selective schools where places are highly sought after. Seven schools have joined together to administer their admission tests as a consortium (The South West Herts Consortium), to avoid excessive testing of the same skills when applying to multiple schools in the area.
The South West Hertfordshire Grammar Schools 11 plus test at a glance
Registration opens: 11th April 2022

Date of test venue information: 1st July 2022

Reasonable adjustment deadline: 17th June 2022

Registration closes: 17th June 2022

Exam dates: 3rd September 2022 (academic test), 5th September 2022 (music test), 13th September 2022 (sports test – Queen's School only)

Exam board type: GL and consortium's own

Results: 19th October 2022

National school offer day: 1st March 2023 (or next working day)

Admissions information: [email protected], additional information found here.

Appeals: Undertaken by an independent appeal panel established for that school
Which schools use the test for admission?
Consortium schools
Non-consortium partially selective schools
Dame Alice Owen's School

Bishop's Stortford High School

Chancellor's School

Goffs Academy

Hertfordshire and Essex High School

Hockerill Anglo-European College

The John Warner School
What is the South West Hertfordshire Grammar Schools 11 plus test?
The South West Hertfordshire 11 plus comprises of aptitude tests designed to assess your child's competence and ability in a variety of areas. It is taken in the September of Year 6. It is worth noting that a number of the partially selective schools outside the consortium administer their music aptitude test in the summer of Year 5 – contact your school of interest's admissions officer for confirmation.
It's a paper-based exam (except the sporting aptitude test) that is taken in one of the grammar schools. You'll be informed of the location of the test via email after registration. The consortium schools follow the same dates, process, and test content.
What is covered in the South West Herts Consortium 11 plus test?
The aptitude tests are split into different sections, you register your child for the test you wish them to sit on the consortium website. There are three main aptitude tests:
Academic aptitude test
Approximately 50 minutes each paper, there are two papers involved in the academic test:
Verbal reasoning (word choice)
These questions assess the knowledge of words and their meanings in context, vocabulary depth and how words relate to each other.
Maths
This paper uses the national curriculum content, including content that is taught in Year 6. The questions are multiple-choice style, and assess arithmetic, reasoning, and problem-solving skills.
Unlimited Mock Tests on Atom will help your child prepare for both papers of the South West Herts academic test.
Musical aptitude test
Lasting for approximately 30 minutes, this two-part, four-section exam is delivered in paper form. In the first round, your child is asked 60 questions which are played via CD. The questions focus on the sections of pitch, melody, rhythm, and texture.
Pitch
Candidates listen to two sounds and must indicate if they have the same, higher, or lower pitch than the previous sound.
Melody
Two tunes are played and candidates must identify if they are identical or if a note has been altered.
Rhythm
Two patterns of notes are offered, candidates must identify if there are any differences and if so, where they occur.
Texture
Chords will be played; the candidates need to decide how many notes each chord has. The second round is by invitation only, where the highest-scoring candidates will be required to perform a short piece of an instrument of their choice or vocals.
Sporting aptitude test
This element is only offered for Queens' School, it is exceptionally competitive and recommended for only the most elite of sportspeople. Only 5% of Year 7 places are reserved for sporting aptitude candidates. The Eurofit Test is used, comprising 9 parts, testing a range of flexibility, strength, and stamina.
Other partially selective schools in Hertfordshire which are not in the consortium also use aptitude testing to assist with their admissions process. Including academic, music, sporting, and technological tests. Further information on these tests can be found on the schools' websites above.

What is the pass mark for the South West Hertfordshire 11 plus test?
There is no specific pass mark – instead, the scores are ranked and the highest-scoring children are eligible for consideration.
Each school's individual admissions policy will need to be considered. Schools are more likely to admit a lower-scoring pupil in their priority zones and admission criteria than a child who lives out of the area. The South West Hertfordshire 11 plus is extremely competitive, with all schools requiring an oversubscription policy.
Previous minimum entry scores are published on several consortium and non-consortium websites as guidance for past admissions. However, this is not an accurate method of determining the likelihood of a place. The number of pupils who fall under the 'community places' (siblings currently attending, proximity to school, staff children and Educational Health Care Plan and Looked After Children) cannot be predicted for the 2023 entry.
When should I start preparing my child for the 11 plus?
A common age to start the academic 11 plus preparation process is summer term of Year 4 or early Autumn Year 5. The best results come from your child being relaxed and well-practised for the exam. Time pressure. can be an additional challenge on the day, so practice with similar time constraints in a supportive and engaging environment is essential.
The 11 plus is designed to challenge children working above age-related expectations, so your child should have mastered the age-appropriate curriculum before moving onto exam practice questions. If your child requires general curriculum support it's advisable to begin this in Year 3 and 4. Atom's core-curriculum programme will help build up foundational knowledge before you introduce reasoning and exam practice.
How can I help my child to prepare for the 11 plus?
Here are some top tips on how to best prepare your child for the 2022 exam.
Familiarity: access to quality practice materials allows your child to get familiar with the question styles, so they will be confident and focused when tackling the test. Atom gives you access to unlimited Mock Tests that mirror the style and format of the South West Hertfordshire 11 plus.

Reading for pleasure: the verbal reasoning test requires confidence understanding and interpreting a broad range of text styles. Encouraging your child to read widely in their downtime is a great boost to their vocabulary. Get free resources for engaging your child with reading here.
Immediate support: videos, help sheets and examples for each question will help your child build a secure understanding of each subtopic they need for the exam.
Precise goals: an accurate sense of your child's areas of strength and development will help you to target your preparation efficiently. Atom's Parent Portal makes this easy, with data-driven insights into your child's areas of strength and development.
Overall progress and targets achieved: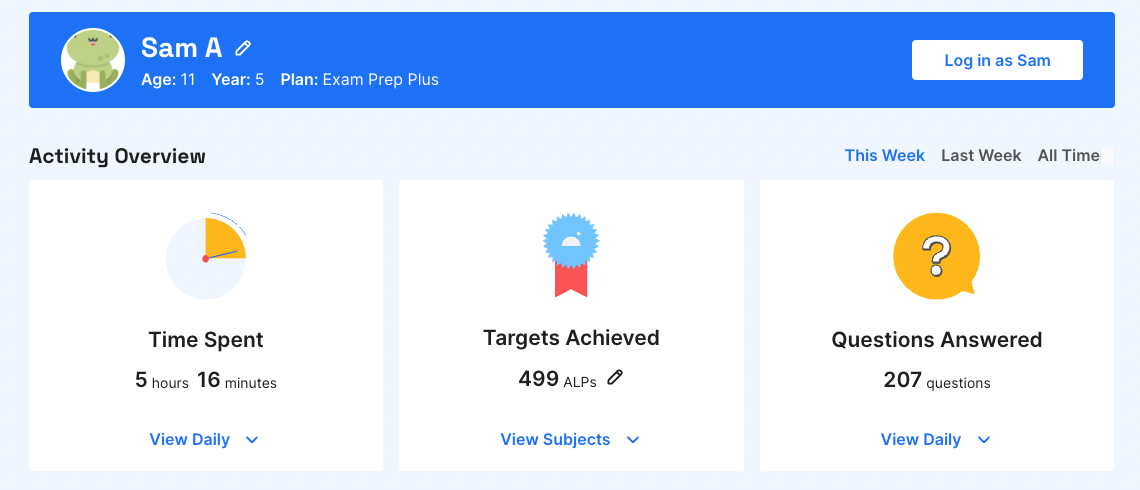 A detailed breakdown of progress by subtopic, compared to the average student in their year: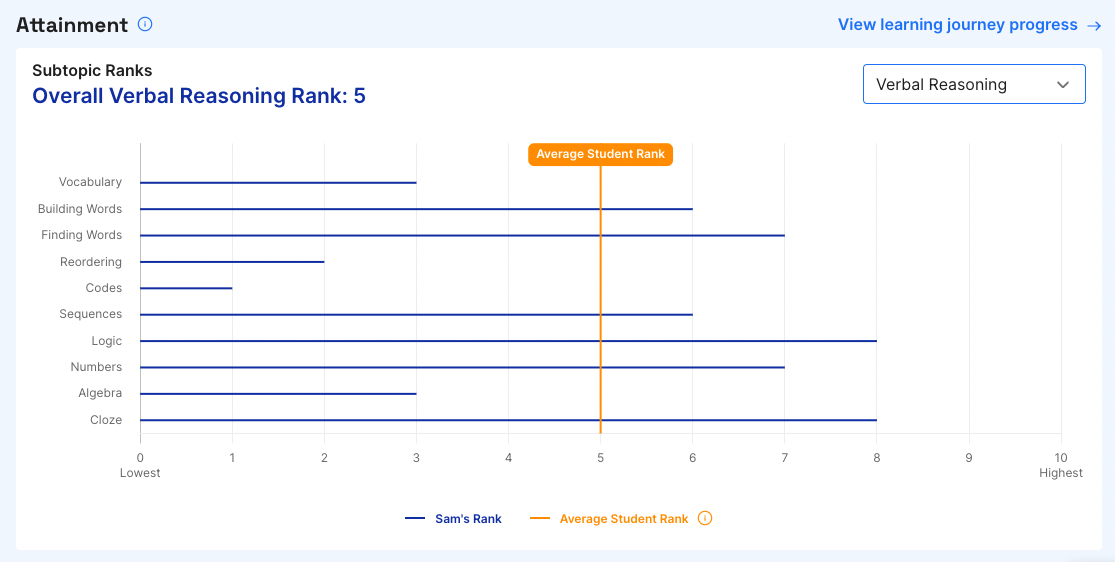 Your child's personalised learning journey progress: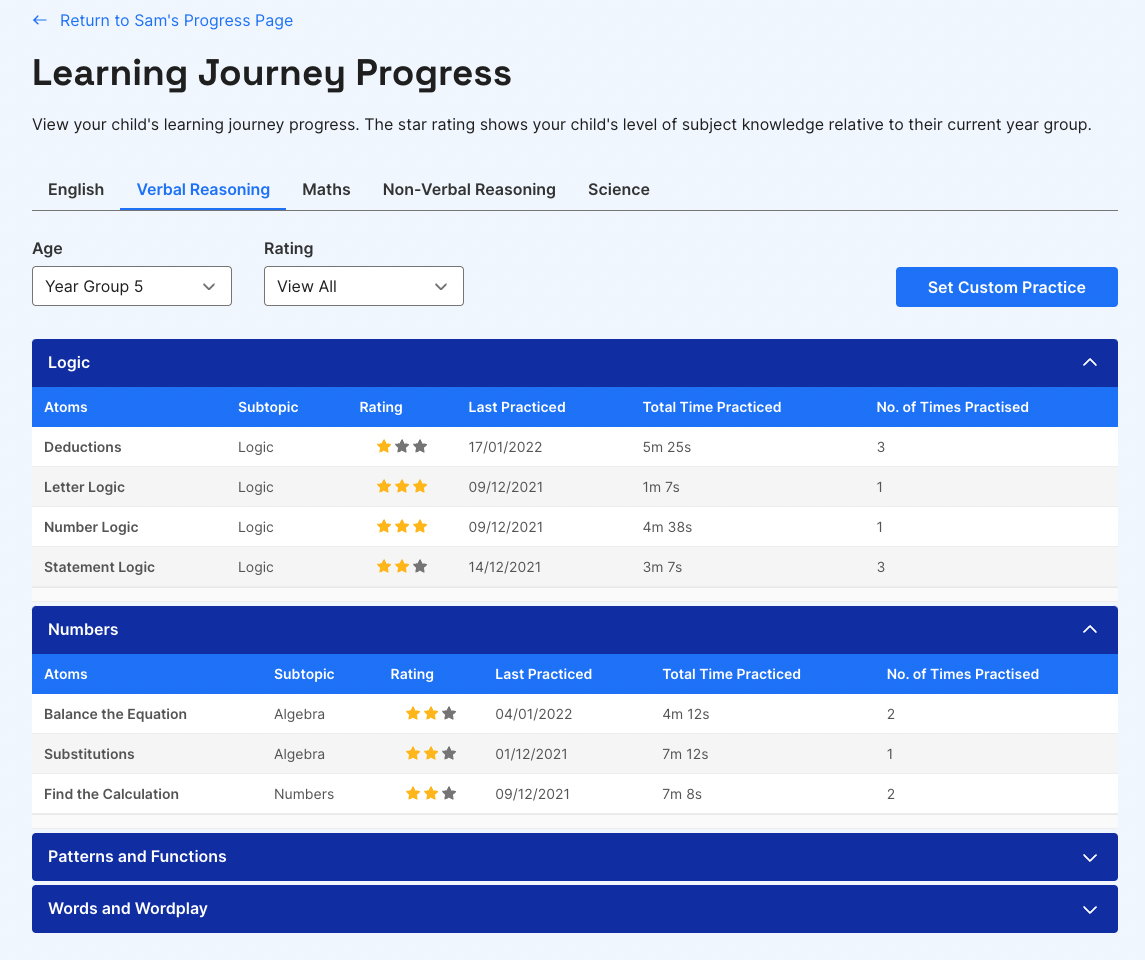 Set Custom Practices to target your child's most challenging subtopics, with functions to personalise timings and question types:
Start your free trial of Atom Nucleus today and begin your child's personalised learning journey, tailored to the South West Hertfordshire 11 plus.
---
We know how crucial this time is. If you have any questions about the South West Herts 11 plus test, our education experts are on hand to support you and your family every step of the way:
Join our free specialist Grammar School Preparation webinars, and learn how to structure the next few months to maximise your child's progress: