Looking for information on the Slough Consortium of Grammar Schools 2022 selective testing process?
We've collated everything you need to know about the test itself, the schools involved, and the preparation needed:
Accurate, up-to-date breakdown of the test content for 2022

Frequently asked questions, answered

Expert guidance on how best to prepare your child
Read on for top tips to give your child the best chance at securing a place at the school they will thrive in!
The Slough Consortium 11 plus test at a glance
Registration opens: May 2022

Reasonable adjustment deadline: June 2022

Registration closes: end of June 2022

Exam date: September 2022

Out-of-borough exam date: usually within a week of initial test date

Exam board type: CEM (Cambridge Assessment)

Results: October 2022

National school offer day: 1st March (or next working day)

Admissions information: Slough Borough Council and Slough Consortium for supplementary forms
Which schools use the test for admission?
What is the Slough Consortium 11 plus test?
The Slough Consortium 11 plus test is an exam taken by pupils wanting to attend one of the local grammar schools listed above. The Slough Consortium of Grammar Schools was formed to make the 11 plus testing process more straightforward by removing the need to prepare for and take different tests for each school in the area. Places in these schools are highly sought after: passing the 11 plus alone does not guarantee admission.
Other local selective schools that are not in the Slough Consortium, including Kendrick Grammar School, also use the same test and format.
For 2022, the exam board will be CEM. The test will be taken at one of the Slough grammar schools and you will receive information when registered. The results will be used by all schools placed on the Common Application Form.

What is covered in the Slough Consortium 11 plus test?
Lasting 60-65 minutes for each paper (including time for instructions), the test consists of two papers. The tests include a range of questions in the following areas:
Reading comprehension

Verbal reasoning

Non-verbal reasoning

Numerical reasoning
There is no written task element involved in this test.
Reading comprehension
This will begin with an example extract of a few sentences, with practice questions to ensure clarity on the question format before beginning. There will be approximately 2 pages of text to read within this time, followed by multiple-choice questions. It is likely that the level of challenge will be higher than age-related expectations.
Verbal reasoning (word choice)
These questions assess the knowledge of words and their meanings in context, vocabulary depth, and how words relate to each other. You can find examples of the type of questions included here.
Non-verbal reasoning
Linked with mathematical and scientific skills, these shape puzzles are designed to test problem solving skills. The answers are in a multiple-choice format. Learn more about non-verbal reasoning and the kinds of questions to expect here.
Numerical reasoning
This is split into two sections. The first section is likely to be number and arithmetic skill based, where the answer formats are shown below. The second section is likely to be multiple choice, each section is timed. Working out can be done on the question booklet, this will not be marked.
Atom has unlimited Mock Tests that mirror the style and format of the Slough Consortium 11 plus:
What is the pass mark for the Slough Consortium 11 plus?
The pass mark may vary year on year depending on the success rate of the previous cohort. If a cohort finds the questions exceptionally challenging, the pass mark may be lower than it was the previous year. The test is academically challenging, it's designed with the top 25% of attainers in mind.
How competitive is the Slough Grammar Schools 11 plus test?
There is significant competition in Slough to attend one of the 10 grammar schools in the area and it is common practice to start preparation several years in advance of the exam. Students should be intimately familiar with the format, questions styles, and timing pressures of the exam. Those wanting to register for the test who live out of the area can do so.
There is an appeals process if unsuccessful in gaining a place at the school of choice, however the success rate for turnover of decision is minimal.
Using information from the most recently published test information, here is an insight into the number of pupils who applied to each of the four schools in the Slough Consortium, and their success rate: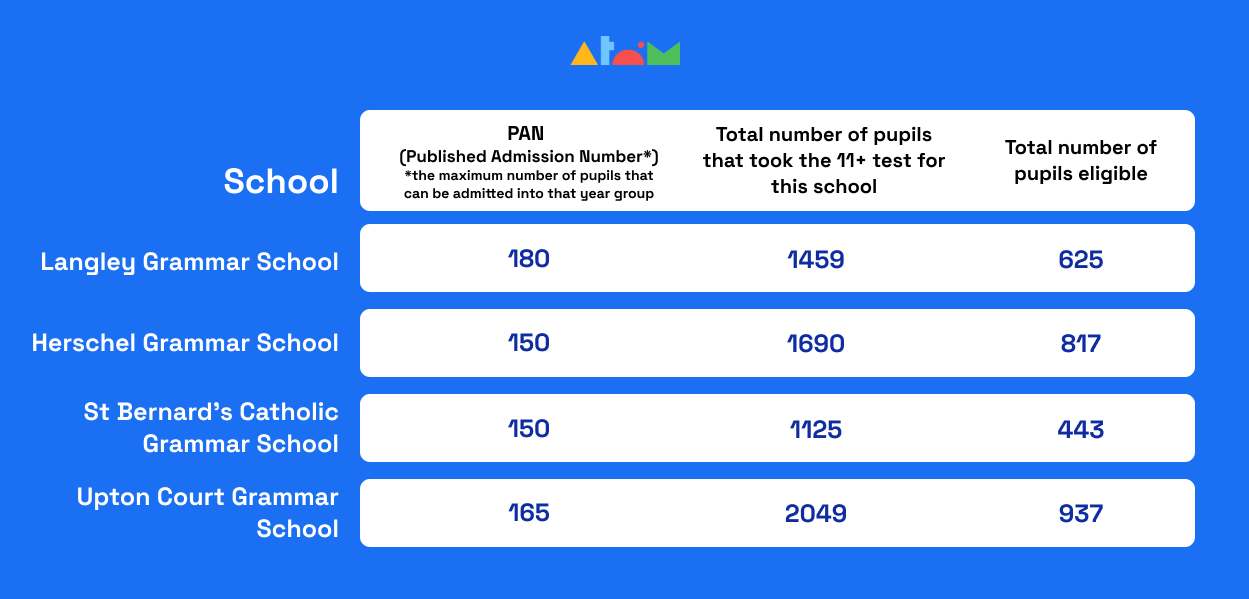 When should I start preparing my child for the Slough Consortium 11 plus test?
Commonly, the preparation process can be introduced in the summer term of Year 4 or early autumn Year 5. The Slough Grammar Schools test is intended to challenge the security of your child's understanding within and above their academic age range. A challenging element of the test can be the time constraint, so your aim should be for your child to be at ease and well-practised for the exam.
Mastering the age-appropriate curriculum is essential before progressing to exam-focused questions. If your child requires general curriculum focus for their age-range in addition to 11 plus preparation, starting in Year 3 is advisable. Atom's core curriculum programme will help to build up foundational knowledge, before introducing reasoning and exam practice.
How can I help my child to prepare for the Slough Grammar Schools 11 plus test 2022?
Familiarisation with known-question styles and formats will allow your child to focus on answering the questions to the highest standard. Access to unlimited practice materials will help to ensure confidence when tackling the test. Atom has a library of Mock Tests mirroring the style and format of the Slough Consortium 11 plus, so your child will know exactly what to expect.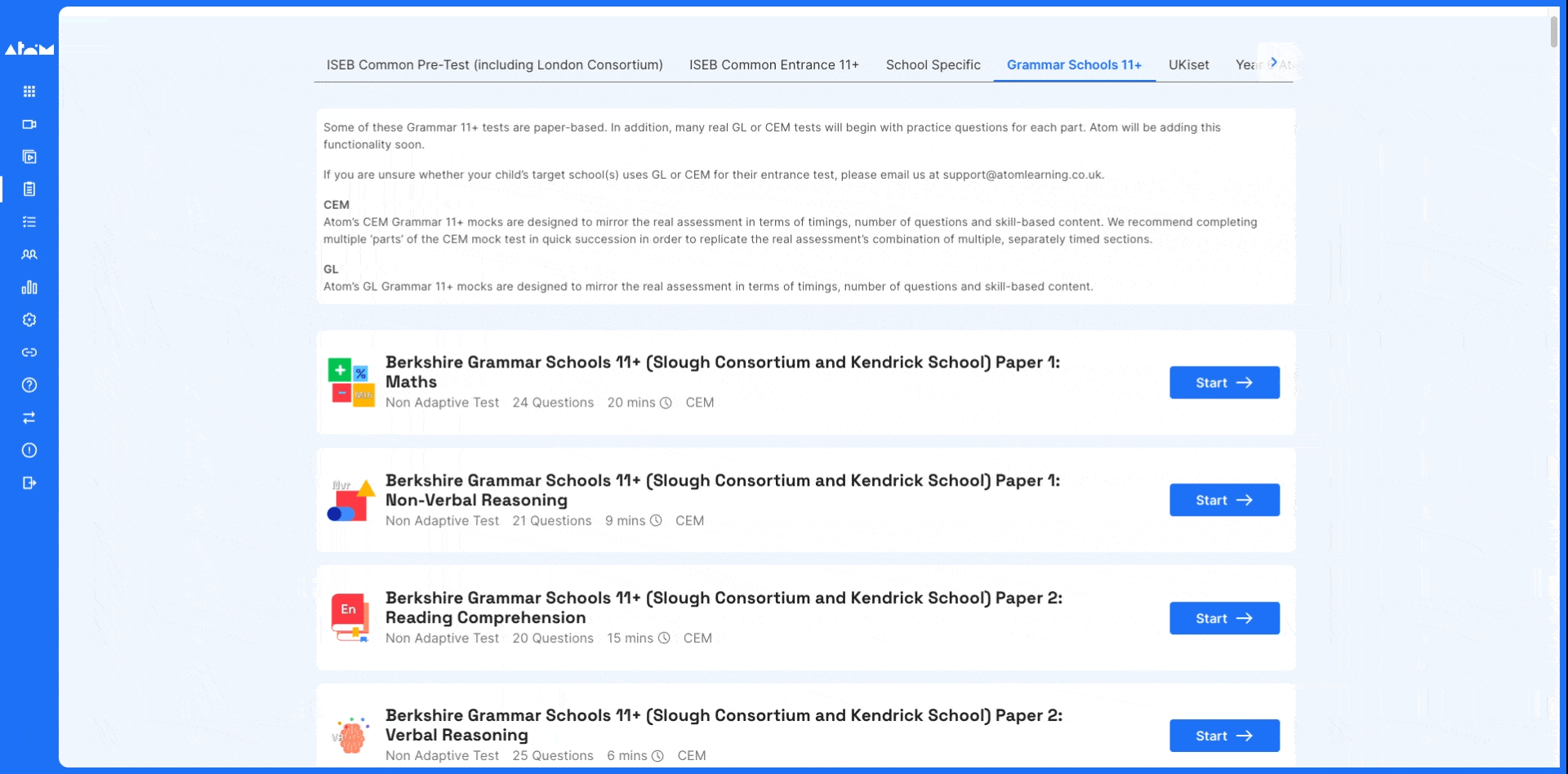 Efficient mastery: a huge amount of content is assessed in the 11 plus. Atom's adaptive algorithm creates your child's personalised learning journey, tailored to your target school, to help them master every subtopic they will need in the exam.
Immediate support: when learning or revising challenging topics, your child will need immediate clarity with any misconceptions to become secure in an area of study. Access to videos, help sheets and examples for each question builds confidence and competence in all areas covered in the exam.
Engage with their progress: celebrate their achievements together! Atom's Parent Portal gives you data-driven insights into your child's progress and the opportunity to set Custom Practices targeted to their challenging areas.
Overall progress and targets achieved: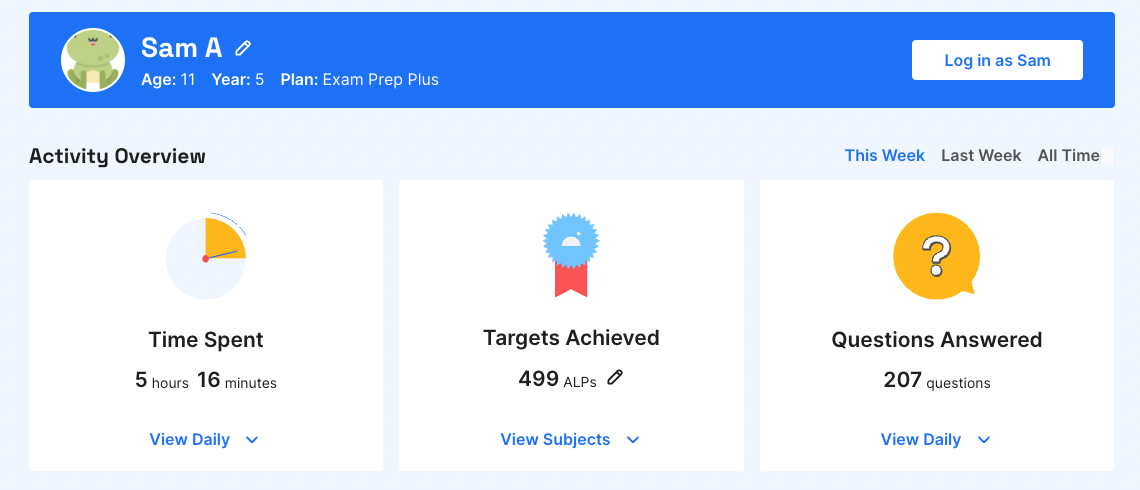 A detailed breakdown of progress by subtopic, compared to the average student in their year: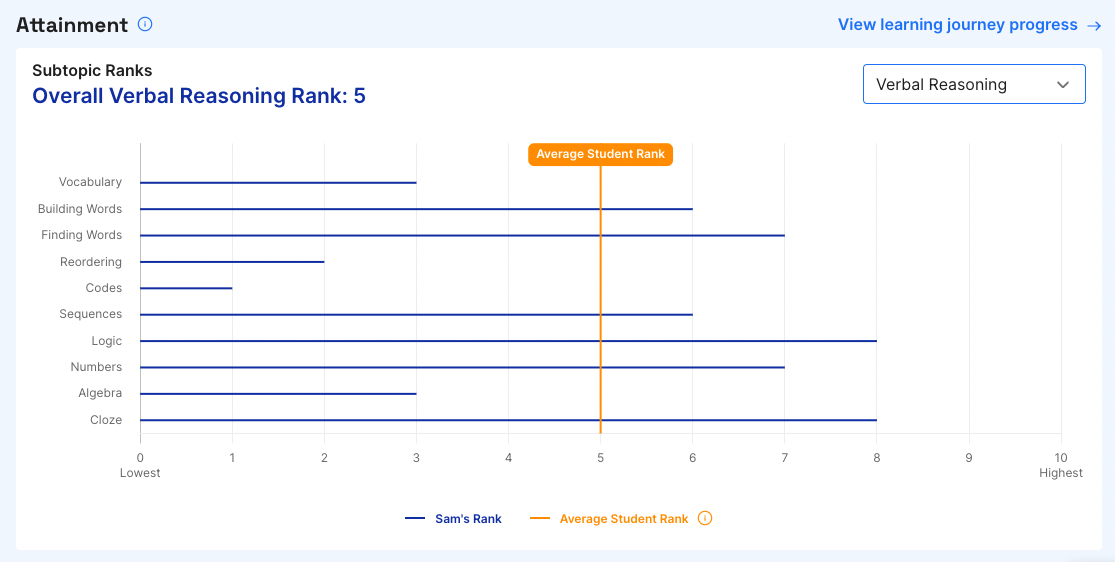 Your child's personalised learning journey progress: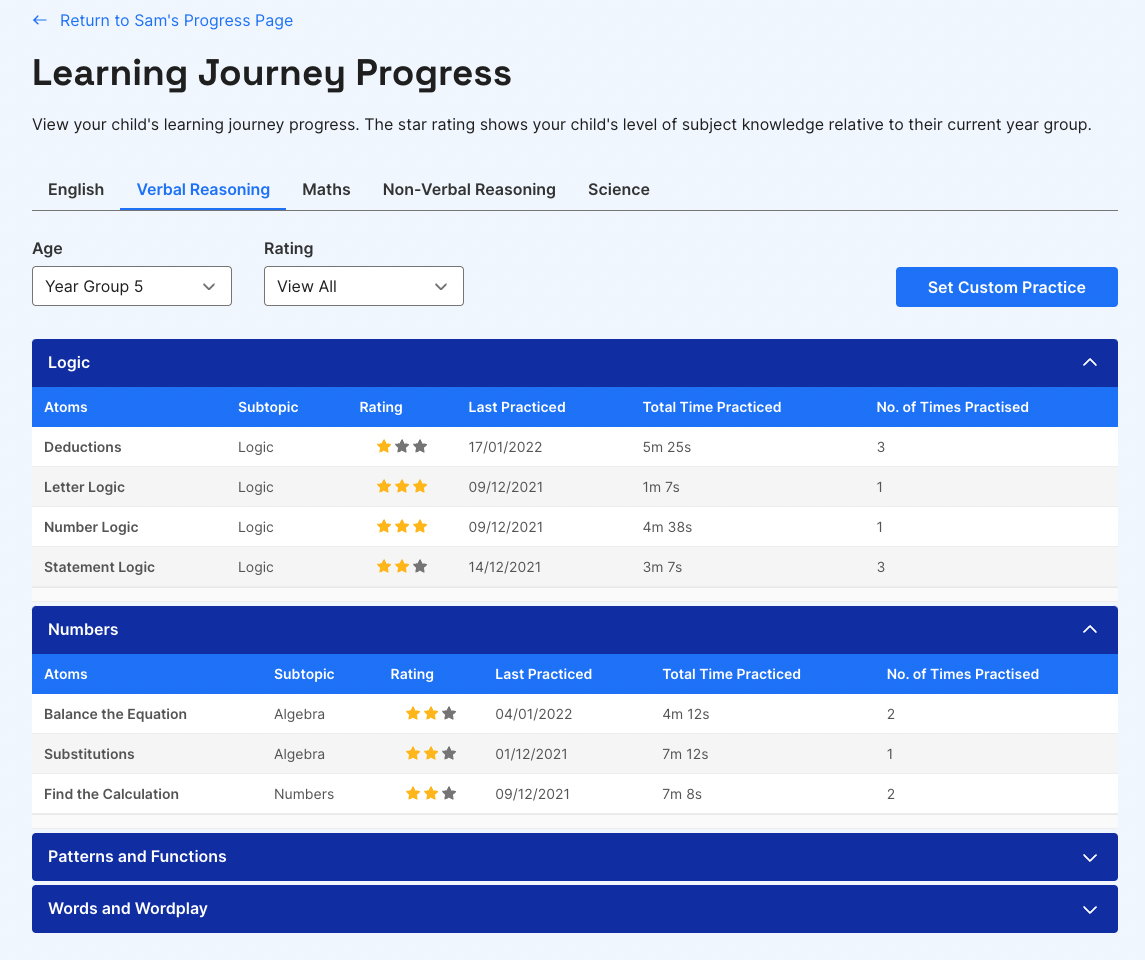 Set Custom Practices to target your child's most challenging subtopics, with functions to personalise timings and question types:
Start your free trial of Atom Nucleus today to learn more.
---
We know how crucial this time is. If you have any questions about the Slough Grammar Schools 11 plus test, our education experts are on hand to support you and your family every step of the way:
Join our free specialist Grammar School Preparation webinars, and learn how to structure the next few months to maximise your child's progress: