Queen's College London is an independent day school for girls aged 11–18, with an accompanying prep school for ages 4–11. Occupying four large houses on Harley Street, the school's location in Marylebone in the City of Westminster is a unique central base for one of London's leading girls' schools.
Founded in 1848 by Frederick Denison Maurice, a Christian socialist thinker and professor at King's College London, the school was the first British institution to give academic qualifications to women. Today, Queen's College maintains this liberal and forward-looking ethos, measuring its success based on developing pupils' independence of mind, determination, imagination and intellectual rigour.
Although Queen's values academic excellence for its own sake rather than the pursuit of marks, its results are indeed excellent. 87% of GCSE pupils achieved grades 7–9 (A–A*) at GCSE in 2021, and 78.7% A–A* at A level.
Exceptional pastoral care is a priority for Queen's. Their 'Thrive' programme, which encompasses a range of mental health and wellbeing initiatives, was shortlisted for the TES Awards in 2021, and their anti-bullying leadership has been recognised by the Diana Award. The Thrive programme has now been embedded in the curriculum for Years 7–8, and 88% of parents surveyed said that these lessons have improved their daughter's wellbeing. Peer mentors, anti-bullying ambassadors, e-safety education, and 'failure week' (an event countering the culture of perfection faced by teenagers) demonstrate an integral commitment to pupil wellbeing.
Key information for Queen's College London
Headteacher: Richard Tillett

Address: 43-49 Harley Street, London W1G 8BT

London Borough: City of Westminster

Admission contact: [email protected], 020 7291 7070

Age range and gender: 11–18, girls only

Number of pupils: 520 (approx.)

Number of places in Year 7: Undisclosed

Ratio of applicants to places: Undisclosed

Open day dates: Thursday 22nd September (5-7pm), Tuesday 8th November 2022 (9am-11am). Book online

Overview of selection procedure for Year 7 entry in 2023: London 11+ Consortium test, school reference, interview

Registration opens: Currently open. Apply online

Registration closes: 11th November 2022

Assessment date for Year 7 entry in 2023: 2nd, 6th or 8th December 2022

Interview date for Year 7 entry in 2023: Early January 2023

Result of application emailed to parents: 10th February 2023
Queen's College London fees and financial assistance
Queen's College London's fees for 2022-23 are £7,345 per term, £22,035 per annum. When you accept a place at the school you will need to pay an entry deposit of £3,000. £1,000 of this will be deducted from the first term's bill and the remaining £2,000 will be refunded when your child leaves the school. The deposit is reduced to £500 for bursary applicants.
School fees do not include lunches, trips, textbooks, or music lessons which are charged at £240 per term.
Fees are discounted by 20% for the third sibling attending the school while her two older sisters are still in attendance. Discounts are also offered for fees paid in advance for one full year or more.
Queen's College London bursaries
Queen's College offers a number of means-tested bursaries at 11+ entry. Bursaries can provide up to 100% remission of fees, depending on a family's financial circumstances. There is also a fund of up to £400 per term to support the purchase of uniform and other essential items for 100% bursary holders.
The school aims to have at least 10% of pupils on fully-funded bursaries, to be as accessible as possible for girls from a variety of economic backgrounds. Bursaries can also be awarded mid-year if financial circumstances change during a girl's time at the school.
To apply for a bursary find the application form here. The school recommends you apply as early as possible in the year prior to 11+ entry. The final submission deadline is 18th November 2022 for 2023 entry.
As part of the bursary application process you will need to answer questions about your income, assets, dependents and outgoings, with documented proof. The school's independent assessors will then arrange for a visit to your home and interview to assess your circumstances.
Queen's College scholarships and awards
Queen's College awards academic, music and art scholarships at Year 7 entry. The school automatically considers all candidates who sit the 11+ exam for an academic scholarship. Details about applying for arts scholarships will be sent to you in the school's Examination Entrance Form, which you'll receive shortly after registering with the school.
If you indicate on your entrance form that you would like your daughter to be considered for an arts scholarship, and she then performs well in the exam, she will be invited to audition. For a music scholarship, your child will need to play their instrument to the director of music, and for an art scholarship your child will need to bring a portfolio of work and take a practical test.
Results for scholarships are released with the entry results in February.
Queen's College term dates
The term dates at Queen's College London for 2022–23 are:
Michaelmas (autumn) term: 5th September – 15th December 2022

Half term: 17th – 28th October 2022

Lent (spring) term: 9th January – 30th March 2023

Half term: 13th–17th February 2023

Summer term: 18th April – 5th July 2023

Half term: 29th May – 2nd June 2023
Admissions process for Year 7 entry to Queen's College London
1. Registration
If you would like to register your daughter for Year 7 2023 entry, you'll need to complete the online application form before the deadline of 11th November 2022 (while your daughter is in Year 6). The fee for each application is £150 and is non-refundable (you do not need to pay a registration fee if your daughter is currently a pupil at Queen's College Prep School).
Once you have submitted the application form and fee, you'll receive an Examination Entrance Form requesting further details. The deadline to complete this is 18th November 2022.
The school will also request a reference from the headteacher of your daughter's current school.
2. Assessment
Your daughter will sit the entrance assessment on either 2nd, 6th, or 8th December 2022. Queen's College is part of the London 11+ Consortium which consists of several schools with a coordinated assessment process. If your daughter has applied to multiple schools within the London 11+ Consortium, she only needs to sit the assessment once and her results will be shared with all schools to which she has applied. Make sure to submit a school application form to all schools within the consortium that you want to apply to, so that they are each able to access your daughter's results.
Children take the assessment at their current primary or prep school. If your daughter's current school does not offer this facility, contact the Queen's College registrar, Barbara Porter, on [email protected], and arrangements will be made for your daughter to sit the test at Queen's on Friday 2nd December 2022.
If your daughter already attends Queen's College Prep School, she may not need to take the entry test if her academic results indicate that she will thrive at the senior school – this is decided by the headteachers of Queen's prep and senior schools.
3. Interview
Following the entrance assessment, all applicants are invited to attend an interview in January 2023. The exact dates are to be confirmed by the school. Your daughter will have a one-to-one interview with a senior member of school staff that will last approximately 15 minutes.
If you have applied for a music or art scholarship, your daughter will also be invited to attend an audition in January 2023.
4. Results
Queen's College considers the whole picture created by the exam results, interview and school reference to assess each child's potential and decide whether to offer a place.
Children with a sister already at the school have to gain entry on their own merit, although having a sister at the school may be taken into account when deciding between candidates who have performed at a similar level in the entry process.
You will receive an email on Friday 10th February 2023 with the results of your application to Queen's College. If your daughter is offered a place, you must accept or decline the offer by the deadline of midday on Monday 6th March 2023.
Queen's College London entrance exam format
Queen's College is part of the London 11+ Consortium, a group of London senior schools. Your child only has to take the entrance assessment once to apply to multiple schools in the Consortium.
For Year 7 entry in September 2023 onwards, the London 11+ Consortium is updating the format and content of their entrance assessment. The new process aims to go beyond testing cognitive ability alone and seeks to discover a child's potential in creative and critical thinking, analysis, synthesis and problem-solving.
Timings
The new assessment is 100 minutes long (1 hour 40 minutes) with a 30-minute break in the middle.
During the assessment, your child will see a clock on the screen that will count down in minutes showing her how long she has left for each section. It will be visible but not so large as to be distracting.
What is assessed?
The Queen's College assessment has six sections, all taken on a computer, in the following order:
Maths – 20 minutes

Non-verbal reasoning – 10 minutes

English comprehension and SPaG (spelling, punctuation and grammar) – 20 minutes

Verbal reasoning – 10 minutes

(Break – 30 minutes)

Problem solving – 15 minutes

Analysis – 25 minutes
The first four parts of the assessment are adaptive, which means the questions are tailored to your child's performance. This method of assessment gives reliable results in assessing cognitive reasoning ability. The final two sections (problem-solving and analysis) will be nonadaptive, meaning all candidates will see exactly the same questions.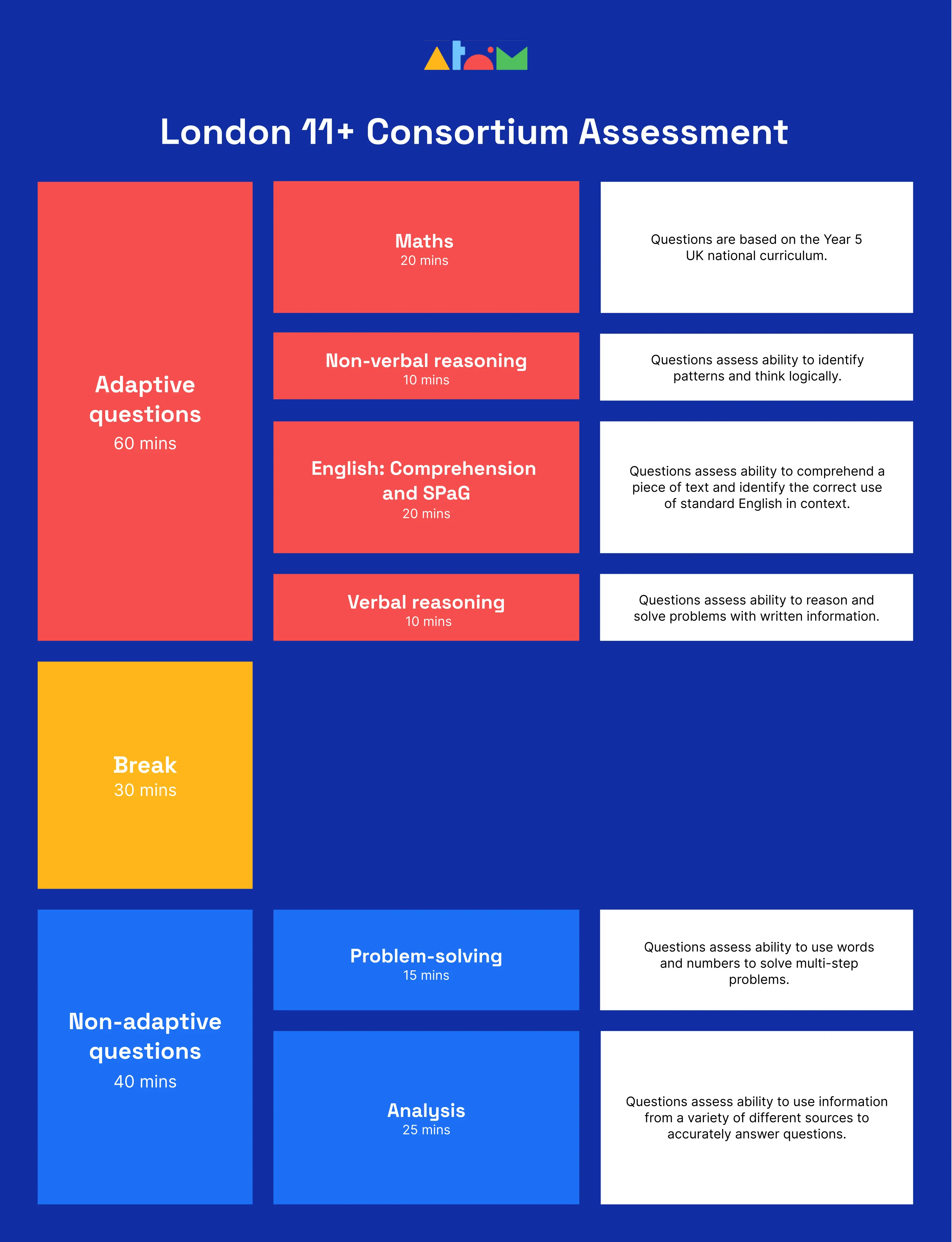 For more information on what to expect from the Queen's entrance assessment process, visit our complete guide to the London 11+ Consortium.
---
It's our mission to help your child have a positive experience with the Queen's College admissions process. Our Education Experts are on hand to support you. You can speak with us using the LiveChat icon on the bottom right of your screen, or by calling 020 3973 9226.
If you're looking to help your child master key subjects and build academic confidence, start your free 5-day free trial of Atom Nucleus today!
Looking for tips and resources to help your child master key subjects, excel in exams and build academic confidence? Join Atom Learning's email list: