Notting Hill and Ealing High School is an independent day school for girls aged 4–18 in West London. It is part of the Girls' Day School Trust (GDST) network of 25 schools with a shared ethos. The GDST is the UK's largest education charity and guarantees that girls have the opportunity to participate in a wide range of scholarships, competitions, awards and prizes, as well as benefit from a spectrum of GDST learning initiatives, training, seminars and workshops.
Now attended by over 900 girls, the school's history dates back to 1873, when right from the beginning pupils went on to study at Oxbridge and London universities. Today's school has received considerable investment from the GDST to develop its facilities, which include a four-court sports hall built to Sport England standards, indoor pool, dance and recording studios, a theatre and a garden.
Notting Hill and Ealing prides itself on its long tradition of academic excellence and creativity, within a warm and supportive environment. Alongside developing girls' passion for learning, there is a strong emphasis on tolerance, mutual respect, and charitable giving, with close links to the wider community.
The school offers a balanced, imaginative curriculum that combines academic rigour with the freedom to think and explore in and beyond the classroom. Exam results are outstanding, with 96% of GCSE pupils achieving grades 9–7 (A*–A) in 2021, and 83% A*–A at A level. School leavers routinely go on to Russell Group, Oxbridge and London universities, and 26% of the leavers' cohort in 2020 went on to STEM degrees.
Key information for Notting Hill and Ealing High School
Headteacher: Matthew Shoults

Address: 2 Cleveland Road, Ealing, London W13 8AX

London Borough: Ealing

Admission contact: [email protected]

Age range and gender: 4–18, girls only

Number of pupils: 905

Number of places in Year 7: 55 for external candidates (approximate)

Open day dates: Book here. Open mornings (10.45am–12.30pm): Thursday 15th September, Tuesday 27th September, Tuesday 4th October, Tuesday 8th November 2022. Open evening: Wednesday 19th October 2022. Music open morning: Friday 14th October 2022

Overview of selection procedure for Year 7 entry in 2023: London 11+ Consortium test, school reference, interview

Registration opens: Currently open. Apply online

Registration closes: 11th November 2022

Assessment date for Year 7 entry in 2023: 2nd, 6th or 8th December 2022

Interview date for Year 7 entry in 2023: January 2023

Result of application sent to parents: 10th February 2023
Notting Hill and Ealing High School fees and financial assistance
The fees for Notting Hill and Ealing High School are £6,956 per term from September 2022 (£20,868 per annum). Public examinations, school books, stationery and other materials are all included in the school fees.
The school fees do not include lunches, which are compulsory in Years 7–9 and cost £255 per term. Trips are also charged at about £105 per pupil per year, with the exception of residential trips and evening theatre visits which you will be notified about separately.
To accept the offer of a school place, you will need to pay a non-refundable deposit of £1,500.
Notting Hill and Ealing High School bursaries
Part of Notting Hill and Ealing High School's ethos is to ensure that academically gifted girls from all backgrounds have access to the school, regardless of income. Bursaries are available at entry to Year 7 to cover up to 100% of the school fees, uniform, lunches, transport, trips and music tuition.
Bursary eligibility is assessed by the GDST based on family circumstances and academic performance in the entrance assessment. If you are offered a bursary, it will be continued each academic year for her entire time at the school. You will be asked to complete a bursary renewal form each year as the value of the bursary may be affected if there is a significant change to your income.
When you register with the school you'll be able to tick a box on the application form to indicate that you wish to apply for a bursary. You will then be sent an email with log-in details for the bursary application online form. The school asks that you apply for a bursary and submit supporting documents as early as possible in the application process, by the deadline of 11th November while your daughter is in Year 6.
Notting Hill and Ealing High School scholarships
Notting Hill and Ealing High School awards academic scholarships to girls showing outstanding potential in the 11+ entrance assessment. Your child will be automatically considered for an academic scholarship when she takes the exam and there is no need to apply separately. These scholarships are usually in the region of 10% of school fees and can also be supplemented by a means-tested bursary (above).
Girls can also apply for a music or sports scholarship at Year 7 entry, which are usually worth 10% of the tuition fees. To apply, you will need to tick the relevant box on the school application form and you will be sent more information. The closing date for scholarship applications has not yet been announced but it is likely to be around the closing date for applying to the school (11th November).
To be considered for a music scholarship your child should be playing at Grade 5 standard or above, although they do not need to have taken grade exams. Music auditions will be held in late January – these will last about 20 minutes. Your daughter will need to perform two contrasting pieces and take a series of sight reading and aural tests. You and your daughter can attend a music open morning on Friday 14th October to learn more about the music department – book here.
Girls wishing to be considered for a sports scholarship can apply with one sport or for an all-rounder award. The scholarships are available in athletics, cross country, cricket, hockey, netball, swimming, tennis and water polo, and candidates are expected to be playing at a minimum of club level. Shortlisted applicants will be invited to attend a sports assessment afternoon in December or January which will include an informal interview.
Notting Hill and Ealing High School term dates
The term dates at Notting Hill and Ealing High School for 2022–23 are:
Autumn term: 6th September – 14th December 2022

Half term: 24th October – 4th November 2022

Spring term: 5th January – 31st March 2023

Half term: 13th–17th February 2023

Summer term: 20th April – 7th July 2023

Half term: 29th May – 2nd June 2023
Admissions process for Year 7 entry to Notting Hill and Ealing High School
1. Registration
To register for Year 7 entry, you will need to complete the application form on the school's website by the deadline of 11th November 2022 (while your daughter is in Year 6). There is a non-refundable registration fee for each applicant of £140 (£175 for overseas applicants).
Submitting the form will create a login to the school's admissions portal where you will be able to track the progress of your application and communicate with the school. The school will request a confidential reference from the headteacher of your daughter's current school.
If you would like to be considered for a bursary, you will need to submit a bursary application form along with all supporting documents at this stage. Music and sports scholarship applications must also be submitted around this time.
2. Assessment
Notting Hill and Ealing High School is part of the London 11+ Consortium, a group of several schools with a coordinated assessment process. Your daughter only needs to sit the entrance assessment once and her results will be shared with all Consortium schools she has applied to. Make sure to submit a school application form to all schools within the Consortium that you wish to be considered for, as this will allow them each to access your daughter's results.
Your daughter will be invited to sit the entrance assessment at her current primary or prep school on Friday 2nd, Tuesday 6th or Thursday 8th December 2022.
Alternatively, if your daughter's current school is not able to offer this facility, she will be invited to take the test at any of the Consortium schools to which she has applied. There is no advantage to sitting the test at any particular school, this will not affect your daughter's application.
3. Interview
Should your daughter be successful in the assessment, she will be invited to an interview in January 2023. If you have applied for a music or sports scholarship, your daughter will also be invited to attend an audition or sports assessment at this time.
4. Results
You will receive an email on Friday 10th February 2023 with the results of your application to the school. Notting Hill and Ealing High School considers the whole picture created by the exam results and interview to assess whether each child is likely to thrive at the school if offered a place. Girls with a sister already at the school are not automatically offered a place, but will be given preference over another candidate only when all other considerations are equal.
Notting Hill and Ealing High School entrance exam format
Notting Hill and Ealing High School is part of the London 11+ Consortium, a group of London senior schools. Your child only has to take the entrance assessment once to apply to multiple schools in the Consortium.
For Year 7 entry in September 2023 onwards, the London 11+ Consortium is updating the format and content of their entrance assessment. The new process aims to go beyond testing cognitive ability alone and seeks to discover a child's potential in creative and critical thinking, analysis, synthesis and problem-solving.
Timings
The new assessment is 100 minutes long (1 hour 40 minutes) with a 30-minute break in the middle.
During the assessment, your child will see a clock on the screen that will count down in minutes showing her how long she has left for each section. It will be visible but not so large as to be distracting.
What is assessed?
Notting Hill and Ealing High School assessment has five sections, all taken on a computer, in the following order:
Maths – 20 minutes

Non-verbal reasoning – 10 minutes

English comprehension and SPaG (spelling, punctuation and grammar) – 20 minutes

Verbal reasoning – 10 minutes

(Break – 30 minutes)

Problem solving – 15 minutes

Analysis – 25 minutes
The first four parts of the assessment are adaptive, which means the questions are tailored to your child's performance. This method of assessment gives reliable results in assessing cognitive reasoning ability. The final two sections (problem-solving and analysis) will be nonadaptive, meaning all candidates will see exactly the same questions.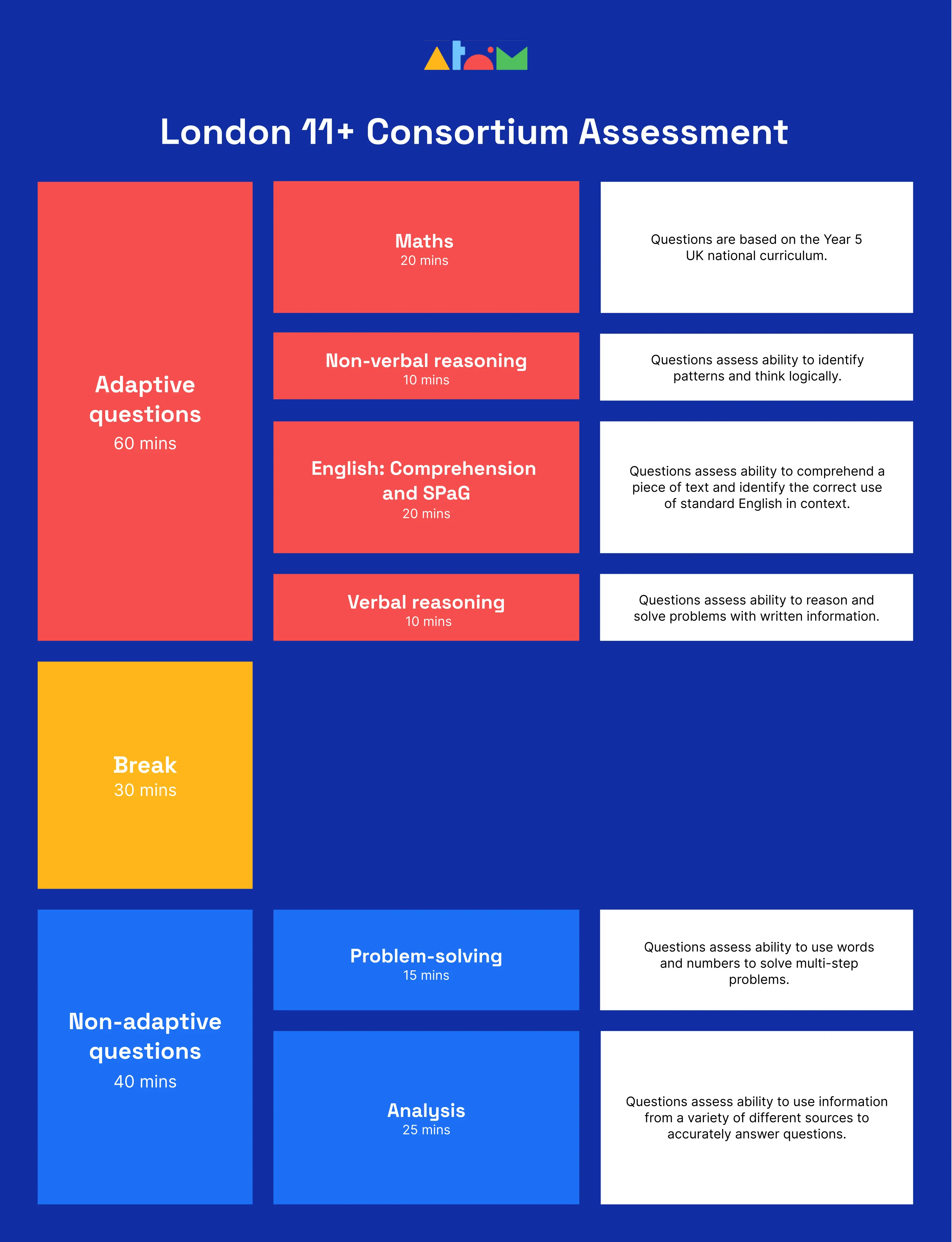 For more information on what to expect from the Notting Hill and Ealing entrance assessment process, visit our complete guide to the London 11+ Consortium.
---
It's our mission to help your child have a positive experience with the Notting Hill and Ealing High School admissions process. Our Education Experts are on hand to support you. You can speak with us using the LiveChat icon on the bottom right of your screen, or by calling 020 3973 9226.
If you're looking to help your child master key subjects and build academic confidence, start your free 5-day free trial of Atom Nucleus today!
Looking for tips and resources to help your child master key subjects, excel in exams and build academic confidence? Join Atom Learning's email list: