More House School is an independent girls' day school in Knightsbridge, central London. Although a Catholic school, More House welcomes pupils of all faiths and no faith. Attended by just 137 girls aged 11–18, the school's very small size allows it to provide a bespoke and rounded education, with emphasis on strong teacher-pupil relationships.
Describing itself as 'a greenhouse, not a hothouse', the school supports girls to develop their individual strengths in a nurturing environment. More House uses teaching methods rooted in cognitive science to foster excellent subject knowledge and academic confidence, with curricular and co-curricular programmes designed to stretch and challenge.
Founded in 1952 by a group of parents seeking better Catholic education for girls in London, the school occupies two interconnecting townhouses in Knightsbridge. Every half term, pupils are taken off timetable for a City Curriculum Day, making use of the sporting venues, gardens, museums and theatres that this central location has to offer. Programmes such as the Sustainability and Faith in Action groups provide opportunities to develop leadership skills and be involved in wider society outside of the classroom.
More House celebrates academic excellence but places emphasis on valuing the learner as a whole person above all. 49% of GCSE students achieved grades 7–9 (A–A*) in 2021, and 51% gained A–A* grades at A level. 95% of girls leaving the sixth form went on to their first choice of university.
Key information for More House School
Headteacher: Faith Hagerty

Address: 22-24 Pont Street, Knightsbridge, London SW1X 0AA

London Borough: Kensington and Chelsea

Admission contact: [email protected]

Age range and gender: 11–18, girls only

Number of pupils: 137

Number of places in Year 7: undisclosed

Ratio of applicants to places: undisclosed

Open day dates: Wednesday 14th September, Thursday 6th October, Wednesday 19th October 2022. Online booking required

Overview of selection procedure for Year 7 entry in 2023: school reference, selection day, London 11+ Consortium test

Registration opens: Currently open. Registration form

Registration closes: 11th November 2022

Selection Day date for Year 7 entry in 2023: 19th November 2022

Assessment date for Year 7 entry in 2023: 2nd–8th December 2022

Result of application emailed to parents: 10th February 2023
More House School fees and financial assistance
Fees for More House School for the 2022–23 academic year are £7,750 per term, £23,250 per annum. The fees include school meals. For girls entering the school, a deposit of 50% of one term's fees is payable, which will be refunded when your daughter leaves the school. A discount of up to 15% off school fees is offered to the eldest daughter when there are three or more sisters attending the school at the same time.
Music lessons are available at an additional £265 per term. There are also some school trips which incur an extra cost, such as Activities Week and optional theatre trips.
More House School bursaries
More House School makes a limited number of bursaries available to pupils joining the school in Year 7. Bursaries may also be awarded to girls already in the school due to a change in financial circumstances.
To apply for a bursary, contact the registrar on [email protected] to request the bursary award policy and application form. Or, you can tick the box on your entrance test registration form to request this. The closing date for submitting bursary applications and all supporting evidence is 30th November.
More House School scholarships
More House School offers academic, music, sport, drama and art scholarships for Year 7 entry.
Children with potential for an academic scholarship are identified by the school from the entrance assessment and selection day. The school will contact you and invite your child to attend a Scholarship Day in January where they will complete a piece of work and take part in an interview. If successful, scholars are expected to complete a research project in Year 8 or another equivalent activity such as national competitions.
Parents wishing for their child to be considered for a scholarship must indicate this on the entrance test registration form. The closing date for submitting this form is 11th November 2022. If you're applying for a scholarship you will be sent an additional application form to complete which will need to be accompanied by a letter of recommendation from the relevant teacher at your daughter's current school.
If your child is applying for a music, sport, drama and art scholarship, she will be invited for an interview in January 2023 and will be expected to perform and/or submit a portfolio. Students awarded these scholarships have access to an annual grant (up to £500 for Years 7–8, £1,000 for Years 9,10 and 11 and £2,000 for sixth form) to support their development in their area of expertise.
More House School term dates
The term dates at More House School for 2022–23 are:
Autumn term: 5th September – 14th December 2022

Half term: 24th October – 4th November

Spring term: 5th January – 30th March 2023

Half term: 13th–17th February 2023

Summer term: 24th April – 6th July 2023

Half term: 29th May – 2nd June 2023
Admissions process for Year 7 entry to More House School
1. Registration
To register for Year 7 entry to More House School in 2023, you first need to complete the registration form and return it by email to [email protected]. The deadline is Friday 11th November 2022 (while your daughter is in Year 6). There is a non-refundable fee of £150 for each registration. You must also complete an entrance test form and return it by the same date.
If you would like to be considered for a bursary, you will need to indicate this on the entrance test form and submit a bursary application form along with all supporting documents by 30th November.
2. Selection day
Your daughter will be invited to attend a selection morning or afternoon on Saturday 19th November 2022. More House considers this the most important part of the admissions process. The aim of the day is for all children to have an enjoyable experience, get to know the school environment a little, and demonstrate their individual gifts and talents. The day lasts 2.5 hours and consists of:
There is no need to prepare for the selection day, but your child is encouraged to bring a piece of work or artefact that they would like to talk about during the interview. Your child is also asked to bring a water bottle and wear comfortable clothes and footwear suitable for movement.
3. Assessment
More House School is part of the London 11+ Consortium, a group of several schools with a coordinated assessment process. Your daughter only needs to sit the entrance assessment once and her results will be shared with all Consortium schools she has applied to. Make sure to submit a school application form to all schools within the Consortium that you wish to be considered for, as this will allow them each to access your daughter's results.
Your daughter will be invited to sit the entrance assessment at her current primary or prep school on Friday 2nd, Tuesday 6th or Thursday 8th December 2022.
Alternatively, if your daughter's current school is not able to offer this facility, she will be invited to take the test at any of the Consortium schools to which she has applied. At More House, the test takes place on Friday 2nd December. There is no advantage to sitting the test at any particular school, this will not affect your daughter's application.
4. Results
More House considers the whole picture created by the exam results, interview performance and school reference to assess each child's potential and decide whether she is likely to thrive at the school. You will receive an email on Friday 10th February 2023 with the results of your application to More House School. If your daughter is offered a place, you must accept or decline the offer by the deadline of midday on Thursday 3rd March 2023.
More House School entrance exam format
More House School is part of the London 11+ Consortium, a group of London senior schools. Your child only has to take the entrance assessment once to apply to multiple schools in the Consortium.
For Year 7 entry in September 2023 onwards, the London 11+ Consortium is updating the format and content of their entrance assessment. The new process aims to go beyond testing cognitive ability alone and seeks to discover a child's potential in creative and critical thinking, analysis, synthesis and problem-solving.
Timings
The new assessment is 100 minutes long (1 hour 40 minutes) with a 30-minute break in the middle.
During the assessment, your child will see a clock on the screen that will count down in minutes showing her how long she has left for each section. It will be visible but not so large as to be distracting.
What is assessed?
More House School assessment has five sections, all taken on a computer, in the following order:
Maths – 20 minutes

Non-verbal reasoning – 10 minutes

English comprehension and SPaG (spelling, punctuation and grammar) – 20 minutes

Verbal reasoning – 10 minutes

(Break – 30 minutes)

Problem solving – 15 minutes

Analysis – 25 minutes
The first four parts of the assessment are adaptive, which means the questions are tailored to your child's performance. This method of assessment gives reliable results in assessing cognitive reasoning ability. The final two sections (problem-solving and analysis) will be nonadaptive, meaning all candidates will see exactly the same questions.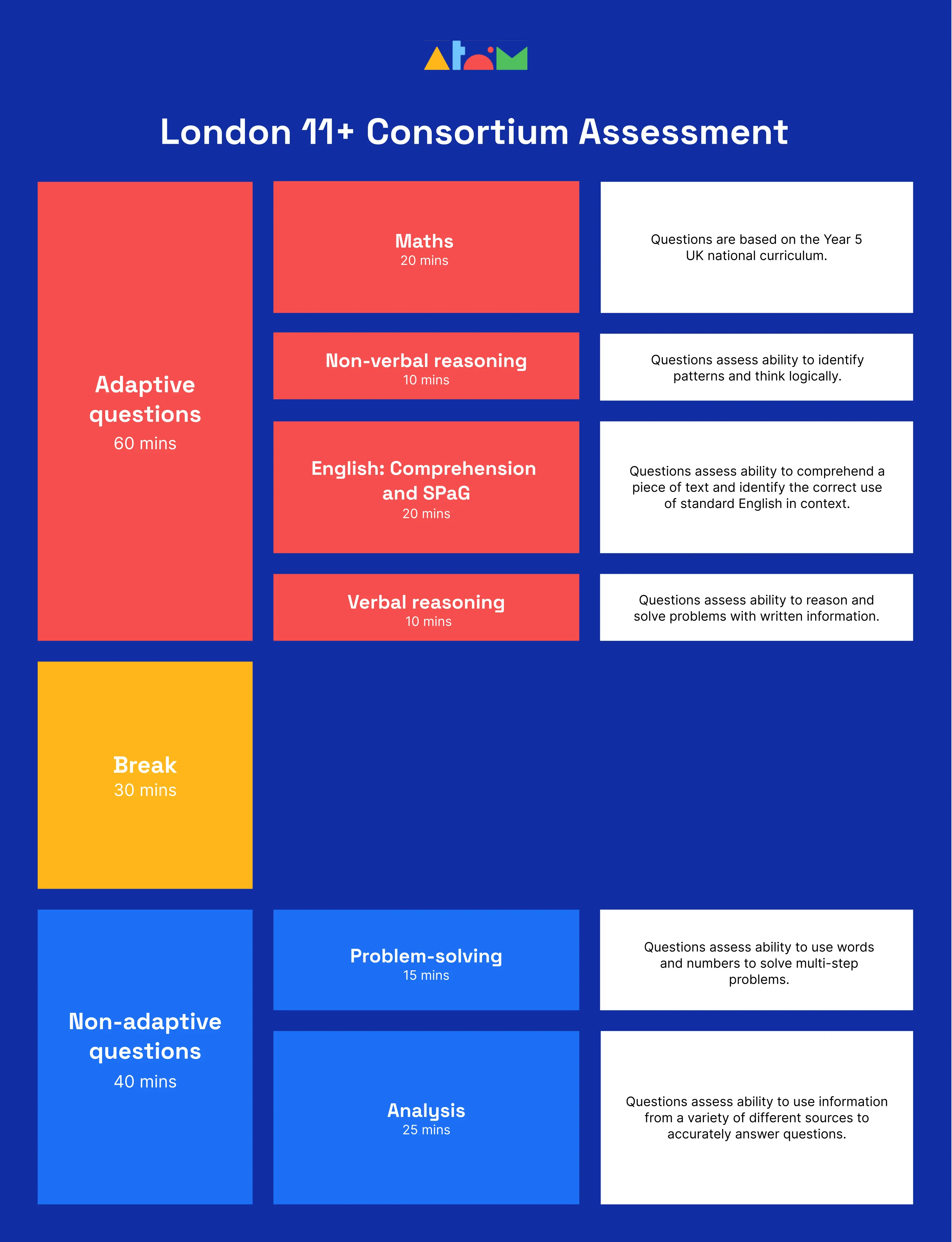 For more information on what to expect from the More House School entrance assessment process, visit our complete guide to the London 11+ Consortium.
---
It's our mission to help your child have a positive experience with the More House School admissions process. Our Education Experts are on hand to support you. You can speak with us using the LiveChat icon on the bottom right of your screen, or by calling 020 3973 9226.
If you're looking to help your child master key subjects and build academic confidence, start your free 5-day free trial of Atom Nucleus today!
Looking for tips and resources to help your child master key subjects, excel in exams and build academic confidence? Join Atom Learning's email list: