Looking for a comprehensive guide to navigating the Medway Grammar Schools 11 plus test for 2022? We have everything you need to know about the testing process, which schools use the Medway Test, and how to prepare your child for their next step towards the school they will thrive in.
The Medway Grammar Schools 11 plus test 2022 at a glance
Registration opens: 1st June 2022

Registration closes: 30th June 2022

Exam date: 13th or 14th September 2022, weekday if taken at primary school, 17th or 18th September 2022 if test taken at testing centre.

Exam board type: CEM, Medway specific

Results: 4th October 2022

Review Deadline: 10th October 2022

National school offer day: 1st March 2023 (or next working day)

Admissions information: [email protected]

Appeals: undertaken by an independent appeal panel established for that school
Which schools use the Medway 11 plus test?
What is the Medway 11 plus test?
Year 6 pupils take the Medway 11 plus in September to be considered for a place at one of the area's grammar schools. There are six grammar schools and one partially selective school in Medway. Entry to these schools is competitive, with more applicants than Year 7 places.
Unlike in previous years, if you are considering applying to grammar schools in both Medway and Kent, your child must sit both the Medway test and the Kent test.
Fort Pitt Grammar School, Chatham Grammar School and Holcombe Grammar School may become co-educational from 2024, under plans put forward by Medway Council. The proposed changes mean that 5% more children who pass the Medway Test could get a place at a grammar school in the area, resulting in a more equal split of boys and girls' places. The plans for this are still in progress.
How to register for the Medway test
Registration for the Medway 11 plus test is via the parent portal on the Medway website. After registering for the test, you will need to complete a Common Application Form (CAF) with the Local Authority where you permanently reside, before 31st October 2022, to choose your school preferences. Before the CAF form deadline you will be informed of whether your child's test score has met the standard.
Most primary schools elect for the children to take the test at their own school site. A small number of primary schools hold the tests at the weekend at a different centre. Find out where your child will sit the test here.
What is covered in the Medway 11 plus test?
Written specifically for the Authority of Medway, this CEM created test is designed to assess your child's competencies in the following three areas:
Verbal reasoning
The verbal reasoning element of the Medway 11 plus exam assesses your child's mastery of language and vocabulary both in and out of context, their reading comprehension, and their ability to complete sequences and patterns involving words, letters, and numbers.
A broad understanding of vocabulary and word meanings is necessary to succeed with these questions. It is advised to develop your child's understanding of verbal reasoning and familiarity with the different question styles.
Numerical reasoning
Drawing on the content taught across the entirety of the Key Stage 2 national curriculum, the numerical reasoning paper in the Medway 11 plus test covers a wide range of topics. These questions are commonly multiple choice answers, relying on secure and rapid recall of number facts and methods of calculation to complete the questions quickly. There are arithmetic questions as well as questions requiring problem-solving and reasoning.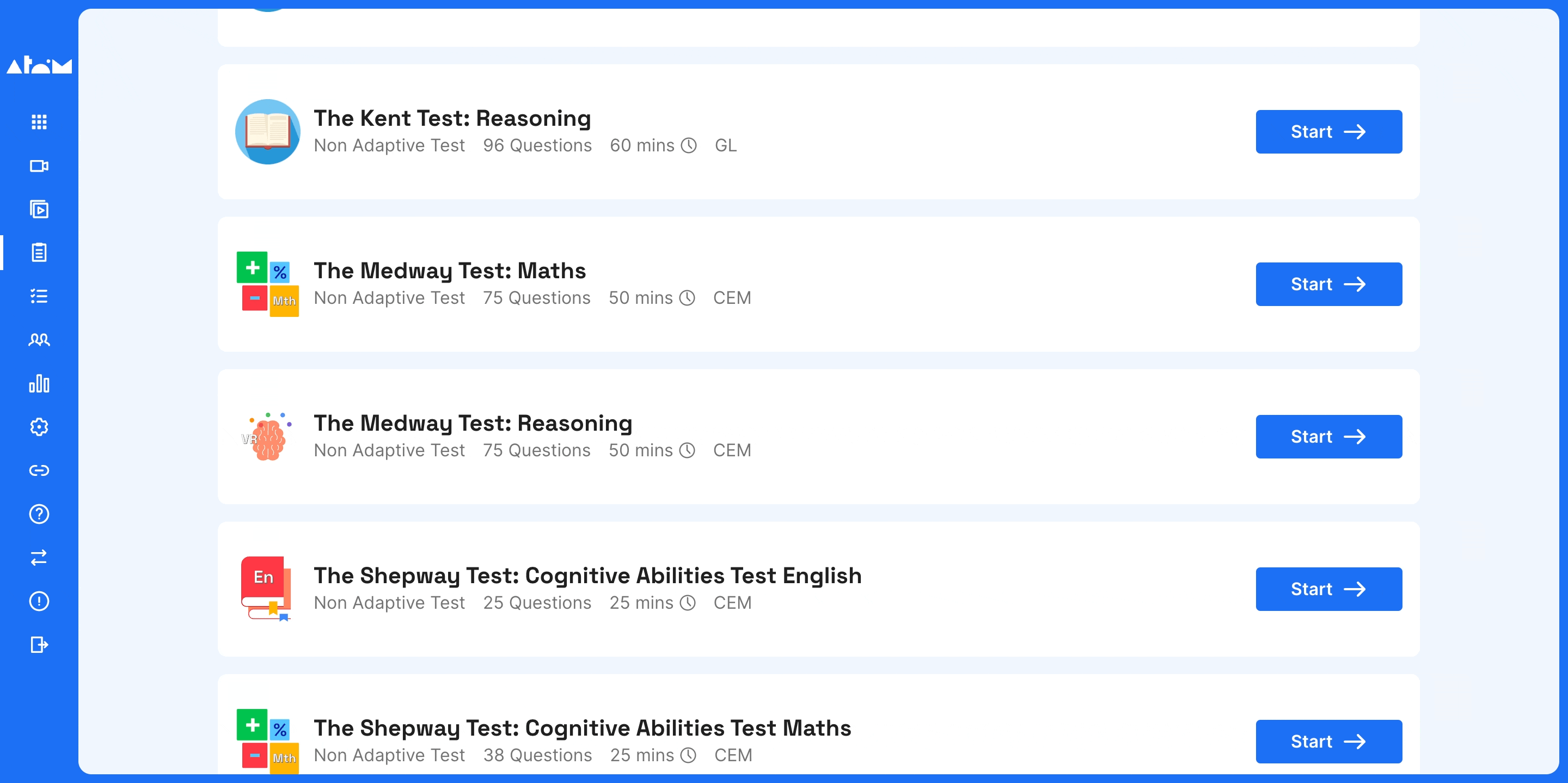 Atom has Mock Tests that mirror the style and format of the Medway Test – so your child will know exactly what to expect on exam day.
Extended writing
The extended writing section of the Medway 11 plus exam is more open-ended than the previous two papers. Your child will be given a writing booklet and a writing prompt detailed in the booklet. They must showcase their knowledge of writing features expected from a Year 6 writer. You can find spelling, punctuation, and grammar expectations from the national curriculum here.
The extract may be a narrative, recount, information text (including newspaper article) or any genre that may offer the opportunity to showcase writing stamina and technical features. Further ideas of extended writing types can be found here.
How competitive is the Medway test?
The pass mark for the Medway 11 plus test is dependent on the cohort of candidates. It is set at the 23rd percentile of test scores each year. There are previous examples of qualifying pass marks available, giving an idea of approximate qualifying standards.
The testing formula used to calculate your child's total weighted score is: Verbal reasoning raw score x1 (20% of total score) Numerical reasoning raw score x2 (40% of total score) Extended writing raw score x2 (40% of total score)
The review process
If your child does not meet the required qualifying standard and you feel their score is not a true reflection of their academic capability, there is a review process available. Review appeals qualify a further 2% of the cohort to be considered for one of the places at a Medway grammar school.
Requested via the Medway website, this process reviews your child's school work evidence. The aim of this is to decide if the test is an accurate representation of their ability and if they would be able to meet the academic demands of a grammar school. The following school work may be used as evidence:

When should I start preparing my child for the Medway 11 plus test?
The best time to start 11 plus preparation is at the end of Year 4 or early into Year 5, ensuring familiarity of the testing process, timed elements and secure understanding of all Key Stage 2 content.
The Medway 11 plus test is sat in the 2nd or 3rd week in September in Year 6. The 3 papers are designed to assess your child on the entirety of the Key Stage 2 national curriculum, including Year 6 topics that your child will not yet have encountered in the classroom. Although schools will provide school work evidence for test reviews, they do not offer additional practice for the 11 plus papers.
It is suggested to discuss with your child's primary school if they are currently working securely within or above age-appropriate expectations. Working securely with their age-related curriculum is necessary before exam preparation begins.
If your child needs additional support to help them attain the necessary level before progressing to exam preparation, they may benefit from engaging with core-curriculum tailored programmes, introduced from Year 3. You can access your core-curriculum five-day free trial here.
How can I help prepare my child for the Medway 11 plus test?
Know the structure of the test: familiarity with the question structures and timed format of the test can reduce anxiety and cognitive overload on the test day. Access to unlimited practice materials and Mock Tests on Atom will ensure your child is well prepared for all question types.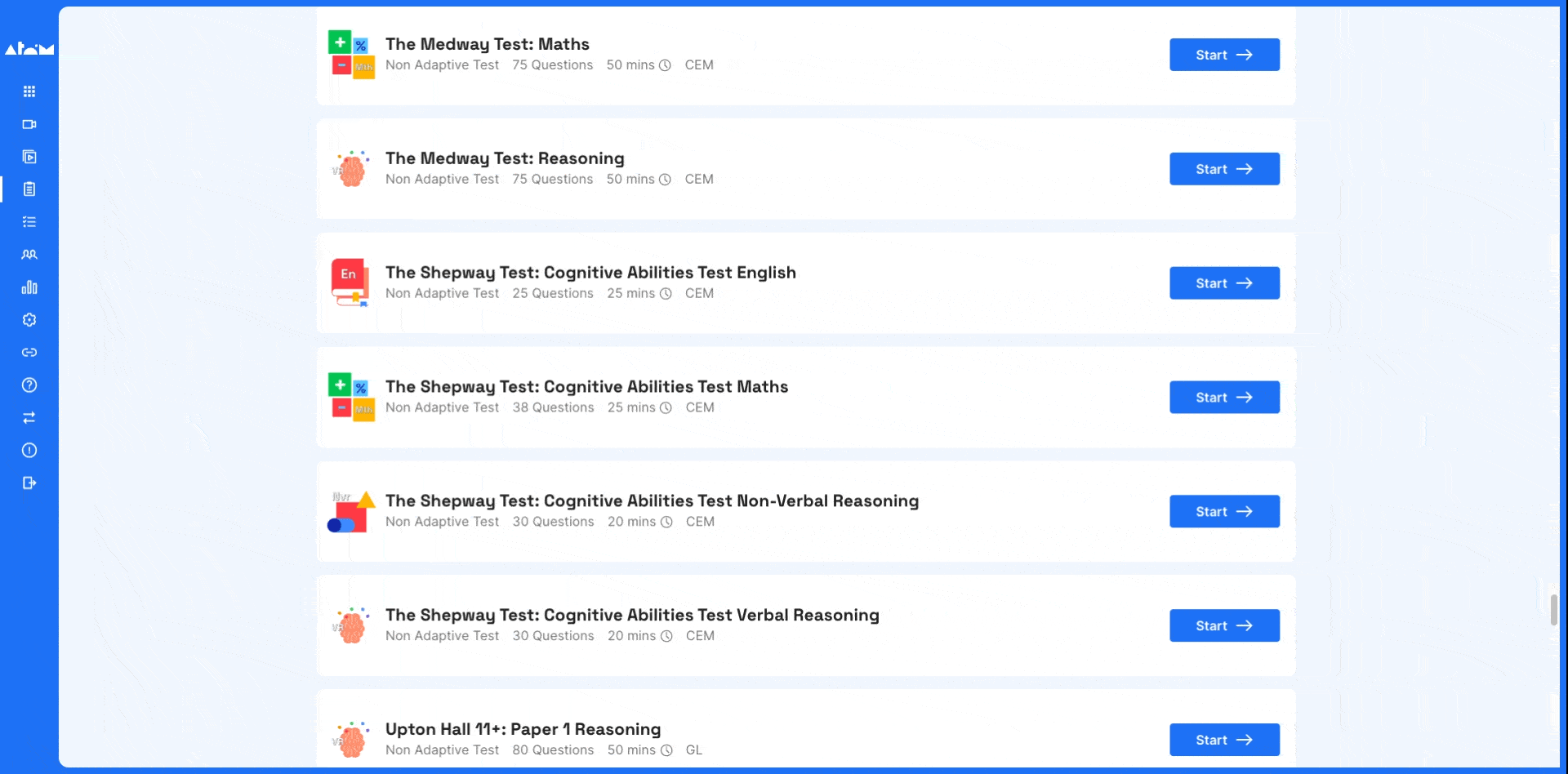 Regularly write for pleasure: the writing element requires an understanding of a breadth of genres and levels of formality. Your child should regularly engage with writing for pleasure, building the writing stamina and even developing a cursive, easy-to-read handwriting style.
Develop their vocabulary: the verbal reasoning and writing sections of the test rely on a broad understanding of both traditional and contemporary language choices. Reading extensively across different authors and genres will develop this further. Get free resources for engaging your child with reading here.
Focus on what they need: every child has different areas of strength and challenge. The adaptive technology of Atom Nucleus creates your child's personalised learning journey tailored to your target school. By drilling down to subtopics and providing immediate video and help sheet guidance for misconceptions, your child will be able to build a strong foundation across all topics.
Set strategic targets: there are many topics on the 11 plus your child won't have covered at school yet. Tailored weekly targets will help your child to stay on track to master the topics needed in preparation for the exam and beyond. This is quick and easy with Atom's Parent Portal.
Overall progress and targets achieved: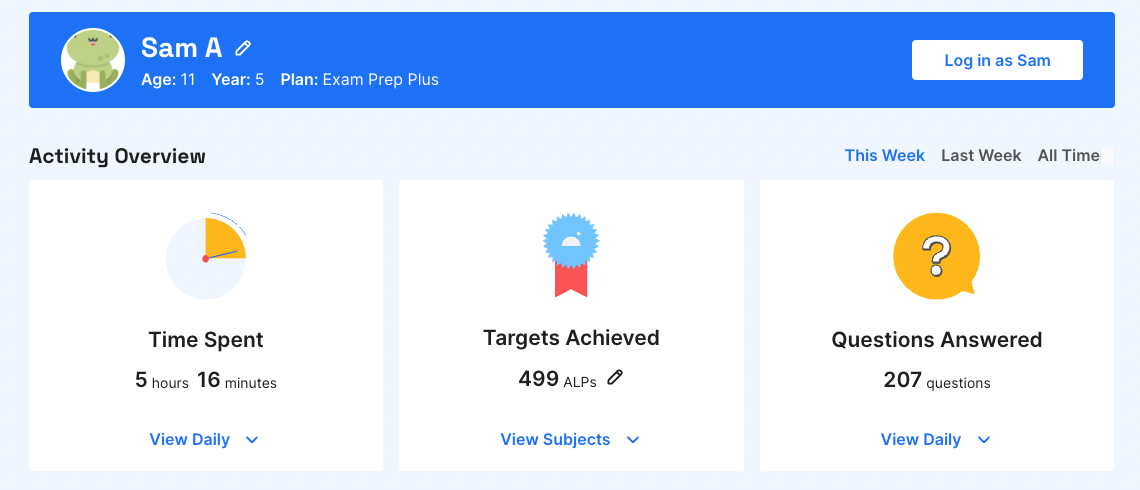 A detailed breakdown of progress by subtopic, compared to the average student in their year: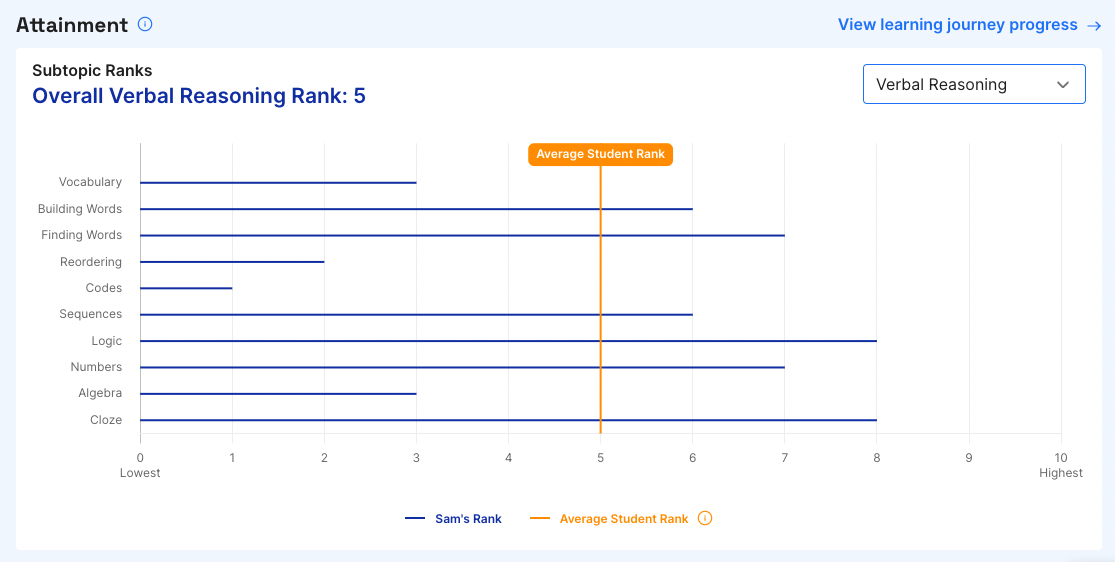 Your child's personalised learning journey progress: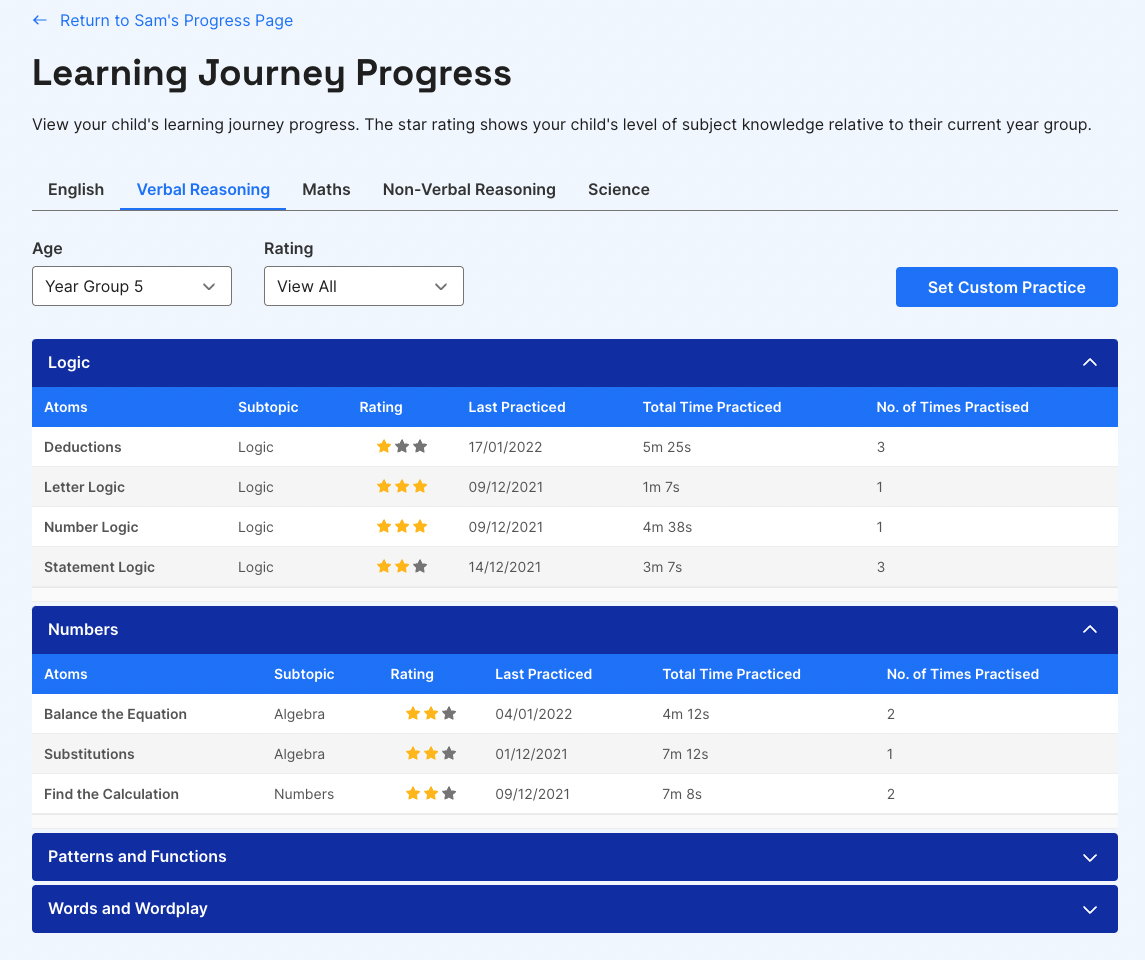 Set Custom Practices to target your child's most challenging subtopics, with functions to personalise timings and question types:
Start your free 5-day trial of Atom Nucleus today to learn more.
---
We know how keen you are for your child to do well in the 11 plus, to give them every chance of securing a place at their school of choice. Our dedicated team of Education Experts are on hand to support you and your family every step of the way:
Join our free specialist Grammar School Preparation webinars, and learn how to structure the next few months to maximise your child's progress: