Godolphin and Latymer School is an independent girls' day school in Hammersmith, West London. Winner of the Sunday Times Independent Secondary School of the Year Award in 2020, the school has a reputation for academic and extracurricular excellence alike.
Now attended by over 800 girls aged 11–18, Godolphin and Latymer School's history dates back to 1861, when it began as a boys' boarding school. However, this historic school did not thrive, and in 1905 an independent day school for girls was created on the same site, supported by the Latymer foundation. It was a grammar school following the end of World War II up until 1977 when it reverted to the independent sector.
Godolphin and Latymer's campus is deceptively large, with historic buildings nestled among modern facilities and peaceful gardens. The site has been developed extensively over the years, boasting a well-equipped sports hall, climbing wall and dance studio, a performing arts centre, technology workshops, modern science labs and interactive learning spaces.
The school's ethos is focused on fostering a love of learning, valuing the individual, broadening access to a high-quality education, and encouraging girls to become responsible citizens within the community. Pupils from a wide range of different cultures, faiths and backgrounds are welcomed, and the school strives to create a unique and dynamic learning environment.
Academically, the school offers a broad curriculum underpinned by a research-informed approach to teaching. Godolphin and Latymer has been praised for its 'stratospheric' GCSE results, with 97% achieving grades 9–7 in 2020. Girls have a choice of A level or International Baccalaureate at sixth form and are given one-to-one expert support to prepare for university applications.
Key information for Godolphin and Latymer School
Headteacher: Dr Frances Ramsey

Address: Godolphin and Latymer School, Iffley Road, Hammersmith, London, W6 0PG

London Borough: Hammersmith and Fulham

Admission contact: [email protected]

Age range and gender: 11–18, girls only

Number of pupils: 820

Number of places in Year 7: 120 (approximate)

Ratio of applicants to places: 7:1 (approximate)

Open day dates: Thursday 22nd September, Wednesday 28th September, Tuesday 11th October. Online booking required

Overview of selection procedure for Year 7 entry in 2023: London 11+ Consortium test, school reference, interview

Registration opens: Currently open. Apply online

Registration closes: 11th November 2022

Assessment date for Year 7 entry in 2023: 8th December 2022

Interview date for Year 7 entry in 2023: 13th January 2023

Result of application emailed to parents: 10th February 2023
Godolphin and Latymer School fees and financial assistance
The fees for Godolphin and Latymer School for the current academic year are:
Autumn term 2021: £7,695

Spring term 2022: £7,918

Summer term 2022: £7,918
The tuition fee includes textbooks, stationery, public examination fees and day visits out of school for whole year groups, 7–9 inclusive. No reduction is made in the case of absence from school, but the school does offer a School Fees Insurance Scheme which provides parents with cover against the loss of fees in the case of injury or illness. Personal Accident Insurance is included in school fees, while AXA PPP medical insurance is available for an additional cost.
For girls entering the school, a deposit of £2,500 is required on acceptance of a place. £500 of this is held by the school to defray the cost of lost textbooks and equipment, and refunded when the girl leaves the school. The remaining £2,000 is deducted from the final term's bill.
Additional charges from September 2022
Lunch: £5.30 per day

Music lessons: £335 per term

Musical instrument hire: £460 per term

Speech and drama lessons: £130 per term
Godolphin and Latymer School bursaries
Part of Godolphin and Latymer's ethos is to make an outstanding education available to all girls who are offered a place, irrespective of their financial background. Bursaries are means-tested based on family financial circumstances and cover 10% to 100% of school fees.
Around ten girls in each year receive bursaries, the majority with fully-funded places, and the school aims to offer more means-tested bursaries. Bursaries are not influenced by the academic ability of the child but by how much financial support is required.
You will need to indicate on the examination entry form if you wish to be considered for a bursary, and the school will send you a bursary application form which will request further information and documentation. Should you receive an offer of a place at the school you will be advised on the outcome of your bursary application at the same time. Usually, once a bursary has been awarded it is guaranteed for a girl's whole time at the school, but parents do need to reapply each year.
Godolphin and Latymer School scholarships
Godolphin and Latymer School does not offer academic scholarships. There is a music scholarship available for a Year 7 student for up to 30% of school fees, plus free music lessons for one or two instruments. Parents who are interested in applying must request details of the music scholarship on their exam entry form and the school will provide further details directly.
Godolphin and Latymer School term dates
The term dates at Godolphin and Latymer School for 2022–23 are:
Autumn term: 1st September – 15th December 2022

Half term: 17th – 28th October 2022

Spring term: 4th January – 24th March 2023

Half term: 13th–17th February 2023

Summer term: 17th April – 5th July 2023

Half term: 29th May – 2nd June 2023
Admissions process for Year 7 entry to Godolphin and Latymer School
1. Registration
Registration for Year 7 entry to Godolphin and Latymer School in 2023 is a two-part process. First you'll need to complete the school registration form before the deadline of noon on 11th November 2022 (while your daughter is in Year 6). The fee for each registration is £150 and is non-refundable, although in cases of particular need the registrar may be able to waive this fee.
You will also need to complete the school's examination entry form and submit it by noon for the same deadline, 11th November. The examination entry form is not issued until late September. If you've already completed your school registration form at this point, you will be sent the examination entry form directly. The examination entry form will gather more information about your daughter's application, including evidence of any individual learning needs or requirements for concessions.
At this point, the school will request a reference from the headteacher of your daughter's current school.
If you would like to be considered for a bursary, you will need to submit a bursary application form along with all supporting documents by 18th November.
2. Assessment
Godolphin and Latymer School is part of the London 11+ Consortium, a group of several schools with a coordinated assessment process. Your daughter only needs to sit the entrance assessment once and her results will be shared with all Consortium schools she has applied to. Make sure to submit a school application form to all schools within the Consortium that you wish to be considered for, as this will allow them each to access your daughter's results.
Your daughter will be invited to sit the entrance assessment at her current primary or prep school on Friday 2nd, Tuesday 6th or Thursday 8th December 2022.
Alternatively, if your daughter's current school is not able to offer this facility, she will be invited to take the test at any of the Consortium schools to which she has applied. At Godolphin and Latymer, the test takes place on Thursday 8th December. There is no advantage to sitting the test at any particular school, this will not affect your daughter's application.
3. Interview
Should your daughter be successful in the assessment, she will be invited to an interview on Friday 13th January 2023. Godolphin and Latymer School interviews are kept 'as informal and friendly as possible'.
If you have applied for a music scholarship, your daughter will also be invited to attend an audition. Information about this process and the dates will be available from the school registrar from October onwards.
4. Results
Godolphin and Latymer School considers the whole picture created by the exam results, interview performance and school reference to assess each child's potential and decide whether to offer a place. Children with a sibling already at the school are not automatically offered a place, but may be given preference over an equally suited candidate.
You will receive an email on Friday 10th February 2023 with the results of your application to Godolphin and Latymer School. If your daughter is offered a place, you must accept or decline the offer by the deadline of midday on Monday 6th March 2023.
Godolphin and Latymer School entrance exam format
Godolphin and Latymer School is part of the London 11+ Consortium, a group of London senior schools. Your child only has to take the entrance assessment once to apply to multiple schools in the Consortium.
For Year 7 entry in September 2023 onwards, the London 11+ Consortium is updating the format and content of their entrance assessment. The new process aims to go beyond testing cognitive ability alone and seeks to discover a child's potential in creative and critical thinking, analysis, synthesis and problem-solving.
Timings
The new assessment is 100 minutes long (1 hour 40 minutes) with a 30-minute break in the middle.
During the assessment, your child will see a clock on the screen that will count down in minutes showing her how long she has left for each section. It will be visible but not so large as to be distracting.
What is assessed?
The Godolphin and Latymer School assessment has six sections, all taken on a computer, in the following order:
Maths – 20 minutes

Non-verbal reasoning – 10 minutes

English comprehension and SPaG (spelling, punctuation and grammar) – 20 minutes

Verbal reasoning – 10 minutes

(Break – 30 minutes)

Problem solving – 15 minutes

Analysis – 25 minutes
The first four parts of the assessment are adaptive, which means the questions are tailored to your child's performance. This method of assessment gives reliable results in assessing cognitive reasoning ability. The final two sections (problem-solving and analysis) will be nonadaptive, meaning all candidates will see exactly the same questions.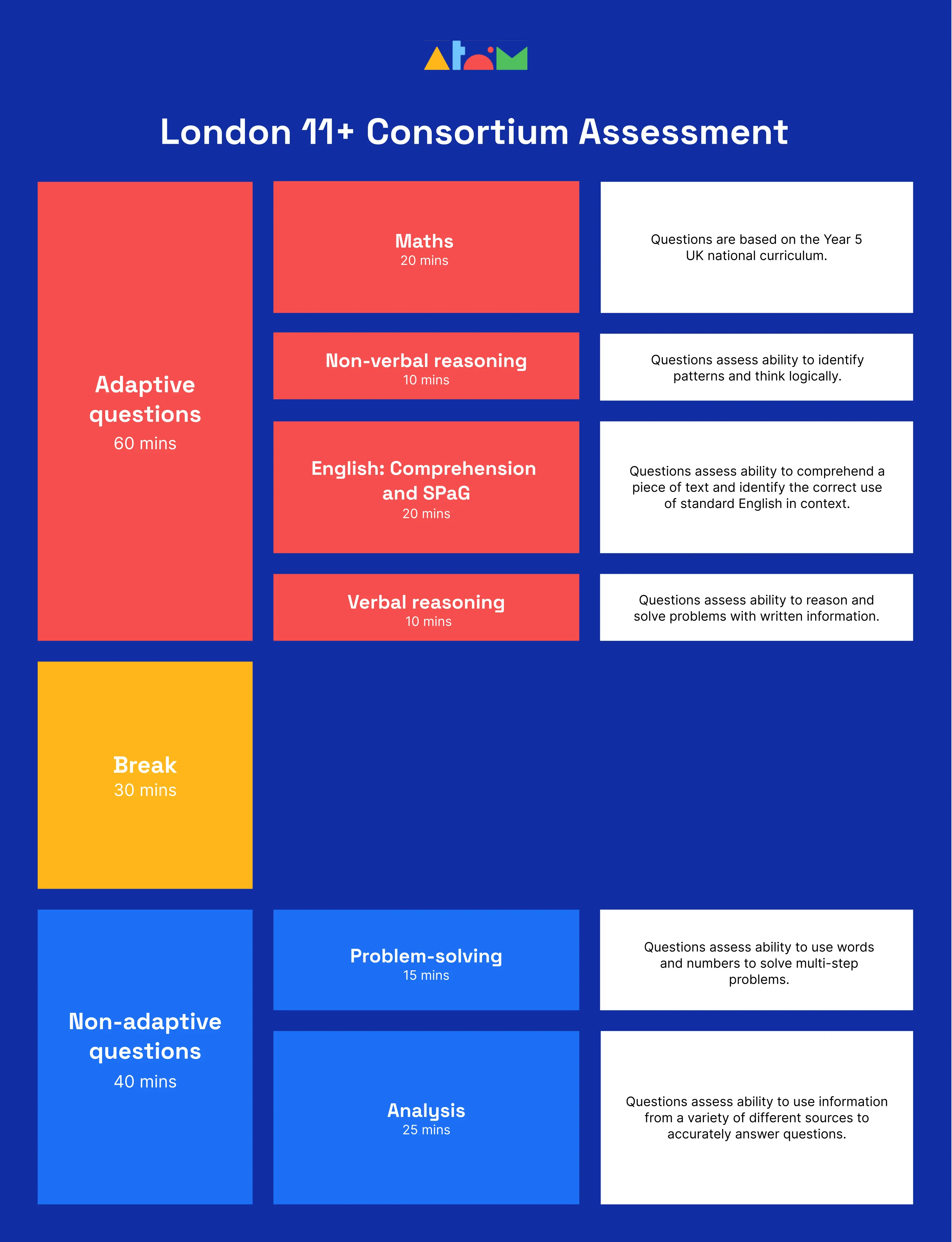 For more information on what to expect from the Godolphin and Latymer School entrance assessment process, visit our complete guide to the London 11+ Consortium.
---
It's our mission to help your child have a positive experience with the Godolphin and Latymer School admissions process. Our Education Experts are on hand to support you. You can speak with us using the LiveChat icon on the bottom right of your screen, or by calling 020 3973 9226.
If you're looking to help your child master key subjects and build academic confidence, start your free 5-day free trial of Atom Nucleus today!
Looking for tips and resources to help your child master key subjects, excel in exams and build academic confidence? Join Atom Learning's email list: