Gloucestershire is home to seven selective grammar schools, all boasting excellent results and oversubscribed each year. The Gloucestershire grammar schools cover Cheltenham, Gloucester, and Stroud areas, offering separate girls', boys' and mixed entry options for parents wanting a grammar school education for their child.
This article has all the information you will need to prepare for the 2022 11 plus exam for the school of your preference.
The Gloucestershire Grammar Schools 11 plus test 2022 at a glance
Registration opens: 19th May 2022

Reasonable adjustment deadline: 30th June 2022

Registration closes: 30th June 2022

Exam date: 17th September 2022 (Saturday)

Exam board type: CEM

Results: mid-October 2022

National school offer day: 1st March 2023 (or next working day)

Local Authority acceptance of place: 8th March 2023

Admissions information: Gloucestershire Grammar Schools' Admissions

Appeals: administered by each school, heard by an independent appeal panel
Which Gloucestershire grammar schools use the 11 plus test for admission?
What is the Gloucestershire Grammar Schools 11 plus test?
For your child to be considered for any of the above grammar schools' 2023 September Y7 entry cohort, they must be registered for and sit the 11 plus exam. The seven schools all use the same test paper, marking process and test-day format, but their qualifying pass mark is likely to differ. Places in these schools are highly sought after: passing the 11 plus alone does not guarantee admission.
All seven Gloucestershire grammar schools operate under a Local Authority Co-ordinated Admissions Scheme, meaning the Local Authority is responsible for allocating the school places based on priority ranking of the 5 school choices from the CAF. Your child is only able to choose one of the grammar schools as a preference if they meet the qualifying standard after taking the 11 plus.

What is covered in the test?
Lasting 45-50 minutes each paper (additional time may be included for instructions and completing practice examples), the test consists of two papers. The tests include a range of questions in the following areas:
Reading comprehension

Verbal reasoning

Non-verbal reasoning

Numerical reasoning
There is no written task element involved in this test.
Reading comprehension
Beginning with a short passage and practice questions, there will be an extract to read and then multiple-choice questions to answer. The text may be a non-fiction, fiction, or a poetry piece. The questions will assess inference, retrieving and recording information, and your child's understanding of the text. It is expected that the level of challenge will be higher than age-related expectations.
Verbal reasoning (word choice)
These questions assess knowledge of vocabulary in context, verbal ability and confidence in word choice. There are 21 known styles of questions under the verbal reasoning umbrella. Atom has over 20,000 CSSE style verbal reasoning questions for students to practice to build their understanding.
Non-verbal reasoning
Designed to test problem-solving skills and spatial awareness, these shape puzzles assess pattern spotting and abstract thinking. The answers are in a multiple-choice format. Learn more about non-verbal reasoning questions here.
Numerical reasoning
This section is split into two parts. The first part is likely to be number and arithmetic skill based, and the second part is likely to be multiple choice (both answer formats are shown below). Each section is timed. Working out can be done on the question booklet as there is no scrap paper given, this will not be marked.
Atom has unlimited Mock Tests for each paper of the Gloucestershire 11 plus – so your child will know exactly what to expect on exam day.
What is the pass mark?
There is no single pass mark for the test. Your child's overall standardised score will be ranked in order of success - this is known as the 'qualifying standard'. Ranking criteria are school-specific, the scores from previous years will be used to inform this year's minimum ranked score.
The top 250 scoring students are then filtered using the school's admissions policy (these can be found on their websites). The schools admit pupils who are 'looked after' or receiving Pupil Premium Funding as a priority: those pupils' qualifying standard may be lower than non-priority pupils, who will make up the remaining 150 places.
How competitive is the Gloucestershire Grammar Schools 11 plus test?
There is significant competition in Gloucestershire to attend one of the seven grammar schools in the area and it is common to start preparation several years in advance of the test. Students should be very familiar with the format, question styles, and timing pressures of the exam.
Unlike some, the Gloucestershire grammar schools - and the Local Authority allocating the places - do not factor catchment restrictions or sibling priority when assigning schools. This means there can be many candidates from across the area sitting the test and vying for a place.
When should my child start their preparation for the Gloucestershire 11 plus?
An ideal time to start preparing for the 11 plus is summer term of Year 4 or early Autumn Year 5. The test is designed to be challenging, assessing a solid understanding of academic content and problem-solving. The timing element can be a deciding factor in test-day success for many children, so your aim should be for your child to be well-prepared for the time pressures of the exam.
If your child requires general curriculum focus in addition to specific 11 plus preparation, it is advised to begin earlier. There are core-curriculum programmes available for Years 3 and 4. Your child should be working at expected or exceeding level with age-related content, having mastered age-appropriate curriculum before moving onto exam-style formats and questions.
How can I help my child to prepare?
Here are some top tips on how to best prepare your child for the 2022 exam.
Preparation is key: familiarisation with the question formats and known styles ahead of the exam is essential. Access to quality, unlimited practice material and mock tests ensures confidence when tackling the exam.
Vocabulary confidence: the reading comprehension element of the Gloucestershire 11 plus test will be above age-related reading level, so it is important that your child is familiar with a range of genres, authors, and purpose texts. Get free resources for engaging your child with reading here.
Achieve mastery quickly: the 11 plus test assesses a huge amount of content. Atom's adaptive algorithm creates your child's personalised learning journey specific to your target schools, with over 90,000 expert, teacher-created resources to support your child to fully master each topic.
Access to instant support: learners need clarification to address any misconceptions and become truly secure in their understanding of a topic. Access to videos, help sheets and engaging examples for each question builds confidence and competence in all areas covered in the exam.
Engage with their progress: celebrate their improvements in their areas of challenge together! An accurate, ongoing assessment of your child's strengths and development areas is instrumental for preparing efficiently. Atom's Parent Portal gives you data-driven insights into your child's areas of strength and development.
Overall progress and targets achieved: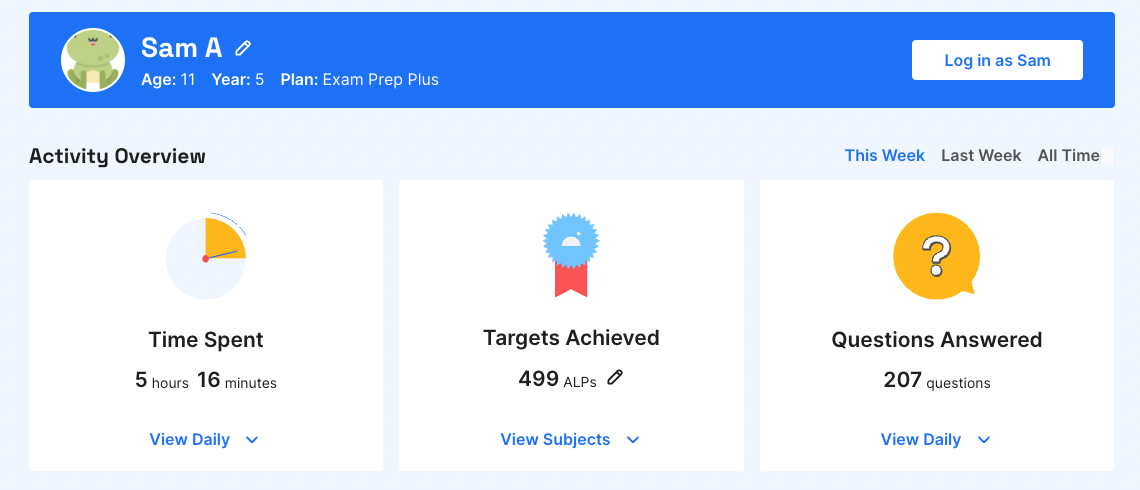 A detailed breakdown of progress by subtopic, compared to the average student in their year: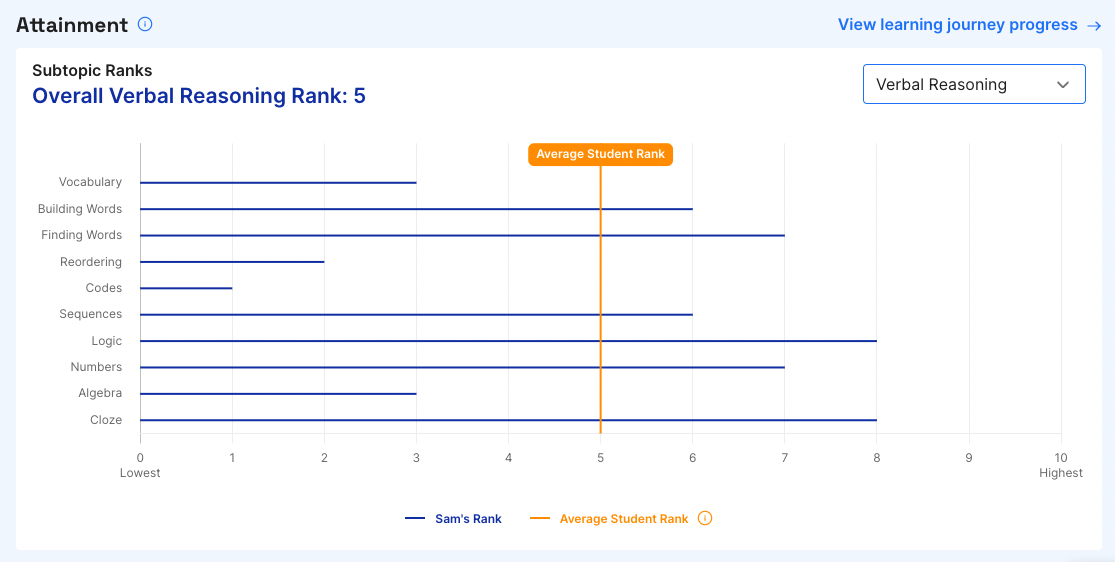 Your child's personalised learning journey progress: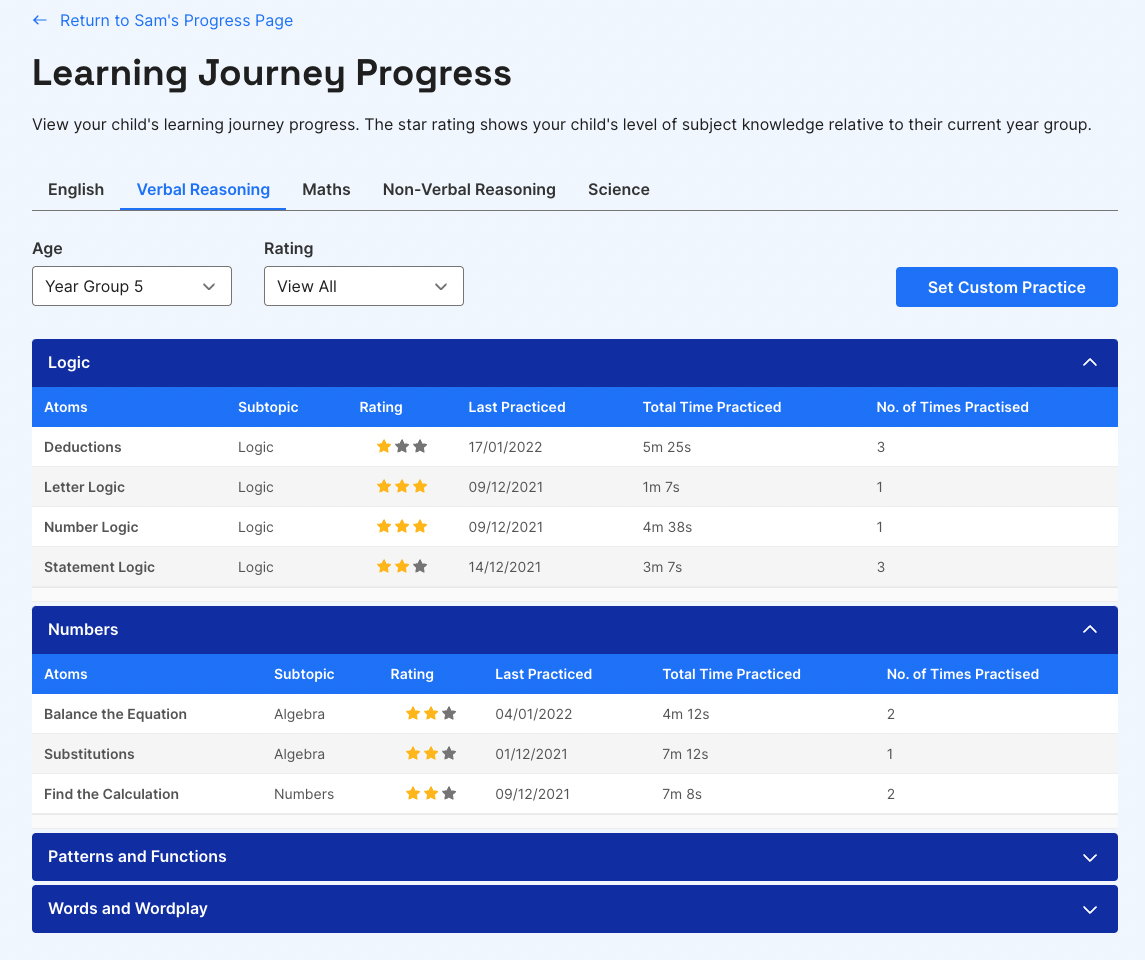 Set Custom Practices to target your child's most challenging subtopics, with functions to personalise timings and question types:
---
We know how keen you are for your child to do well in the 11 plus, to give them every chance of securing a place at their school of choice. Our dedicated team of Education Experts are on hand to support you and your family every step of the way:
Join our free specialist Grammar School Preparation webinars, and learn how to structure the next few months to maximise your child's progress: