Francis Holland School, Regent's Park, is one of two separate independent girls' day schools governed by the Francis Holland Schools Trust. Situated near Clarence Gate (NW1), it shares its name with the school at Graham Terrace near Sloane Square (SW1).
About 500 girls aged 11–18 are enrolled at the Regent's Park school, enjoying its convenient location on the doorstep of Marylebone and Baker Street stations. The school strives to encourage girls to 'appreciate the culture and diversity of contemporary London, whilst also feeling secure that her school has a tradition of excellence.'
Both Francis Holland schools were founded in the 1870s by the Reverend Canon Francis Holland, and have been continually developed to provide for the rapidly evolving needs of modern education. The Regent's Park school boasts seven well-equipped science laboratories for the specialist teaching of biology, chemistry and physics, and a specialist music centre, as well as a gym and fitness centre. Facilities include a pool with a floating floor which allows the hall to be used for both dry activities and swimming.
In 2009 the 5,000 sq ft Gloucester Wing was opened by the Duke of Gloucester providing extra classrooms, seminar rooms, a performance area, for music, drama and theatre studies and a fourth art studio. Being next to Regent's Park, the school is able to make full use of the park's extensive outdoor recreational facilities. It works closely with St Cyprian's Church opposite, holding regular services and concerts.
Francis Holland School enjoys an enviable reputation for academic success while striving to be known as a caring, nurturing environment where girls can thrive. In 2021, 91% of pupils achieved grades 9–7 at GCSE and 85% A*/A at A level. The school's curriculum is designed to stimulate 'the spiritual, moral, cultural, mental and physical development of all pupils' and is complemented by opportunities for enrichment and extension activities. In the sixth form, girls who wish to apply to Oxbridge universities are supported to thoroughly prepare for the admissions tests and for their potential interview.
Key information for Francis Holland School (Regent's Park)
Headteacher: Charles Fillingham (until July 2022), Katharine Woodcock (from September 2022)

Address: Francis Holland School, Ivor Place, London NW1 6XR

London Borough: City of Westminster

Admissions contact: Sarah Goldberg [email protected], 020 7723 0176

Age range and gender: 4–18, girls only

Number of pupils: 509

Number of places in Year 7: Undisclosed

Ratio of applicants to places: Undisclosed

Open day dates: Virtual: Tuesday 13th September 2022. Main school open day: 11th October 2022 (2pm-7pm) – more information to be released here. See also live Q&A

Overview of selection procedure for Year 7 entry in 2023: London 11+ Consortium test, school reference, interview

Registration opens: Currently open. Apply online

Registration closes: 11th November 2022

Assessment date for Year 7 entry in 2023: Friday 2nd, Tuesday 6th and Thursday 8th December 2022

Interview date for Year 7 entry in 2023: Thursday 5th, Friday 6th or Saturday 7th January 2023

Result of application emailed to parents: 10th February 2023
Francis Holland School fees and financial assistance
The current fees for Francis Holland School Regent's Park are £7,150 per term, £21,450 per annum. This includes books, lunch and Personal Accident Insurance.
When accepting a place at Francis Holland School, a deposit of £2,600 is payable, of which £2,500 will be returned on the final school bill along with a deduction of £100 for a subscription to Francis Holland Old Girls' Life.
Francis Holland School Regent's Park bursaries
One of the Francis Holland Schools Trust's key objectives is to offer a top class education to children who would not otherwise be able to afford it.
Bursary awards are typically offered at Year 7 and on entry to the sixth form and are reassessed annually as family circumstances may change. Bursaries are awarded based on a number of factors, including:
The ability of the girl and her fit with the school

The overall financial circumstances of the fee payers, both income and assets

The family circumstances of the applicant

The financial position of the Trust
Remission on a third of the fees is automatically available to places offered to daughters of the clergy.
Francis Holland is also part of the London Fee Assistance Consortium.
The closing date for bursary applications is Monday 21st November 2022. For more information parents are encouraged to contact the bursar on 020 7730 8359 or [email protected].
Francis Holland School Regent's Park scholarships
Francis Holland School awards scholarships in recognition of excellent achievement. Alongside fee discounts, children will be provided with opportunities for enrichment in their disciplines.
Year 7 academic scholarships: 5% of fees

Year 7 music scholarships: 5% of fees

Year 7 art scholarships: 5% of fees
Music scholarship applicants will be invited to audition on Monday 23rd or Tuesday 24th January 2023. Art scholarship applicants must sit an exam on Friday 20th January 2023.
For more information, contact the registrar on 020 7535 2777 or [email protected].
Francis Holland School Regent's Park term dates
The term dates at Francis Holland School Regent's Park for 2022–23 are:
Autumn term: 5th September – 14th December 2022

Half term: 17th – 28th October 2022

Spring term: 9th January – 29th March 2023

Half term: 13th–17th February 2023

Summer term: 19th April – 7th July 2023

Half term: 29th May – 2nd June 2023
Admissions process for Francis Holland School Regent's Park
1. Registration
If you would like to register your daughter for Year 7 entry to Francis Holland School Regent's Park in September 2023, you'll need to complete the online application form before the deadline of 11th November 2022 (while your daughter is in Year 6). The fee for each application is £150 (or £200 for overseas applicants) and is non-refundable.
Once you have submitted the application form and fee, you will be able to log into the school's admissions portal, where you will be able to track the progress of your application. Your daughter will be automatically registered for the entrance exam and a reference will be requested from the headteacher of her current school.
2. Assessment
Your daughter will sit the entrance assessment on Friday 2nd, Tuesday 6th or Thursday 8th December 2022.
The Francis Holland schools are part of the London 11+ Consortium, a group of several schools with a coordinated assessment process. If your daughter has applied to multiple schools within the London 11+ Consortium, she only needs to sit the entrance exam once and her results will be shared with all schools to which she has applied.
Make sure to submit a school application form to all schools within the consortium that you want to apply to, so that they are each able to access your daughter's results. You must apply to each of the Francis Holland schools separately if you want to be considered for a place at both.
Children take the entrance assessment at their current primary or prep school. If your daughter's current school does not offer this facility, she will be invited to take the test at Francis Holland School Regent's Park on Friday 2nd December. There is no advantage to sitting the test at any particular location.
3. Interview
Following the entrance exam, some applicants are invited to attend an interview on either Thursday 5th, Friday 6th or Saturday 7th January 2023 to assess their skills in problem-solving, critical thinking and creativity.
If you have applied for an art scholarship, your daughter will be invited to sit an exam on Friday 20th January 2023. For music scholarships, your daughter will attend an audition on Monday 23rd or Tuesday 24th January 2023.
4. Results
Francis Holland School considers the whole picture created by the assessment results, interview performance and school reference to assess each child's potential and decide whether to offer a place. Children with a sibling already at the school are not automatically offered a place, but may be given preference over an equally suited candidate.
You will receive an email on Friday 10th February 2023 with the results of your application to Francis Holland School. If your daughter is offered a place, you must accept or decline the offer by the deadline of 12 noon on Monday 6th March 2023.
Francis Holland School entrance exam format
Both Francis Holland Schools are part of the London 11+ Consortium, a group of London senior schools. Your child only has to take the entrance assessment once to apply to multiple schools in the Consortium.
For Year 7 entry in September 2023 onwards, the London 11+ Consortium is updating the format and content of their entrance assessment. The new process aims to go beyond testing cognitive ability alone and seeks to discover a child's potential in creative and critical thinking, analysis, synthesis and problem-solving.
Timings
The new assessment is 100 minutes long (1 hour 40 minutes) with a 30-minute break in the middle.
During the assessment, your child will see a clock on the screen that will count down in minutes showing her how long she has left for each section. It will be visible but not so large as to be distracting.
What is assessed?
The Francis Holland School assessment has six sections, all taken on a computer, in the following order:
Maths – 20 minutes

Non-verbal reasoning – 10 minutes

English comprehension and SPaG (spelling, punctuation and grammar) – 20 minutes

Verbal reasoning – 10 minutes

(Break – 30 minutes)

Problem solving – 15 minutes

Analysis – 25 minutes
The first four parts of the assessment are adaptive, which means the questions are tailored to your child's performance. This method of assessment gives reliable results in assessing cognitive reasoning ability. The final two sections (problem-solving and analysis) will be nonadaptive, meaning all candidates will see exactly the same questions.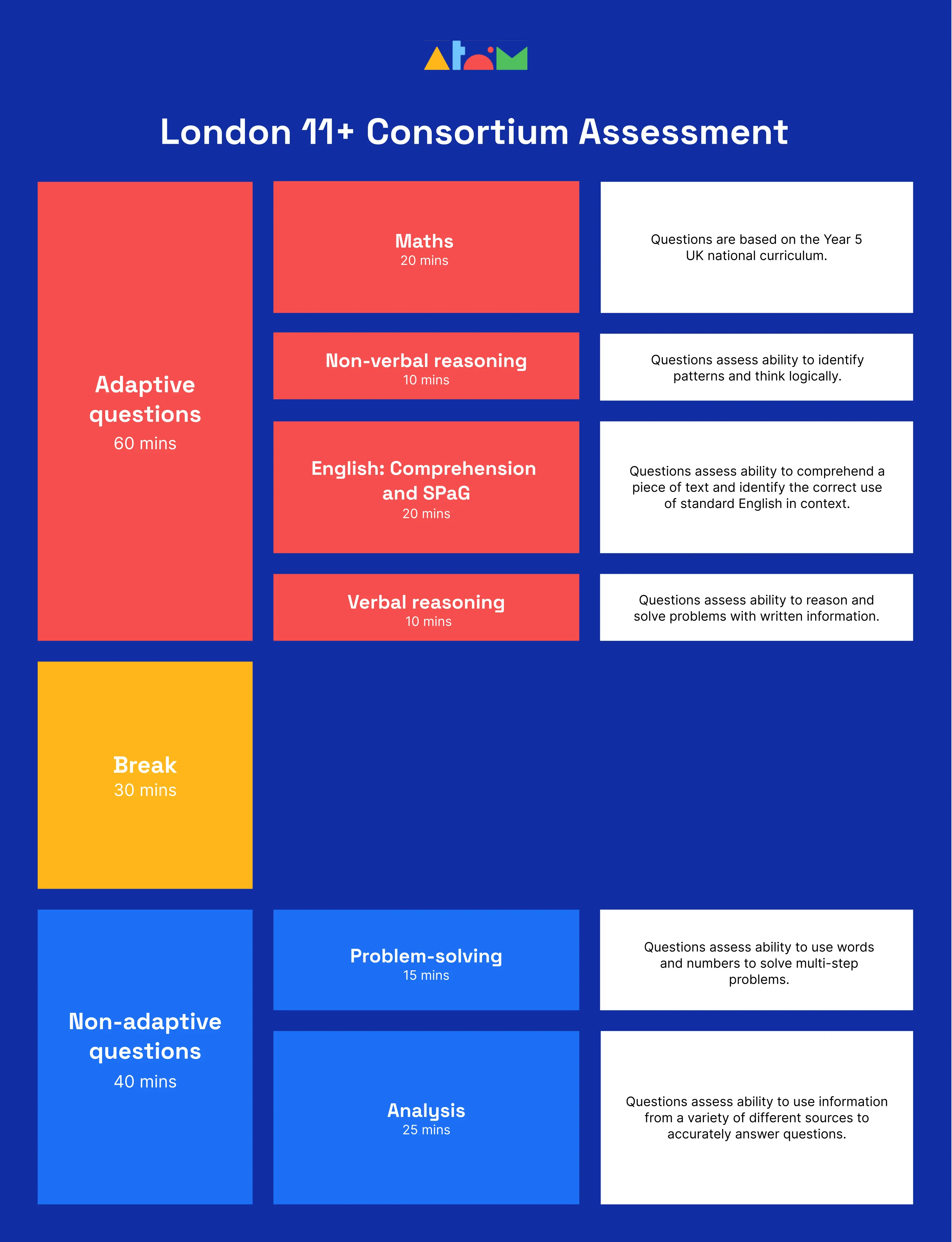 For more information on what to expect from the Francis Holland School entrance assessment process, visit our complete guide to the London 11+ Consortium.
---
It's our mission to help your child have a positive experience with the Francis Holland School admissions process. Our Education Experts are on hand to support you. You can speak with us using the LiveChat icon on the bottom right of your screen, or by calling 020 3973 9226.
If you're looking to help your child master key subjects and build academic confidence, start your free 5-day free trial of Atom Nucleus today!
Looking for tips and resources to help your child master key subjects, excel in exams and build academic confidence? Join Atom Learning's email list: