If your aim is for your child to sit the 11 plus, you may have heard mention of 'GL' and 'CEM'. These are exam bodies for the 11 plus entrance exam, used by grammar schools and a handful of independent schools.
This guide will tell you what to expect if your child will be sitting a CEM 11 plus test in 2022 for 2023 school entry, and how best to prepare.
What is the CEM 11 plus?
Centre for Evaluation and Monitoring (CEM) is a research group based at the University of Durham, which provides 11 plus questions frequently used by Local Authorities and schools. CEM has been providing selective entrance exam questions since 2012.
Generally, the CEM 11 plus covers reading comprehension, maths, verbal reasoning, and non-verbal reasoning. The tests are paper-based and non-adaptive, meaning that the difficulty does not adjust depending on the answers your child gives.
The questions are created by a team of experts and are peer reviewed to monitor the challenge level. Some schools choose to use CEM as their provider as it is thought to be less predictable than GL papers.
Exactly what is included on CEM tests varies from region to region and year to year – tests are tailored to Local Authorities, schools, or consortiums, based on their own selection criteria. Schools can choose to test all subject areas, or use a combination alongside their own papers such as creative writing.
CEM questions assess knowledge taught across the Key Stage 2 national curriculum, including Year 6 objectives, as well as subjects not taught in school. This means that home preparation is key for success.
Which schools use CEM 11 plus papers?
A variety of schools use CEM for their entrance exams including grammar, independent and bilateral (partially selective) schools. Due to the flexibility of being able to choose the elements of the test, schools are able to alter the length of the test, the number of questions and sections of the test to fit their selection process.
Regions that use the CEM exam board
Although GL has historically been the most commonly administered 11 plus, many regions have now shifted to CEM. Some regions use a combination of CEM and GL papers depending on the school.
Regions with a mixture of GL and CEM:
If you're not sure whether your target school uses CEM, get in touch with our Education Experts at [email protected]. We're also happy to help with any questions you might have about your target school's test structure or content.
What sections are there in the CEM 11 plus papers?
CEM 11 plus tests commonly assess four main areas: reading comprehension, maths (numerical reasoning), verbal reasoning, and non-verbal reasoning. Subject combinations and timings vary by region and by year, but the general format of a CEM test is two papers of roughly 45-60 minutes each.
Each paper tends to be a combination of two or more subjects, and is made up of smaller subsections that are separately timed. On exam day, an audio tape will tell your child when they have completed the time allowed in that section and to move on – they're not allowed to return to a section once its time is up. Each section of the CEM exam contains example questions, but no practice questions.
In the exam, your child will be given a test booklet with a separate answer sheet. Answers may be multiple choice, or what is known as 'standard format' which requires your child to write their answer in a small box. The answers are computer-marked and leave no margin for human interpretation, so your child should practise writing their answers clearly on the separate answer sheet.
CEM reading comprehension
In the reading comprehension section, your child will see a single text extract, along with questions about the text to assess their inference, deduction, and understanding of vocabulary in context. There are usually between 10 and 20 questions about the same text.
The passage may be fiction, non-fiction, or a poetry piece, and may be traditional or contemporary, so familiarity with vocabulary across many genres is helpful (get free resources for engaging your child with reading here).
There are no spelling, punctuation and grammar questions on CEM exams, although schools may administer their own additional tests in those areas.
CEM maths
CEM 11 plus maths tests are aligned with the year 5 national curriculum content. These questions are designed to focus on speed of recall as well as test problem-solving and reasoning skills.
Topics assessed on the CEM maths tests are:
Number

Measurement

Data

Algebra

Geometry
There are more questions focused on 'number' than any other topic, with a general ratio of five number questions for every one question on the other topics.
CEM verbal reasoning
Verbal reasoning usually aims to test your child's ability to spot patterns with both numbers and letters, make connections between information given, and manipulate letters to create new words. However, the CEM verbal reasoning content is focused on assessing your child's vocabulary.
The question types that come up most frequently are:
Synonyms

Odd ones out

Homographs

Antonyms

Stolen words

Deductions

Missing letters

Jumbled sentences

Choose the word

Complete the sentence
We recommend familiarising your child with the different types of verbal reasoning questions early in the preparation process so they know what to expect on exam day.
CEM non-verbal reasoning
The non-verbal reasoning section involves spatial problem-solving. Pupils are tested on their understanding and ability to process graphic information using spatial awareness skills.
Here is a list of subtopics covered in CEM non-verbal reasoning tests, although not all of these will appear on all tests:
Get top tips for non-verbal reasoning here.
What's the difference between CEM and GL?
CEM was introduced as an alternative to GL, following concerns that GL exams had become too transparent. Unlike GL, CEM does not publish practice materials, and they change the exam format each year to try to avoid 'teaching to the test'.
There are key differences in the timings and structure of the papers. CEM exams do not separate the papers by subject. The test structure usually consists of two papers made up of shorter timed sections which integrate all topics. The most common CEM structure is one paper testing reading comprehension and verbal reasoning, and the second testing numerical reasoning (maths) and non-verbal reasoning.
CEM is more closely mapped to the Key Stage 2 national curriculum than GL. Both exams assess similar strengths, but CEM requires greater comprehension skills and a wide-ranging vocabulary. GL, on the other hand, calls for additional strength in logical reasoning and spelling, which is not tested on CEM.

How challenging is the CEM 11 plus: example questions
One key challenge faced by students taking the CEM is its timed subsections. As your child can't go back to previous timed sections to check or change their answers, they will need to forgo previous exam techniques which may have encouraged them to come back to difficult questions at the end. Your child should practise until they are comfortable working within the time constraints.
As CEM only publishes one familiarisation booklet, it can be hard to know what to expect. Atom Nucleus has unlimited CEM practice papers to empower your child to be fully prepared.
Below you'll find examples of Atom Mock Test questions for each section of the CEM exam, to demonstrate common question styles and show how challenging they can be. The answers are at the bottom of the page – see how you get on!
CEM reading comprehension example questions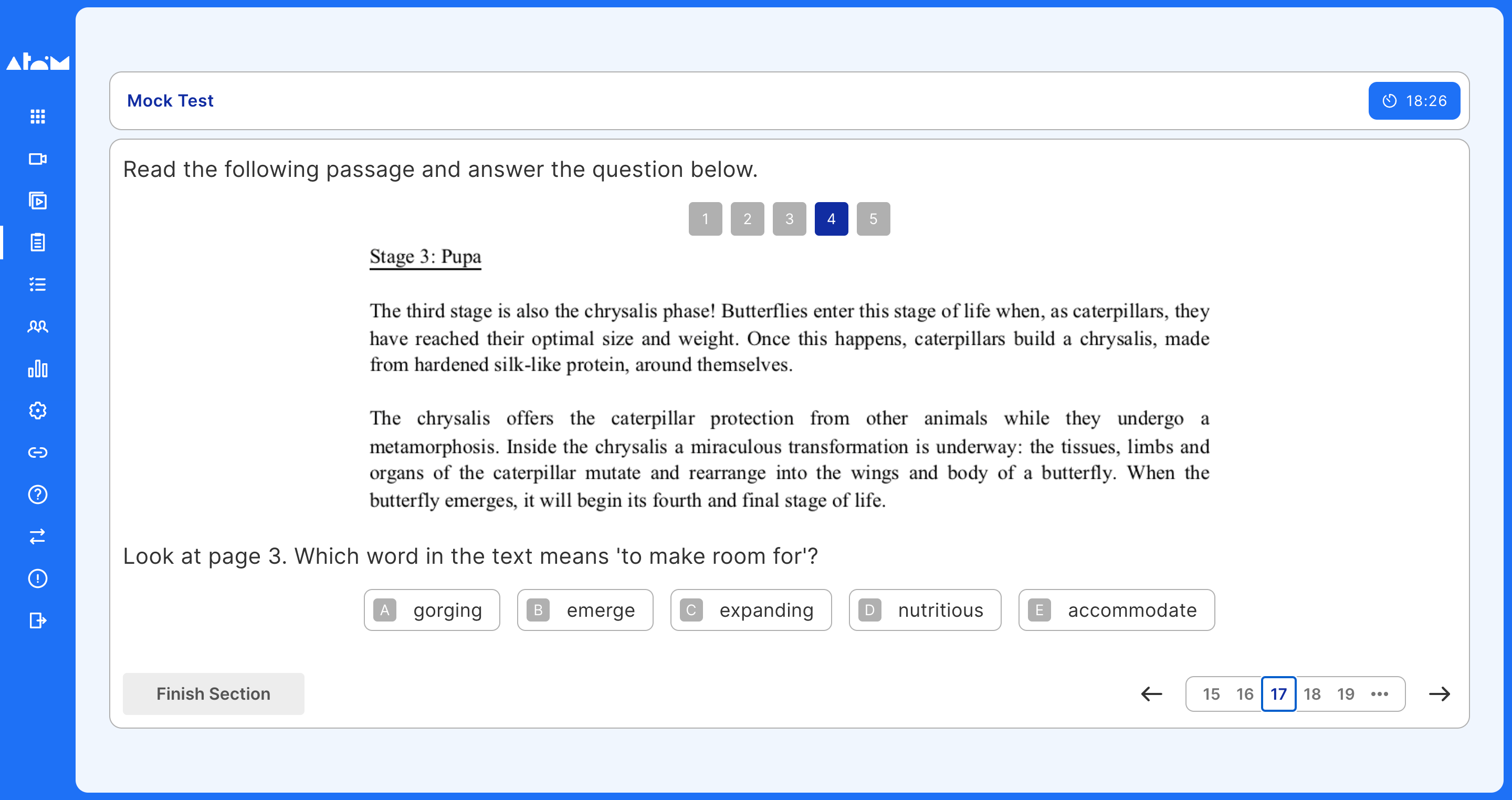 CEM maths example questions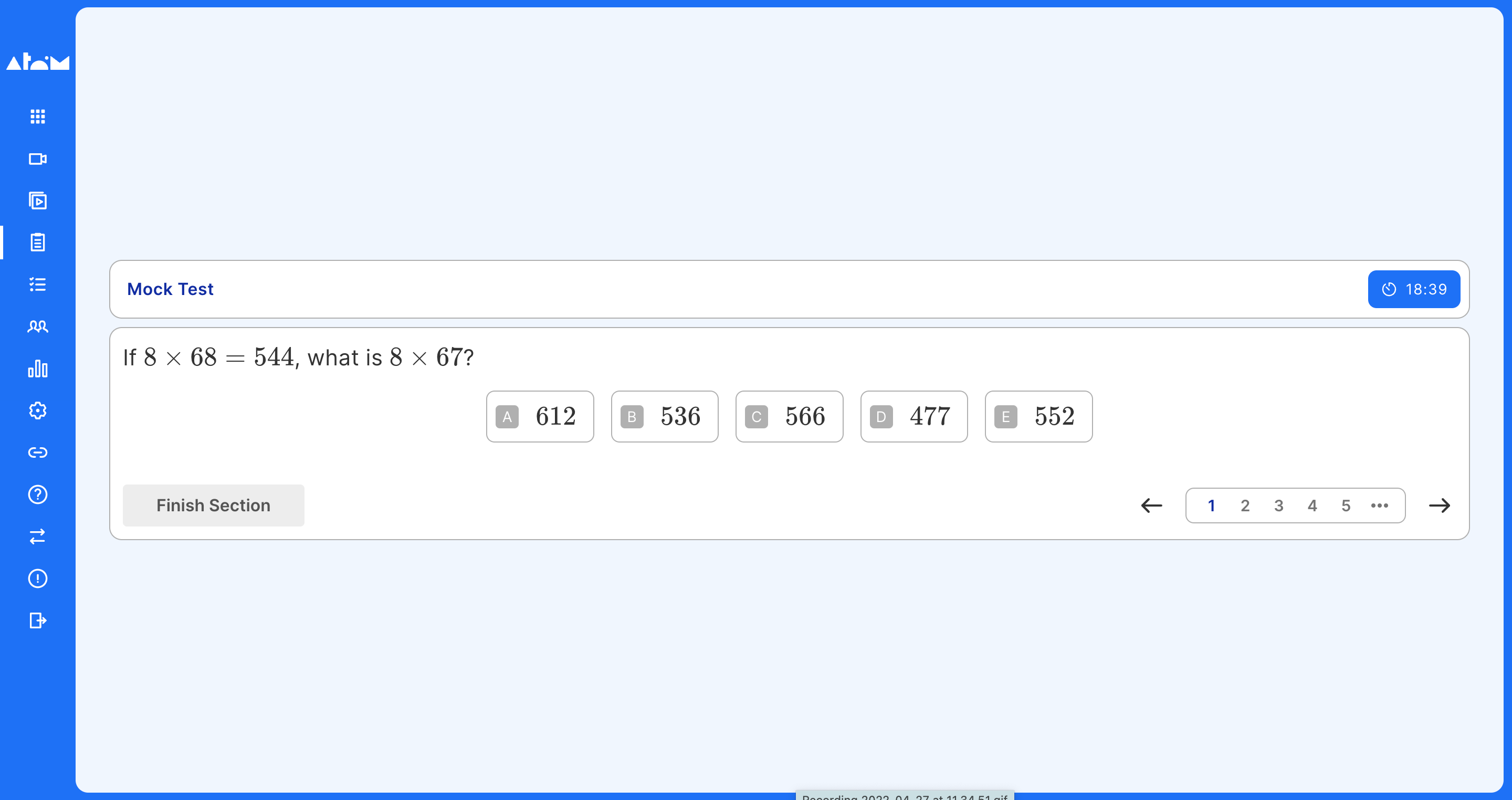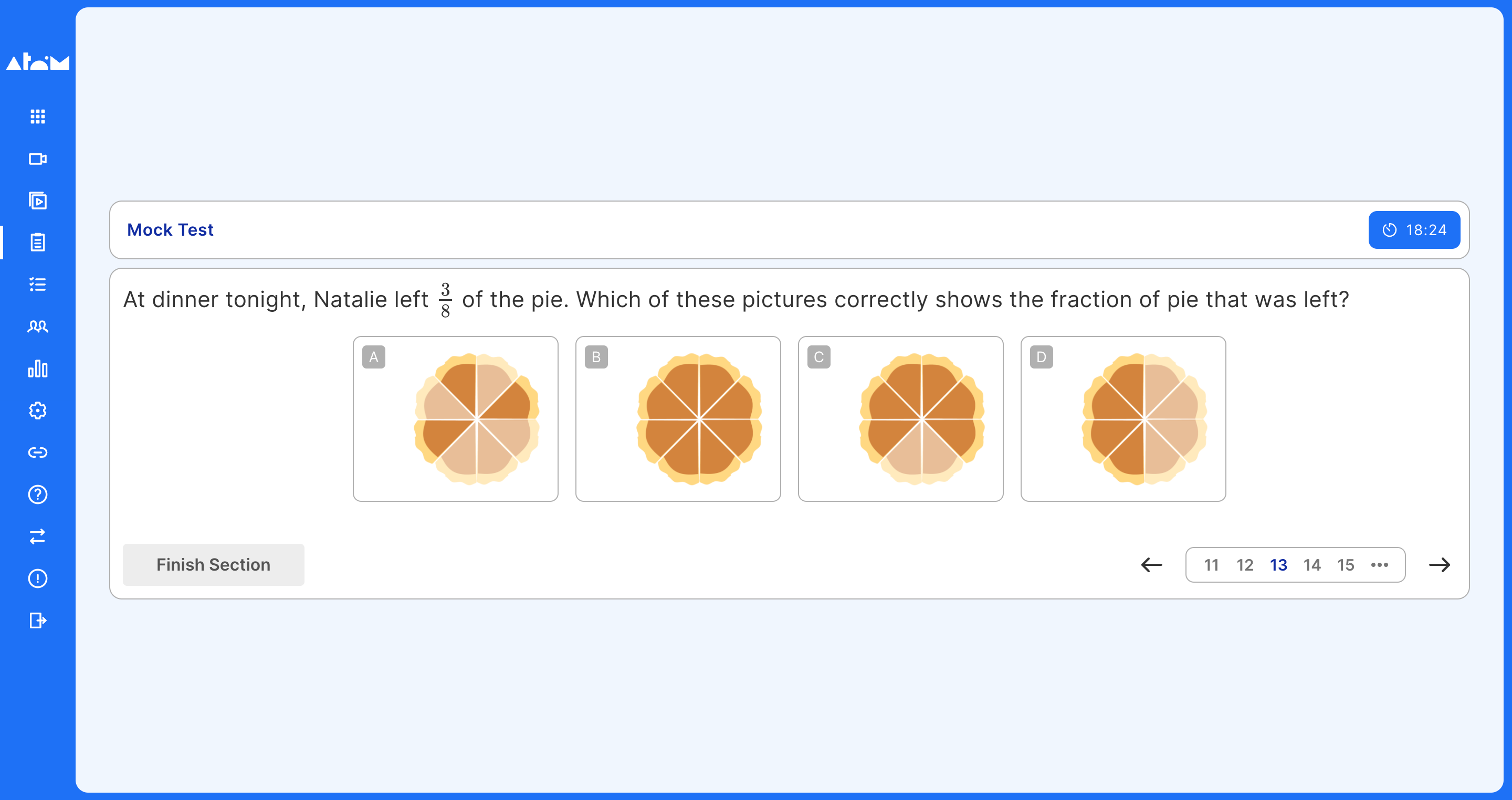 CEM verbal reasoning example questions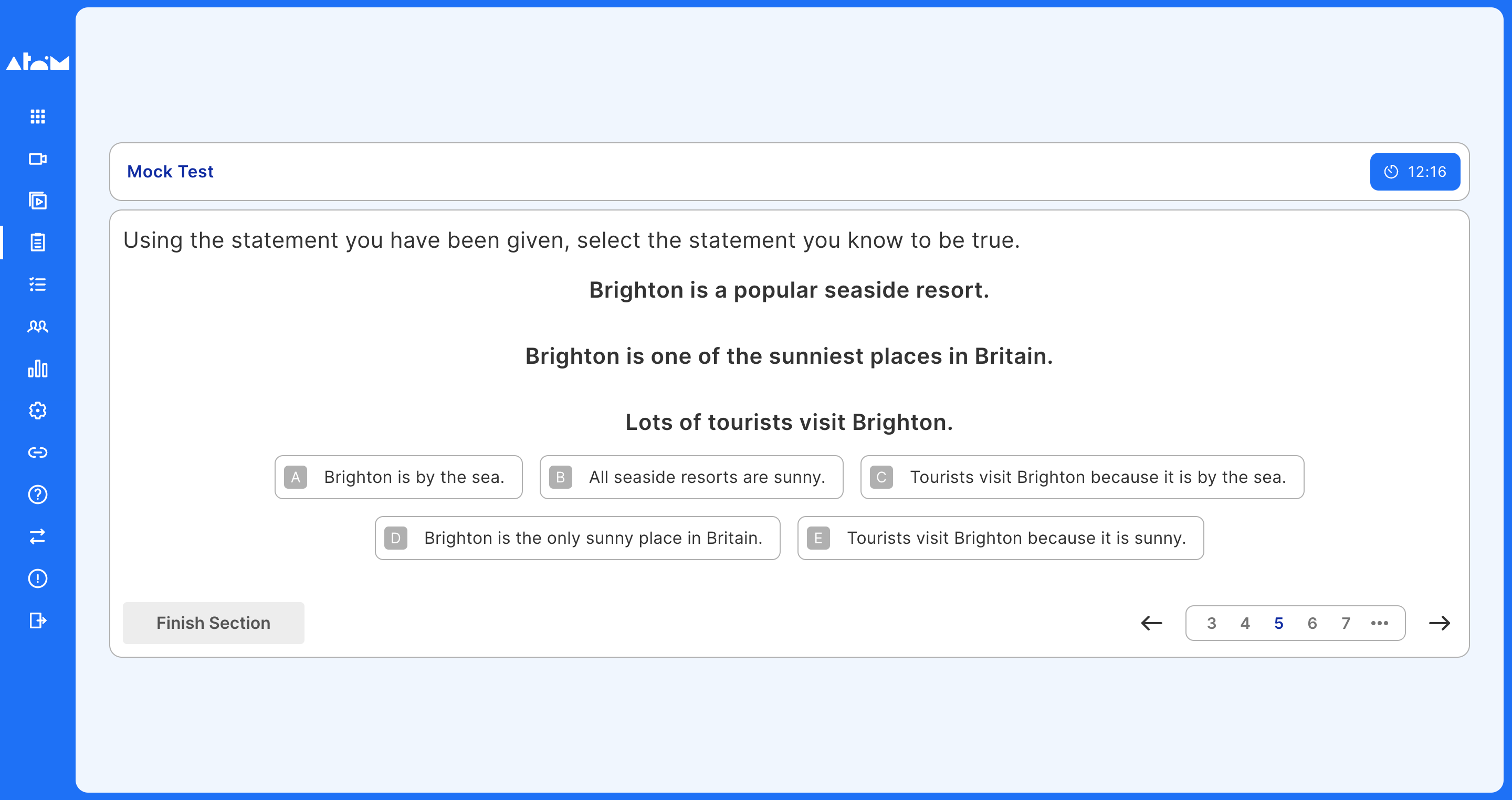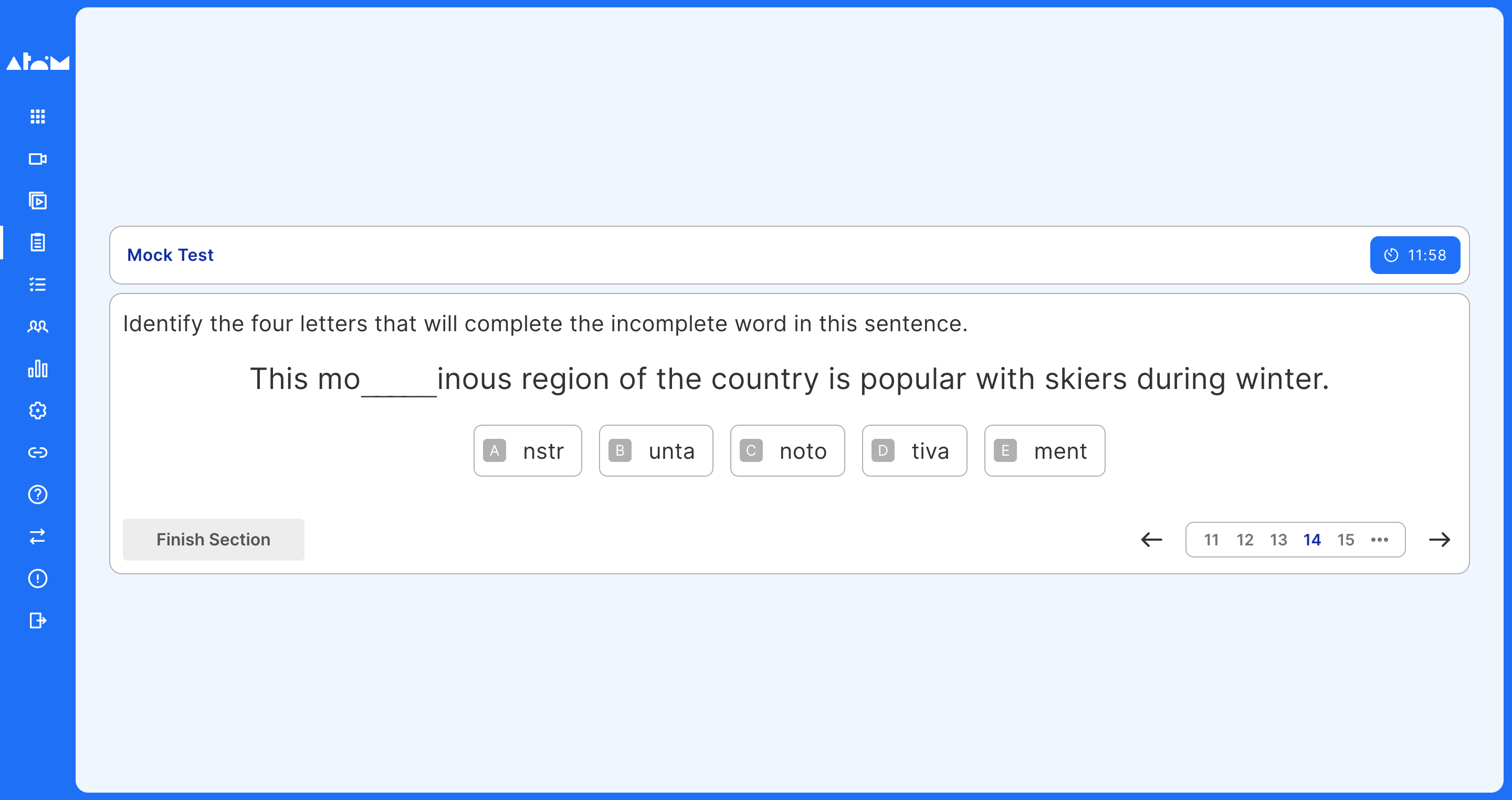 CEM non-verbal reasoning example questions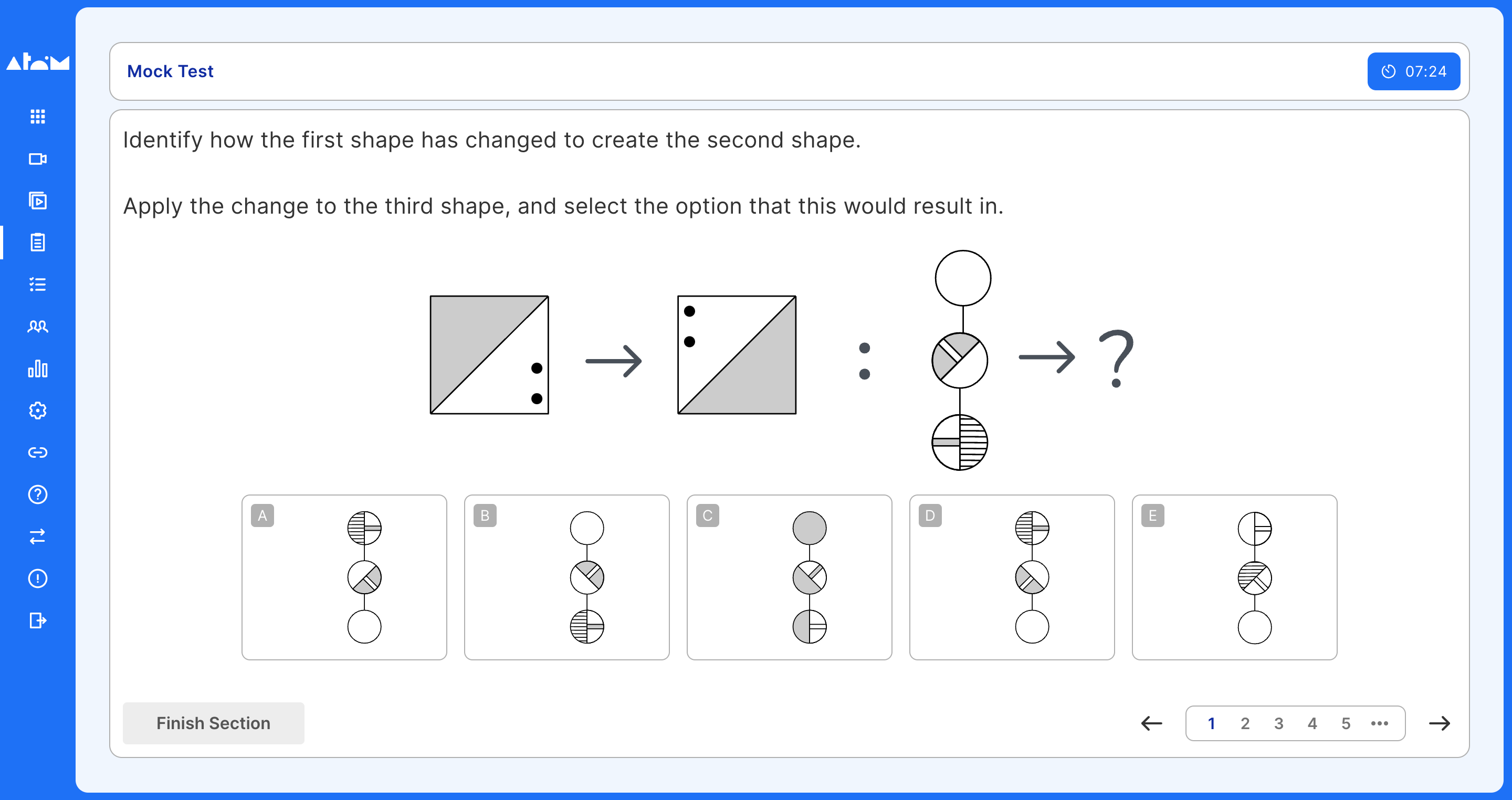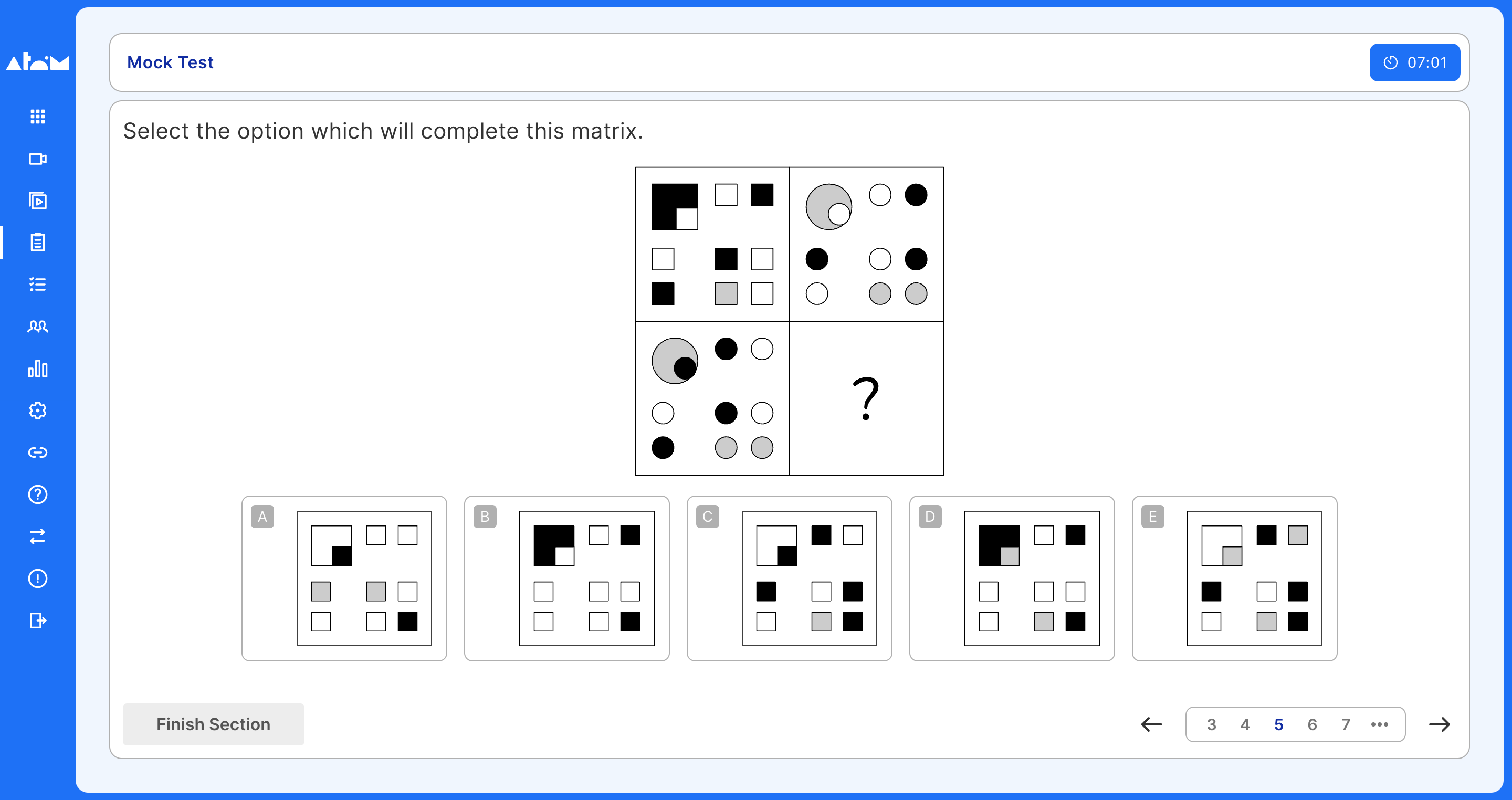 Looking for 11 plus CEM mock test papers in pdf format? Download the full set of 11 plus mock test sample questions for free:
How can I prepare my child for the CEM 11 plus exam?
A great time to start preparations for the CEM 11 plus is in the summer term of Year 4 or early autumn term of Year 5. Starting early and practising often will minimise stress and pressure.
For your full (and free) 11 plus preparation plan, visit Atom's complete guide to the 11 plus. Here are our tips for using Atom to support your child's CEM 11 plus preparation:
1. Don't teach to the test
CEM exams are designed to discourage excessive test-tutoring (practising for just the test itself) and instead to test your child's skills and understanding of the concepts. Atom's 90,000+ teacher-written practice questions are a fun way to master the whole curriculum.
2. Friendly familiarity
Once your child has mastered the learning, let them become familiar with CEM question types and build up their exam techniques. You can access unlimited CEM practice material including Mock Tests tailored to your target schools on Atom Nucleus. Atom's Mock Tests are broken down into separately timed subsections to allow your child to know exactly what to expect for each paper: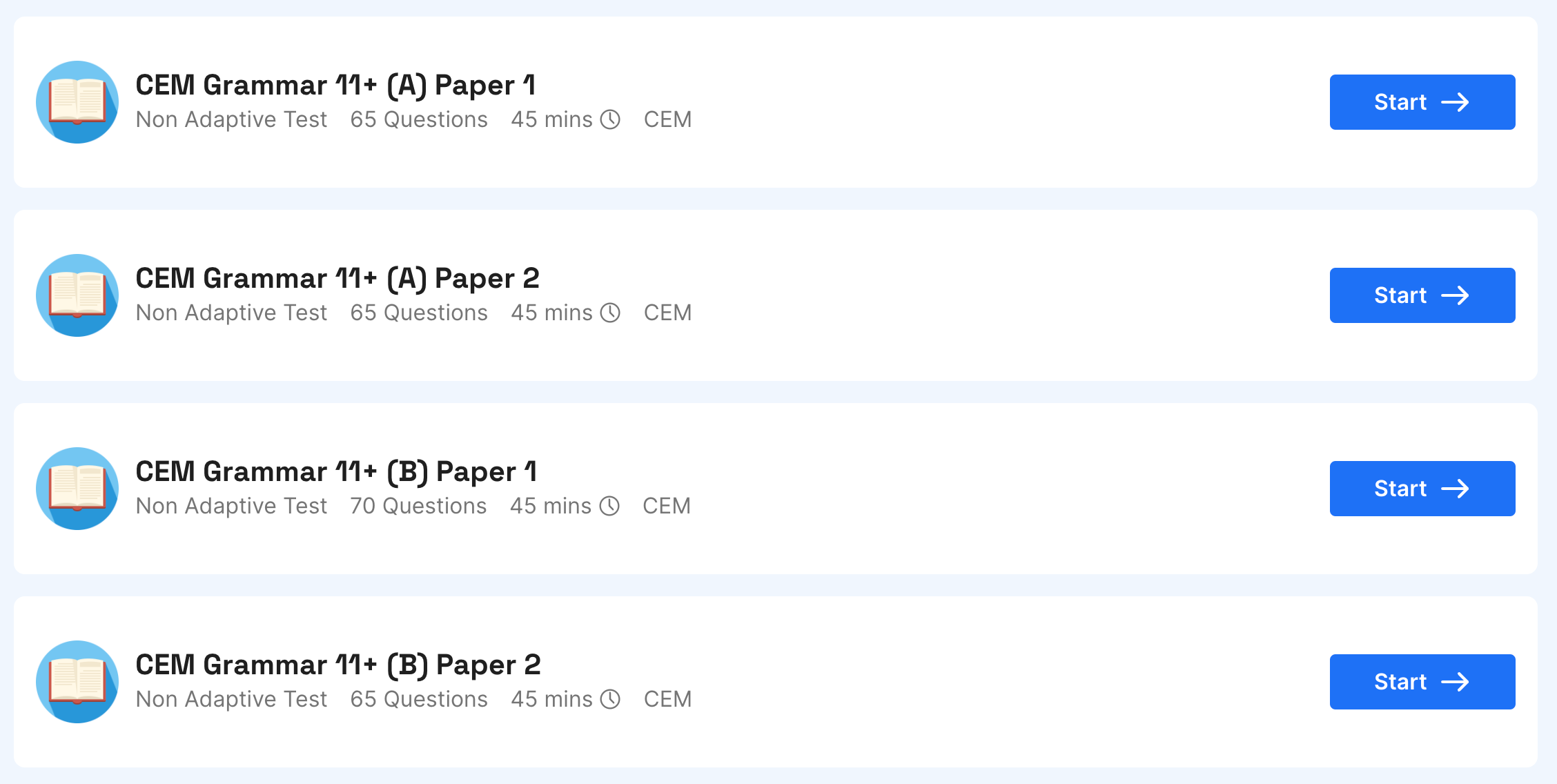 3. Help on hand
Your child will be learning new and complex content they may not have encountered in the classroom. Atom provides access to engaging videos, help sheets and explanations which empower your child to independently consolidate their learning, even with challenging new content.
4. Celebrate progress
Be sure to celebrate your child's progress to sustain high motivation and engagement. Atom's Parent Portal allows you to access data-driven insights and detailed progress reports, helping you identify areas to support your child's development, adapt the difficulty level, and set Custom Practices to target those tricky areas.
Overall progress and targets achieved: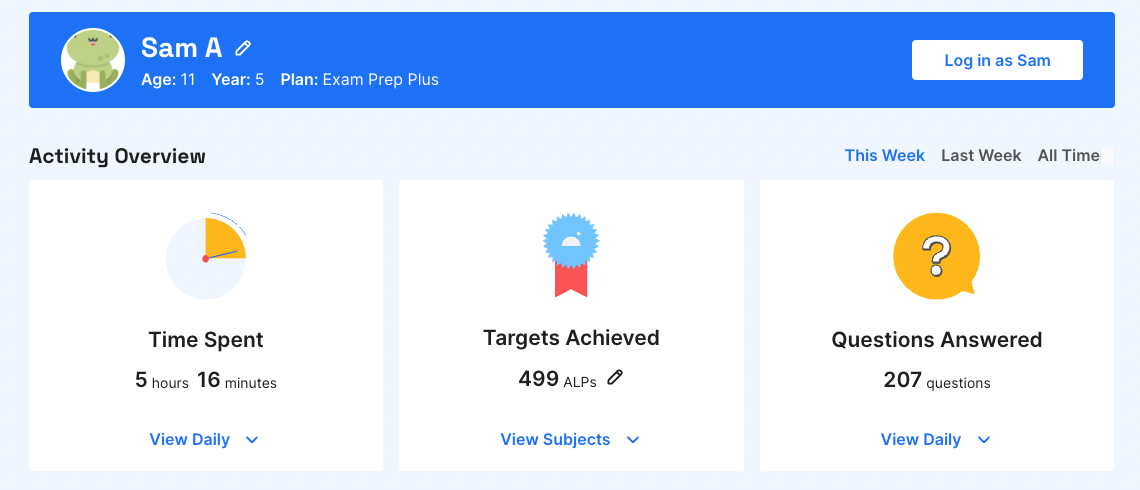 A detailed breakdown of progress by subtopic, compared to the average student in their year: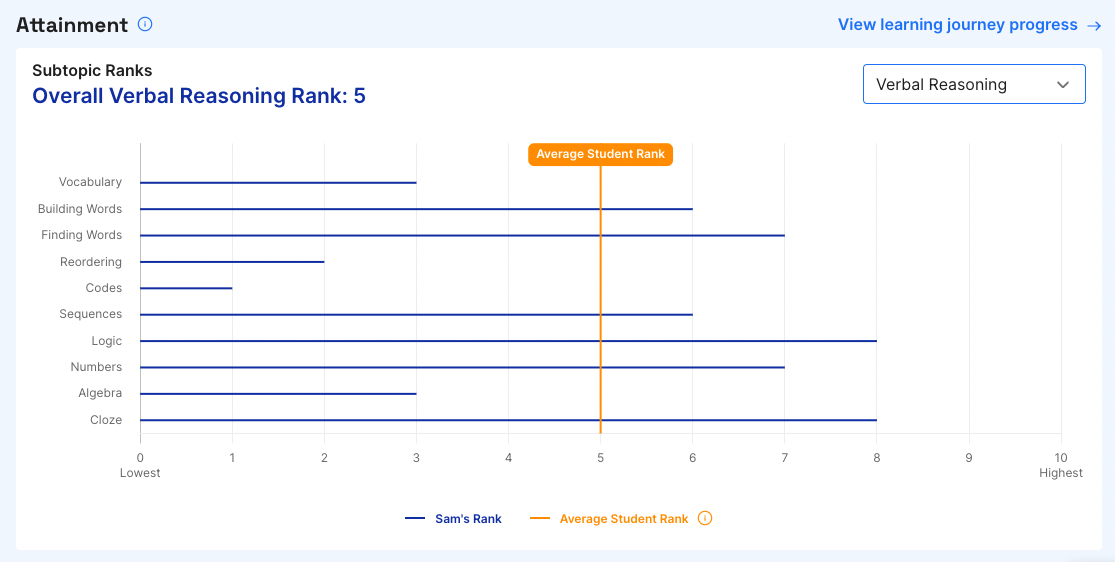 Set Custom Practices to target your child's most challenging subtopics, with functions to personalise timings and question types:
Start your free trial of Atom Nucleus today to unlock the benefits of adaptive learning for your child.
---
Ask us anything
We understand how important this next step is for them, and for you. Our team of educational experts are on hand to support you and your family every step of the way.
Book a call with one of our Education Experts to talk through any questions you may have about CEM 11 plus exams, or your target schools:
Testimonials
---
Answers to CEM example questions
Here are the answers to the example questions we shared earlier in the article. We'd love to know how you got on – let us know on Facebook @WeAreAtomLearning!
English:
Maths:
Verbal reasoning:
Non-verbal reasoning: