Looking for information on the 11 plus for Bexley Grammar Schools? We've created an up-to-date guide to help you navigate through the 2022-23 test process, what to expect, and how best to prepare.
Bexley Grammar Schools 11 plus at a glance
Registration open: 3rd May 2022

Registration closes: 1st July 2022

Exam board: Bexley Selection Test (CEM)

Test date: week commencing 12th September 2022

Results: October 2022

National School Allocation Day: 1st March 2023 (or next working day)

Appeals: contact the schools directly

Admissions information: individual school website or Bexley Admissions Team
Which schools use the Bexley Selection Test (11 plus)?
What is the Bexley Selection Test?
Taken in September of Year 6, the 11 plus test is an exam which assesses children's academic potential and suitability for grammar schools. Your child must pass the 11 plus to get into selective grammar schools, although passing the test does not guarantee admission to a school. The 11 plus test in the London Borough of Bexley is known as the Bexley Selection Test.
The test is commonly taken at your child's current primary school, although some schools opt for their pupils to take the test at a testing centre including any schools out of the county. Find where your child will sit the exam here.
All four grammar schools in Bexley are academies, meaning their admissions criteria and appeals process will be different from schools under the Local Authority. It is advised you familiarise yourself with the schools' admissions priority criterion, distance from home to school is a significant factor in all of the schools.
How do I register my child for Bexley Selection test?
Registration is done via an online form, find additional information on the Bexley Borough website. You have until 1st July 2022 to register your child to sit the 11 plus test for Bexley grammar schools. Some of the grammar schools require submission of supplementary information, so it's worth making sure you are aware of each of your target schools' admission procedures ahead of any deadlines.
What is covered in the Bexley Selection Test?
The Bexley Selection Test is an 11 plus exam set by the CEM exam board. Split into 2 papers, it assesses your child on a variety of questions covering: verbal reasoning, reading comprehension, non-verbal reasoning, and numerical reasoning.
Each paper takes approximately 50 minutes. Most of the questions are multiple-choice, except for a small number of questions in the numerical reasoning section.
Verbal reasoning and English comprehension
This section assesses your child's depth of vocabulary. Your child will be expected to spot patterns relating to numbers and letters, find similarities and differences with groups of words, and problem solve with verbal information.
These questions often include a section on reading comprehension. Following an extract, your child will be asked multiple-choice questions testing their inference and deduction skills.
Non-verbal reasoning
The non-verbal reasoning aspect of the Bexley 11 plus assesses your child's ability to interpret information in the form of shape puzzles. They must use their abstract and logical thinking to identify patterns and sequences. These questions follow similar styles each year. It is beneficial to familiarise your child with these styles so they can deal with them confidently on exam day within the time constraints.
You can find more tips and information about non-verbal reasoning here.
Numerical reasoning
The numerical reasoning section is underpinned by national curriculum content, including those covered later in Year 6 such as ratio and algebra. The test combines a mixture of arithmetic and problem-solving skills. These questions may be in multiple-choice form or require a digit to be selected.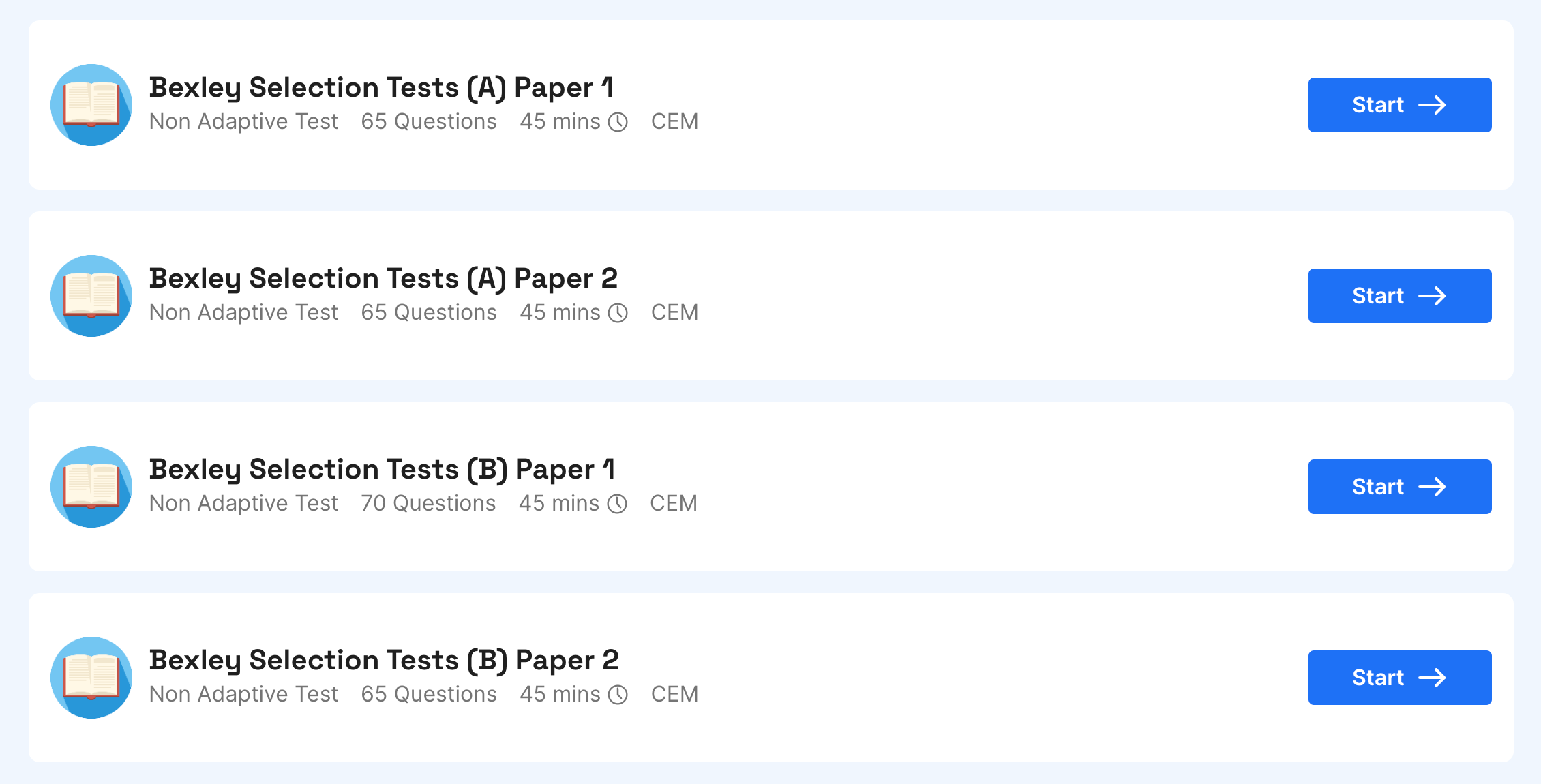 Atom Nucleus contains unlimited Mock Tests so your child can practice every section of the Bexley Selection Test.
What is the pass mark for the Bexley Selection Test?
The 3 subjects are marked with the following weighting:
Verbal reasoning counts for 50% of your child's score

Non-verbal reasoning counts for 25%

Numerical reasoning counts for 25%
Your child's raw scores are converted to a standardised score to allow for the age differences of children across the year group.
The pass mark can change year on year. Last year the qualifying mark was a standardised score of 216, with the top 180 pupils scoring above 246 marks.
How competitive is the Bexley Selection Test?
Each year, thousands of applicants sit the Bexley grammar schools 11 plus exam. There are only about 800 grammar school places available for the Year 7 intake. Competition for these places is high, especially as the test scores are ranked from the highest score downwards, with the top 180 scorers automatically making up the highest priority group for school choice placements.

When should I begin preparing my child for the Bexley Selection Test?
Usually, the 11 plus preparation journey begins at the end of Year 4 or the beginning of Year 5. This relies on your child exceeding age-related expectations and being ready to begin exam preparation. As the 11 plus test for Bexley grammar schools are aimed at the top 30% of each cohort, ensuring your child is secure with the curriculum content prior to progressing to exam preparation is suggested. If needed, core curriculum programmes will help to boost attainment and confidence before tackling exam preparations.
How can I help my child prepare for the Bexley Grammar Schools 11 plus?
Friendly familiarisation: verbal and non-verbal reasoning questions can be confusing to people who are not used to these question types. It is advisable that your child is confident with all known question formats, so they can tackle them with ease on exam day.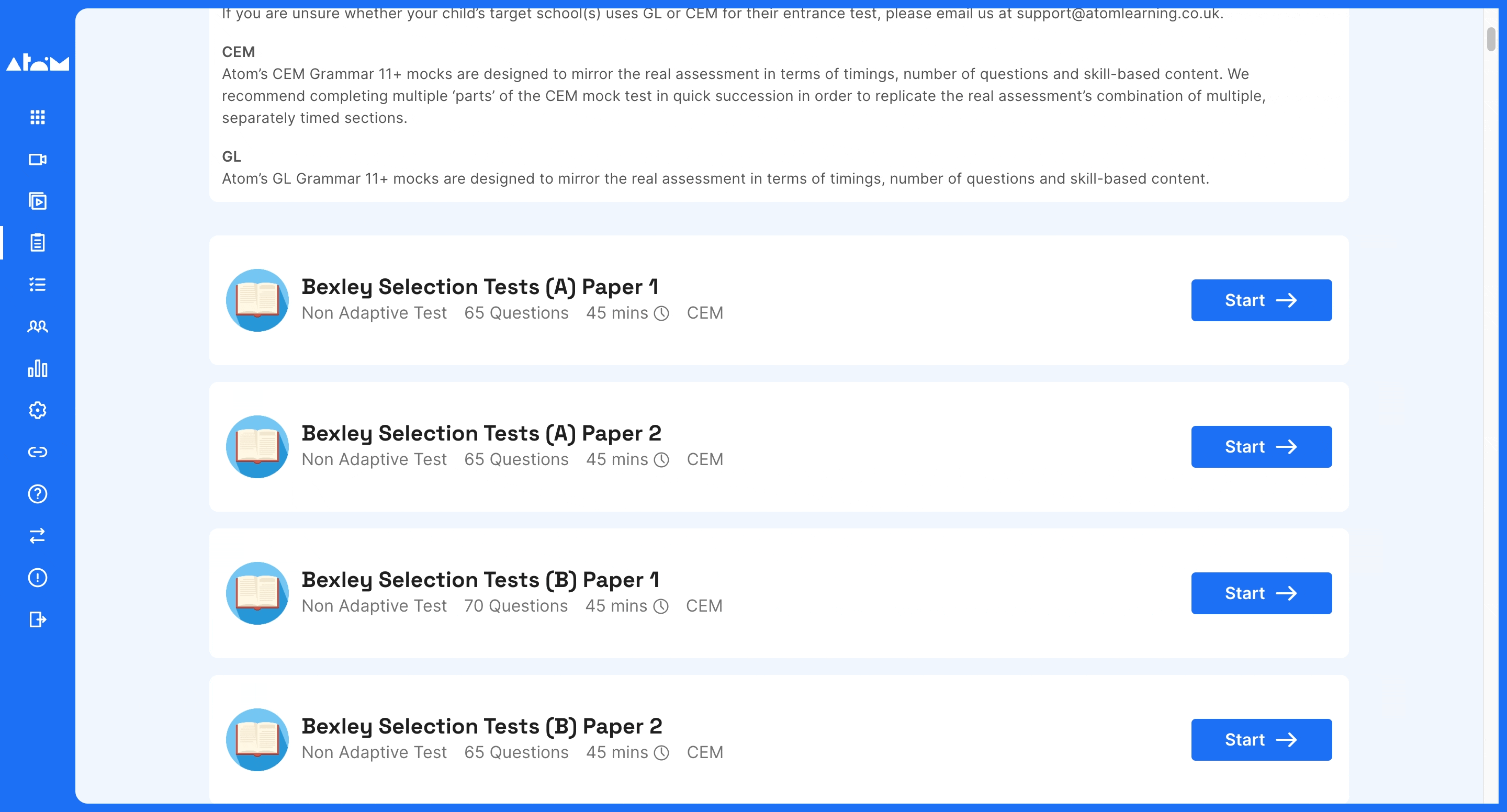 Atom has an unlimited selection of Mock Tests available in the exact format and style of the Bexley Grammar Schools 11 plus test.
Read widely: expanding your child's vocabulary across traditional and contemporary texts will support their understanding of complex words and those not heard in everyday conversation. This will stand them in good stead for the English comprehension section of the test.
Focus on their needs: tailoring exam practice to your child's needs is the best way to stay on track. Atom's adaptive learning algorithm personalises your child's optimal learning journey to master everything they need to achieve entry into their target school. Data-driven insights give you a window into your child's progress and where to focus next.
Overall progress and targets achieved: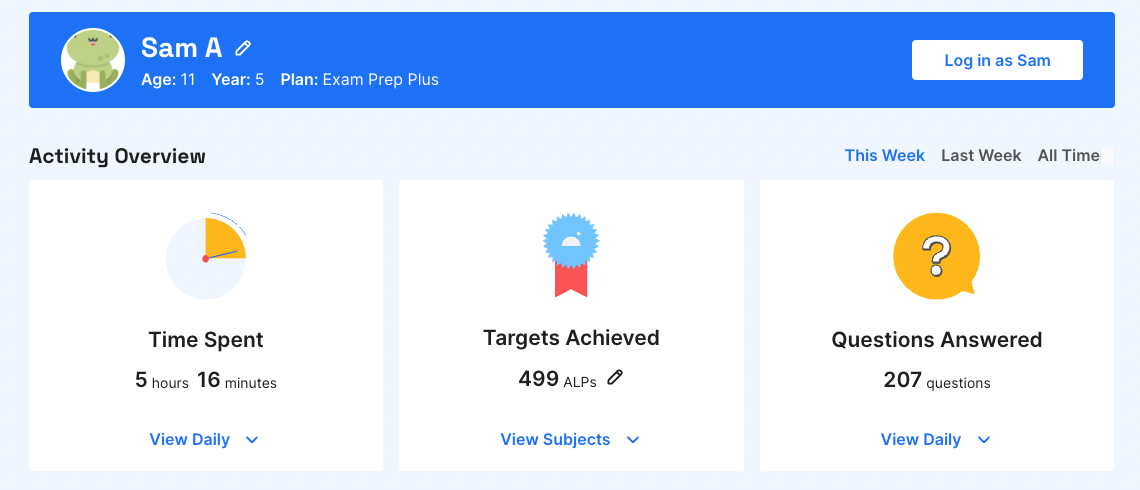 A detailed breakdown of progress by subtopic, compared to the average student in their year: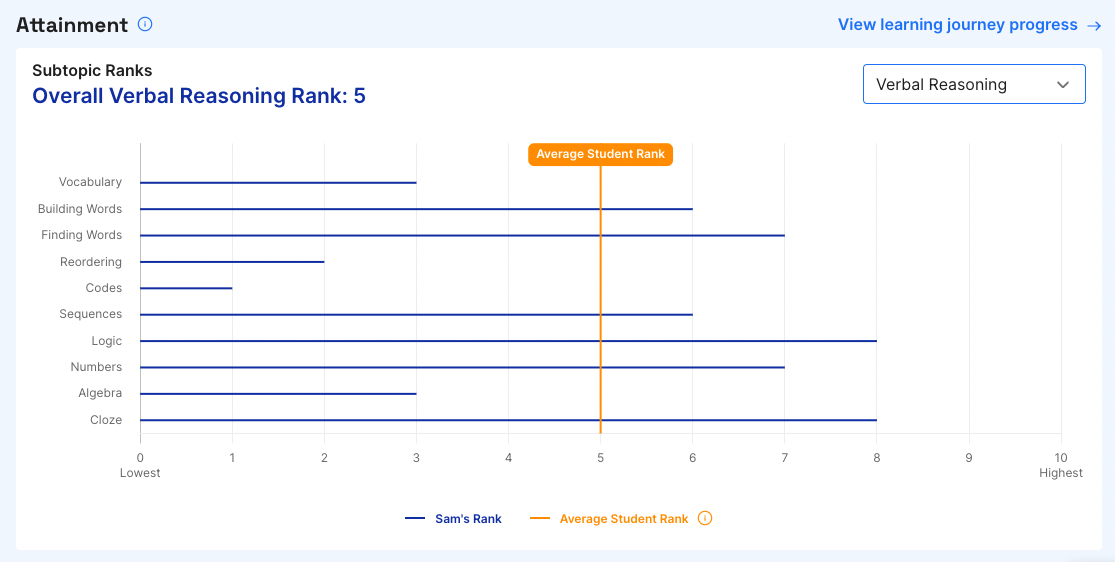 Set Custom Practices to target your child's most challenging subtopics, with functions to personalise timings and question types:
Start your free 5-day trial of Atom Nucleus today to learn more about how adaptive learning can empower your child to shine in the 11 plus.
---
We know how crucial this time is, so our team is on hand to support you and your family every step of the way. You can book a call with one of our Education Experts to ask any questions you may have about the Bexley Selection Test: