Berkshire is home to six grammar schools and one bilateral school (Reading Girls' School, which is partially selective). Four of the grammar schools are in the Slough Grammar School Consortium, meaning they all share the same 11 plus test paper and process. The remaining two grammar schools are in Reading: Reading School and Kendrick School.
The Berkshire Grammar Schools 11 plus test 2022 at a glance
Registration opens: 1st May 2022

Reasonable adjustment deadline: June 2022

Registration closes: 30th June 2022 (Reading School) 1st July 2022 (Kendrick School)

Exam date: 17th September 2022

Exam board type: CEM (Kendrick School) and FSCE (Reading School)

Results: Mid October 2022

National school offer day: 1st March 2023 (or next working day)

Admissions information: [email protected], 0118 901 5859 | [email protected], 0118 901 5600

Appeals: Reading School, Kendrick School. Undertaken by an independent appeal panel established for that school.
Which Berkshire grammar schools use the 11 plus test for admission?
What is the Berkshire Grammar Schools 11 plus test?
The 11 plus is a selective test taken in the September of Year 6. It's necessary to meet a school-specific 'pass' standard to be considered for a place. Places in these schools are highly sought after: passing the 11 plus alone does not guarantee admission.
The Berkshire Grammar Schools 11 plus is a paper-based exam that is taken in one of the grammar schools. You will be informed of the location of the test by email after registration.
The Slough Grammar School Consortium operates in the Berkshire area, comprising of four grammar schools. The same test and application process is used for all schools in the consortium, to avoid excessive test-taking for pupils applying for their Year 7 admissions places.
For the two Berkshire Grammar Schools that are not in the consortium, Kendrick School also follows the same test and process as the Slough Consortium. Admissions are via the school's website. Reading School operates its own exam papers, testing dates and paper structure, following Future Stories Community Enterprise, which is a subsidiary of Reading School.
What is covered in the Kendrick School 11 plus test?
Following the same format as the Slough Grammar School Consortium, the Kendrick School exam is also delivered by CEM. Questions are multiple choice, there is no written element to the Kendrick School 11 plus test. It consists of two papers, 60–65 minutes each, which assess a mixture of the following topics:
Reading comprehension
Students will be given approximately two pages of text to read and questions to answer about the text. Learn how to develop your child's reading comprehension exam skills here.
Verbal reasoning
These questions assess the knowledge of words and their meanings in context, vocabulary depth, and how words relate to each other. Learn more about preparing for non-verbal reasoning exams here.
Non-verbal reasoning
Linked with mathematical and scientific skills, these shape puzzles are designed to test problem solving skills. Get non-verbal reasoning exam tips here.
Numerical reasoning (maths)
This section is split into two parts. The first part is likely to be number and arithmetic skill based, with a multiple-choice section to follow. Students can do their working out on the question booklet (their working out will not be marked). Find out more about maths 11 plus tests here.
Atom Nucleus has unlimited mock exams that mirror the style and format of the Kendrick School 11 plus:
What is covered in the Reading School 11 plus test?
The test consists of three papers which assess your child's understanding in the following topics:
English
This paper tests reading comprehension and verbal reasoning, including understanding vocabulary in context and missing letters. To help build your child's confidence answering verbal reasoning questions, Atom Nucleus has over 20,000 Reading Grammar School style verbal reasoning questions to practice.
Maths
Following the national curriculum, these questions will work above the Year 5 content your child will be taught in school. They will be answered in a free response format. To find examples of this format, take a look at the school's familiarisation booklet.
Creative writing
The creative writing element is only marked if the eligibility score has been reached through the maths and English papers, showing the need for 'all-round' competency. Your child is given a title to create a story, using only two sides of A4 to showcase all the literary features needed to demonstrate clear direction and originality. Markers will be looking for adventurous vocabulary, correct spelling, punctuation and sentence structure, paragraphs and idea-linking techniques.
What is the pass mark for the Berkshire 11 plus test?
The pass mark for Kendrick School may vary year on year depending on the success rate of the previous cohort. If a cohort finds the questions exceptionally challenging, the pass mark may be lower than it was the previous year.
The Reading School does not have a specific pass mark. Instead, pupils are ranked in order of success, and the highest-ranking pupils are eligible to be considered for a place.
Each school's individual admissions policy will need to be considered: schools are more likely to admit a lower-scoring pupil within their priority zones and admission criteria, than a child who lives outside the area. Kendrick School's priority zones can be found here.
How competitive is the Berkshire Grammar Schools 11 plus test?
The area of Berkshire is known for its excellent grammar schools, many ranking in the Sunday Times best state secondary school 2022 list. There is fierce competition for the 128 places (Kendrick School 2023 PAN) and 150 places for Reading School - 12 maximum places are reserved for boarding pupils, 138 places for day-boys. It has been more than 15 years since a pupil outside of the Reading School catchment area has been offered a day place.
When should I start preparing my child for the Berkshire Grammar Schools 11 plus test?
A great time to introduce your child to 11 plus preparation is the summer term of Year 4 or early Autumn Year 5. As the tests are designed to challenge and assess secure understanding of academic content and problem solving skills, working within or above age-related expectations is essential.
Your child should have mastery with age-appropriate curriculum before moving onto exam style formats and questions. The best results come from your child being relaxed and thoroughly prepared for the exam. Time pressure can be an additional challenge on the day, so it's important for your child to have practised their time management and exam technique in a supportive and engaging environment.
How can I help my child to prepare for the Berkshire Grammar Schools 11 plus test 2022?
Here are Atom Learning's top tips on how to best prepare your child for the 2022 exam.
Familiarity: your child should get used to the question styles and answer formats ahead of the exam. Atom's unlimited mock exams mirror the style and format of Berkshire grammar schools' 11 plus, to help your child know exactly what to expect.
Build a broad vocabulary: both tests assess reading comprehension and verbal reasoning skills, so building confidence with vocabulary is key for success. Get free resources for engaging your child with reading here.
Achieve full subject mastery: the 11 plus test assesses a huge amount of content. Atom Nucleus offers tailored revision programmes for Kendrick and Reading School. The 90,000+ expert, teacher-created resources will help your child to fully master each topic.
Engage with their progress: celebrate their improvement in their areas of challenge together. Atom's Parent Portal gives you data-driven insights into your child's areas of strength and development so you can help them prepare efficiently.
A detailed breakdown of progress by subtopic, compared to the average student in their year: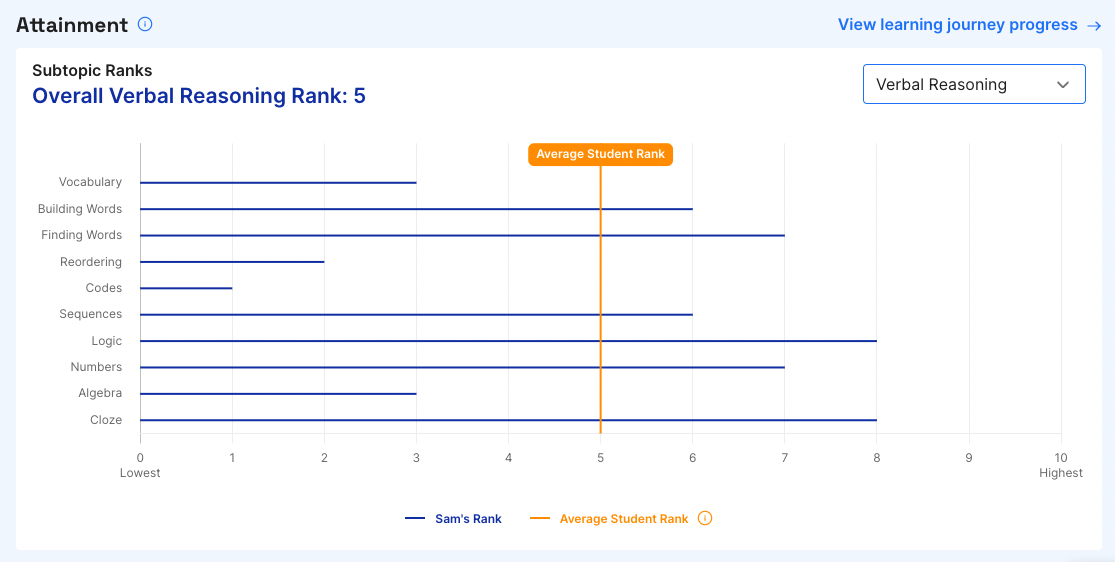 Set Custom Practices to target your child's most challenging subtopics, with functions to personalise timings and question types:
Start your 5-day free trial of Atom Nucleus today and begin your child's fun, personalised 11 plus preparation journey.

---
Contact us
We know how crucial this time is, so our team is on hand to support you and your family every step of the way.
You can email us any time on [email protected]. Chat with a member of our team by clicking the LiveChat icon in the bottom right of your screen. Or give us a call on 020 3973 9226.
You can also book a call with one of our Education Experts to ask any questions you may have about the 11 plus in Berkshire:
If you're looking for exclusive tips and resources to help your child master key subjects, excel in exams, and build academic confidence, join Atom's email list: