If your child is preparing for secondary school entrance exams, you may have heard conflicting information about whether there will be a creative writing task. Read on to find out exactly:
What to expect from 11 plus creative writing exams

How to help your child prepare

Which schools will require your child to do a creative writing test
What is 11 plus creative writing?
11 plus applicants may need to complete a creative writing task as part of the exam. The task could be to write an original short story or continue a story from a given text.
The main 11 plus exam boards (GL, CEM and ISEB) do not include creative writing tasks in their tests. If a grammar school entrance exam includes a creative writing element, it has likely been set by the school itself. Most grammar schools will only assess the creative writing task in 'borderline cases' (such as when deciding between two candidates who achieved the same score in the main exam papers).
When it comes to independent senior schools, most will require candidates to write an essay or creative writing piece as part of their entrance exams.
The 11 plus creative writing task will need to be completed in a short time frame. Pupils will need to draft, write and review their work in well under an hour (dependent on the school's exam format).
What to expect in a creative writing exam
In most creative writing exams, your child will be given an imaginary scenario and 30–45 minutes to write a story about it. Here are some examples of creative writing topics your child might be asked to write about in the exam:
The natural world, e.g. Imagine you are on a desert island

Activities, e.g. Describe a hobby you like doing

Animals, e.g. What animal are you frightened of and why? or What animal would you most like to be?

Emotions, e.g. Imagine you are lost in a forest or Imagine you just got the best news ever
Have your child practice writing about some of these themes using the creative writing exam framework.
11 plus creative writing preparation resources
Creative writing exam techniques
In this article for kids, we share the story-writing framework that will support your child to confidently complete the creative writing paper in an exam. Your child will learn:
How to write brilliant beginnings

How to create captivating characters

How to write excellent endings

Techniques for planning and structuring their story within the time constraints of the exam

Features of fiction the examiners will be looking out for
You may also be interested in reading six ways to build suspense and tension in your writing.
11 plus creative writing prompts
Join Atom's email list and get a free set of fun fiction and non-fiction writing prompts which you can use to help your child hone their creative writing skills. Download your 11 plus creative writing pdf here:

Reading lists
Great readers make great writers! Getting familiar with the features of prose fiction across a range of genres, time periods and settings will help inspire your child when it comes to writing their own pieces.
Here are Atom's top picks:
Check out five ways to engage your child with reading here.
Quiz
Speaking of brilliant beginnings, if you're looking for inspiration, try this quiz with your child and see if you can match the first line to the book. We've mixed up the first lines from nine classic novels. Watch out – one of the books is a decoy!
Live Lessons
For Atom Nucleus subscribers, we have fun and interactive Live Lessons for your child on a range of 11 plus creative writing techniques! Check them out in your Lesson Library today.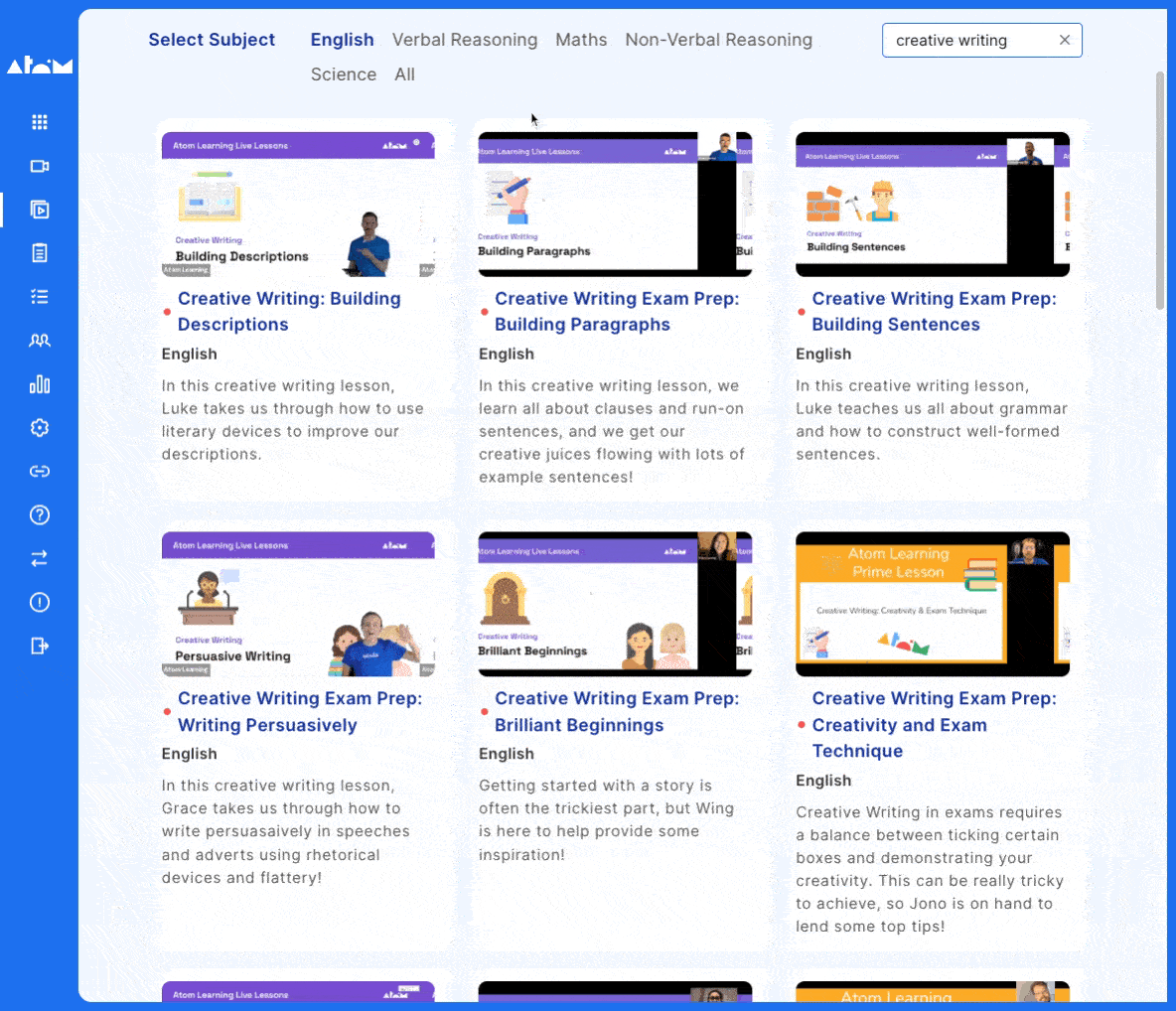 Why not sign your child up for our Creative Writing and Comprehension course this summer? In each lesson, we will delve into a text and cover topics such as literary devices, persuasive writing or even poetry. We will look at a wide variety of passages – think spooky thrillers and Shakespeare as well as newspaper articles and famous speeches.
Running every Wednesday at 5.00pm from 20th April to 20th July.
---
The Atom Learning Young Author Award
If your child is aged 7–11, they're invited to enter the Atom Young Author Award! We're on the hunt for the UK's best young storytellers, so we're running a writing competition, open until 31st August.
First place entrants will win an all-expenses-paid trip to Disneyland Paris for a family of four, an illustrated book cover for their story designed by a professional illustrator and £2,500 for their school!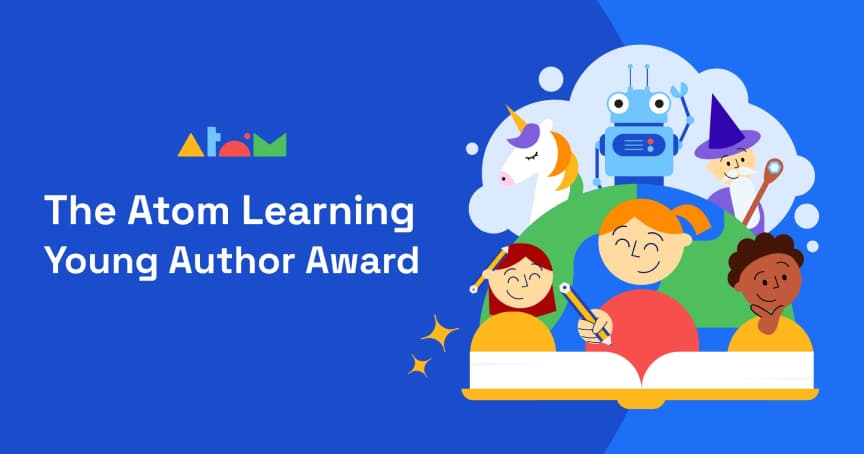 ---
Which grammar schools test creative writing in the 11 plus?
Essex
See our complete guide to grammar schools in Essex
For children applying to the 11 plus in Essex, they will need to show that they can use literary features for effect. They will need to write 6–7 sentences about two given topics. Both writing pieces share a mark out of 15.
Kent
See our complete guide to grammar schools in Kent
The creative writing task in the Kent Test is 40 minutes, including ten minutes for planning. This test is not formally marked but it may be used by local headteachers in borderline cases or appeals.
London Borough of Barnet
See our complete guide to grammar schools in Barnet
The Henrietta Barnett School includes a 'Round 2' 11 plus test, written by the school, where pupils are assessed on their English and maths skills. This test will include an element of creative or extended writing.
London Borough of Bromley
See our complete guide to grammar schools in Bromley
St Olave's Grammar School includes a 'Round 2' 11 plus test, written by the school. In the English test, candidates will have a creative writing task. They will need to write between two paragraphs and one side of A4 paper.
London Borough of Kingston-upon-Thames
See our complete guide to grammar schools in Kingston-upon-Thames
The grammar schools in Kingston-upon-Thames have 'longer writing' tasks as part of their 'Stage 2' 11 plus tests. These are set and marked by the individual schools.
Tiffin Boys' School

Tiffin Girls' School
London Borough of Sutton
See our complete guide to grammar schools in Sutton
The following grammar schools in Sutton share a 'Selective Eligibility Test'. This is a second stage 11 plus test, set by the schools. It includes an extended writing task that will be between 40 minutes and one hour (school-dependent).
Medway
See our complete guide to grammar schools in Medway
The 11 plus exam for the Medway grammar schools includes an extended writing section. Children will have an extract and a writing prompt. They must showcase their knowledge of the writing features expected from a Year 6 pupil.
Wirral (Liverpool)
St Anselm's College includes a 30-minute writing task as part of its 11 plus exam. The task includes prompts and five to ten minutes for planning.
---
If you have any questions about preparing for grammar or independent school entrance exams, our team of Education Experts is here to help. Get in touch at [email protected].